PLAINS, Ga. — During Veterans Day weekend, we visited the National Prisoner of War Museum and former Confederate prison camp that are part of Andersonville National Historic Site. We stayed two nights in nearby Americus, Ga., in order to explore the Jimmy Carter National Historic Site in Plains and attend the former president's Sunday school class.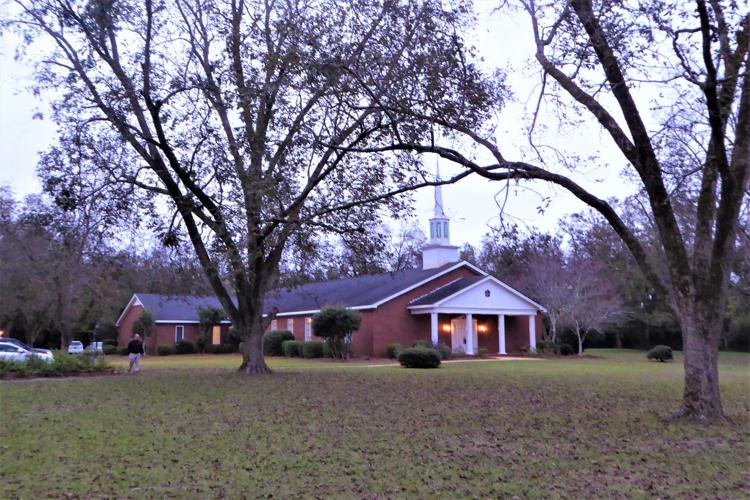 The Carters returned to Plains in 1981 following the Georgia Democrat's election defeat by Ronald Reagan. While the former president continues to travel and work with Habitat for Humanity and the Carter Center in Atlanta, much of his and Rosalynn Carter's lives are intertwined with their hometown of Plains.
Jimmy Carter was raised a Southern Baptist and, upon his return home, became a member of Maranatha Baptist Church. The church had held its first worship service in May 1977.
The Carters are very involved with the church. We were told by a church member that "Mr. Jimmy" helps with yard work and is on call whenever something at church needs fixing. President Carter handcrafted the sanctuary's cross and the church's handsome offering plates.
Jimmy Carter frequently teaches Sunday school at Maranatha Baptist and individuals wishing to attend the 10 a.m. class should arrive early to claim a seat in the 350-seat sanctuary. On busy weekends, this means not much after 6 a.m. An overflow area with a television monitor holds approximately 150 additional people.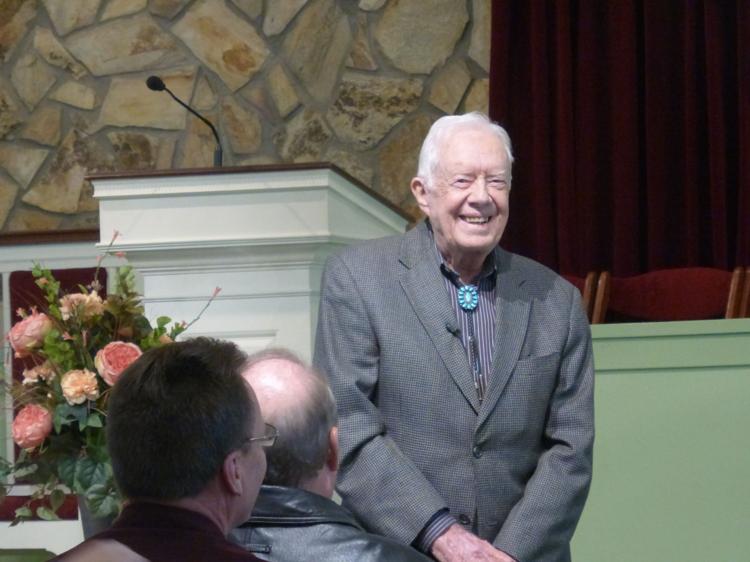 We arrived at the church parking lot at approximately 6:30 a.m. and were given a number by Mr. George, who takes care of all things in the parking lot. Our number 25 indicated our place when the line was formed for entry into the church. We asked Mr. George how he was doing and he replied the government was taking too much of his money.
The lineup for entering the church began a little before 8 a.m. resulting in early arrivals spending time in their vehicles or talking with other visitors. It was dark and cool on the morning we arrived, so we sat in the car sipping coffee and consuming breakfast items we brought along.
When it is time for the line to start forming, Miss Jan, Mr. George's better half, presented the group with the morning's marching orders. Among the most important were: don't bring bags and purses into the church, restrict pictures inside the church to when the president is getting acquainted with visitors, personal pictures are only taken with the Carters after the church service, and when approaching the Carters for the photo, do not shake the president's hand or otherwise touch him.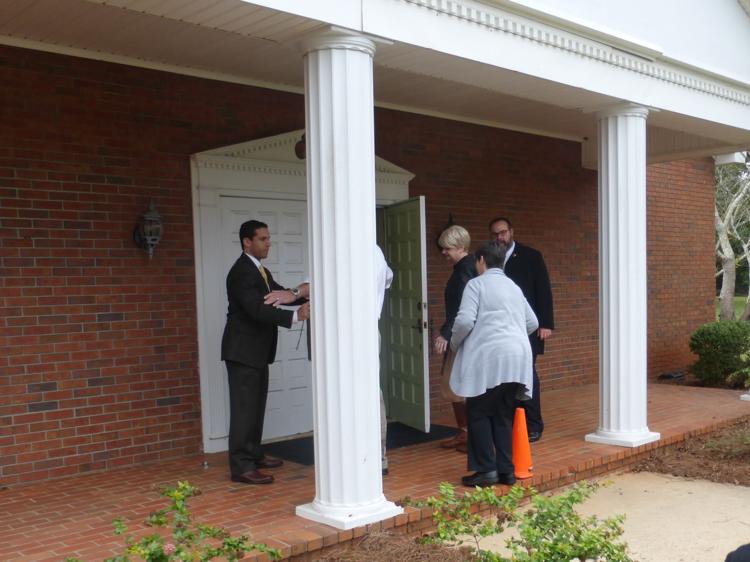 At least a half-dozen Secret Service personnel dressed in their Sunday best were on hand. All visitors along with their possessions were inspected just outside the church entrance. Secret Service members, as you would expect, were polite and business-like.
Once everyone was inside a few additional instructions were given before church pastor, Brandon Patterson, spoke to us and answered several questions from visitors. The 23-year-old pastor, who was to be married the following Saturday, commented on how happy he was to have recently become pastor at Maranatha Baptist. He has an outgoing personality, nearly always smiling, and was very welcoming to those of us who were visiting. At 10, he introduced our Sunday school teacher, "Mr. Jimmy Carter."
President Carter greeted everyone with a "good morning" and asked where we were from. Several states and a few foreign countries were represented. He mentioned he has been a professor at Emory University for 36 years and loves giving advice to young people, but it wasn't very often they took it.
The president retains a good sense of humor. Before beginning his lesson, he asked a minister visiting from Brazil to lead us in prayer, preferably in her native Portuguese. After the lengthy prayer he said, "Now could you BRIEFLY summarize it in English for us?"
President Carter mentioned he is at work on his 32nd book, this one on the importance of faith.
He commented, "That's how I make a living since I left the White House."
His lesson addressed one of the main challenges our democracy will face — how do we get along with other people? Nuclear weapons have put us in a horrible quandary. He said, "I tried to keep the peace." He feels meeting this challenge will require that we "learn to respect each other; to have faith in other human beings. ... Faith is an important aspect of life."
Visitors wishing to have their picture taken with the Carters (one per group) must attend the church service following shortly after Sunday school.
President Carter is an inspiring and amazing 93-year old. One of the members told us before the service, "He gives a good message and makes you feel good."
A visit to Mr.Jimmy's Sunday school class is an experience we will long remember.
David and Kay Scott are authors of "Complete Guide to the National Park Lodges" (Globe Pequot). Visit them at mypages.valdosta.edu/dlscott/Scott.html. They live in Valdosta, Ga.