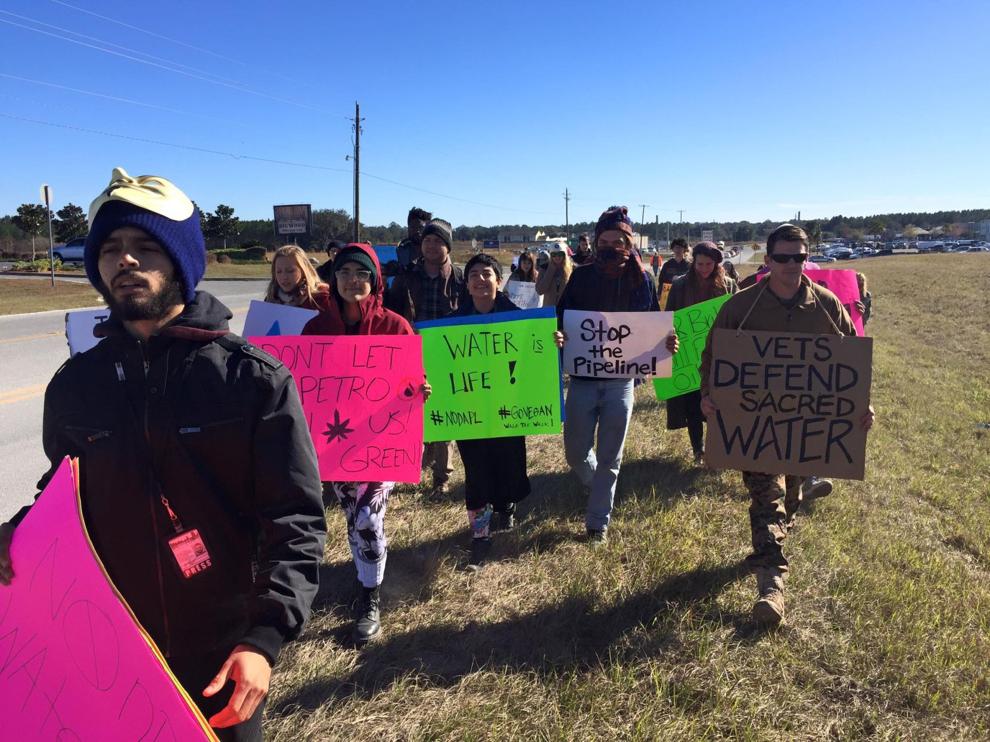 LIVE OAK, Fla. — Opposition to the Sabal Trail natural gas pipeline in the South is gaining momentum as protests begin, camps are established and arrests happen near Live Oak.
Protesters have been meeting at Sacred Water Camp near the Spirit of the Suwannee Music Park in Live Oak with protest events scheduled into the new year. Wearing masks and waving signs, the protests have prevented trucks from leaving in order raise public awareness and to slow the pipeline's progress.
Since the small victory protesters achieved at the Standing Rock Indian Reservation in North Dakota, where the Army Corps of Engineers denied a necessary permit for the Dakota Access Pipeline, people from around the country have been showing their opposition to natural gas pipelines. 
Joshua Peoples, a United States Navy veteran, was arrested by Florida Highway Patrol in Suwannee County during a protest last weekend on charges of resisting without violence, he was later released after paying $100 of his $1,000 bond.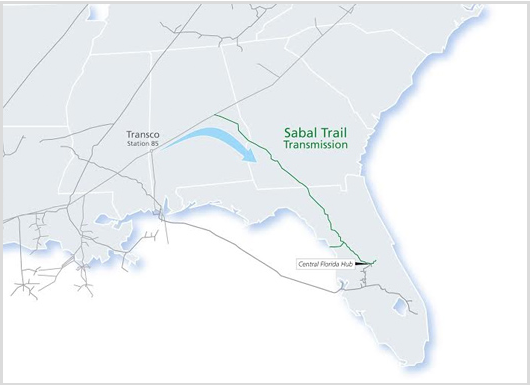 Plans for the Sabal Trail Pipeline will start in Alabama, run through Georgia, and end in Central Florida with 268 miles of the 515 mile pipeline in Florida, according to the thenewtropic.com. 
Construction for the pipeline began in September in southern Georgia.
However, environmentalists and American Indian leaders argue the pipeline would threaten freshwater springs.
As of Wednesday, more than 72,900 have people signed a change.org petition to stop building the Sabal Trail pipeline.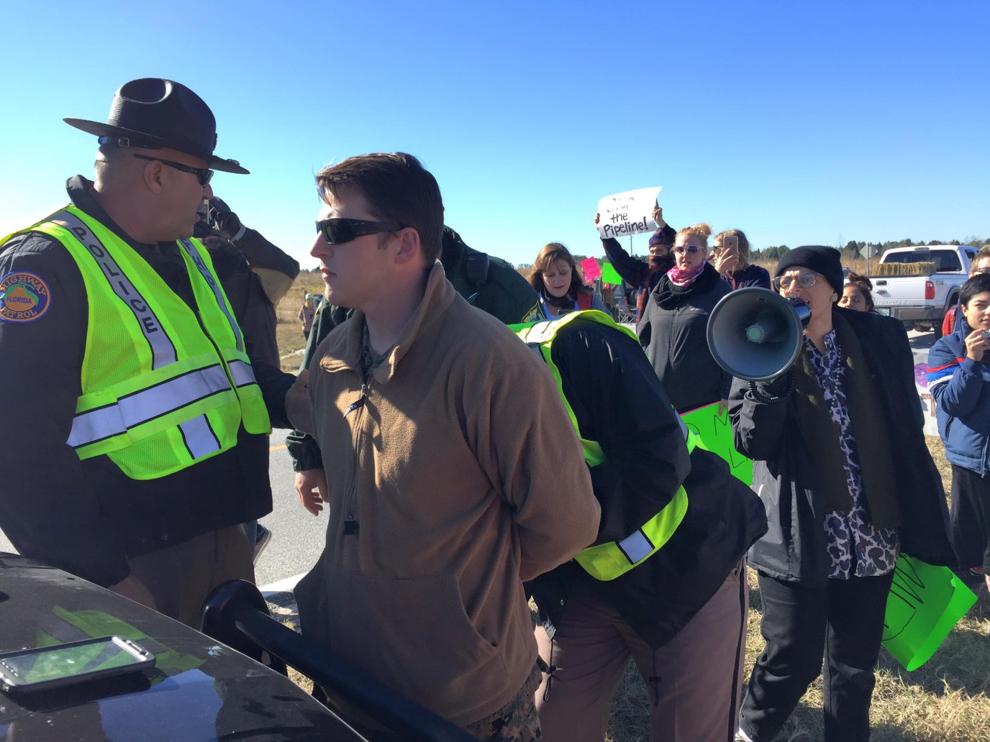 Sherry Gatewood, who has been staying at the Sacred Water Camp first heard about the Sabal pipeline protests from social media.
While driving from Georgia, she noticed large strips of land torn apart to make way for the pipeline. Despite never protesting before, when she heard local people were standing against the pipeline construction she felt obligated to show her support, she said.
"You always run the risk of getting arrested," Gatewood said. "But you have to remember that you're there for a cause."
Debra Johnson is called the mother of the Sacred Water Camp and is a member of the WWALS Watershed Coalition, a volunteer organization that aims to protect rivers in southern Georgia and northern Florida.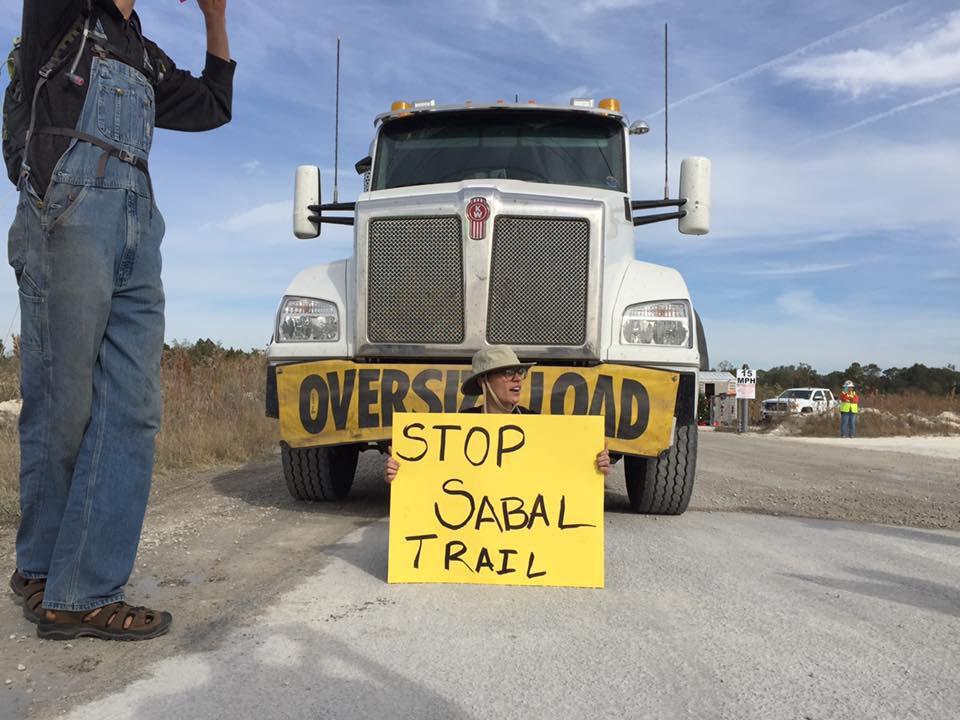 Johnson said the camp has grown immensely since teaming up with We Are Change, Orlando, a media organization "working to expose corruption" according to the group's Facebook page.
We Are Change contacted Johnson a few weeks ago to set up a bigger presence in Live Oak, Johnson said. Working together, they created a Facebook event that had more than 100 people supporting it.
"It really made a big difference," Johnson said. "We've gone national."
She said the protest will continue until enough of an awareness is raised that an independent study is conducted on the pipeline's route. 
Calls to The Sabal Trail Transmission, LLC  were not immediately returned.
Lynn writes for the Live Oak, Florida Suwannee Democrat.