The technicolor masterpiece on the window of main street's Wildflour Baking Co., is the latest work by artist Caroline Holland. The colorful, creative, commissioned piece represents a long journey for Holland, a Claremore native.
"I am a staff accountant turned stay-at-home mom who found her true passion while playing with paint. I started painting cranial helmets after my youngest daughter was diagnosed with Plagiocephaly and required a cranial helmet to fix her skull shape," she said, adding that she launched her own business, Oakridge Design Co. focusing on commissioned, one of a kind work.
"I started painting a little over two years ago when my daughter Lily got a cranial band to fix her head shape. I have now painted over 350 helmets and it just keeps growing into different areas of art. I had people start asking for murals, shoes to be painted, pet portraits, and other commissioned work. I have absolutely fallen in love with painting and love to give back as much as possible! I paint the helmets for free and I have even gotten to paint a mural for Make-A-Wish."
Before trying her hand on the cranial helmets, Holland had no idea there was an artist inside her.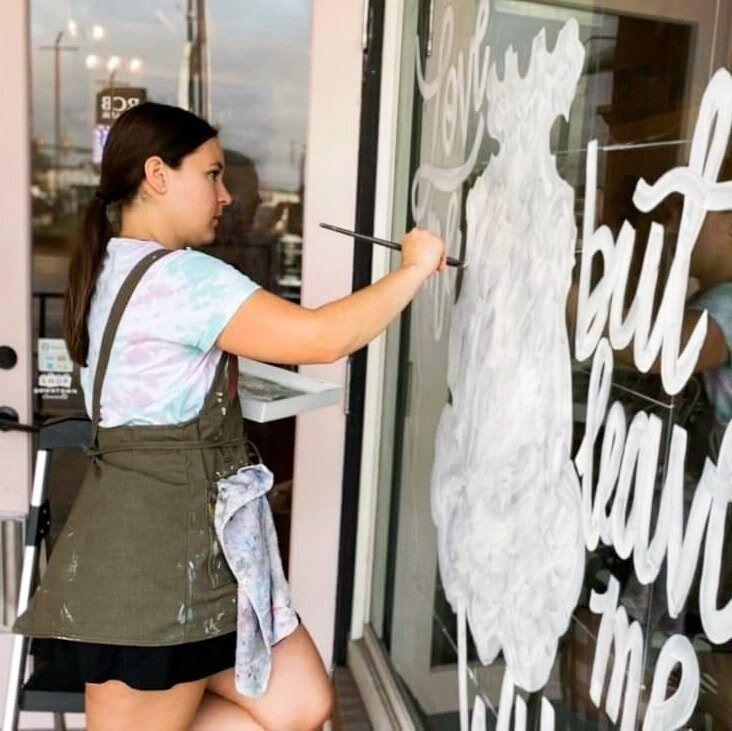 "I have never been artistic (that I knew of) until my daughter got her cranial helmet. I painted hers, and lots of people started asking me to paint theirs. So I told him I would try and it turns out that God gave me the ability right when I needed it and it has just continued to grow from there. It has been so weird and awesome to watch a talent emerge that I had no idea that I possessed," she said.
Her work this week left Wildflour owners raving: "Oakridge Design Co. made this beautiful mural on our window today and we hope you're in love with it as much as we are!"