The look is recognizably native. Red-brown clay decorated in black chevrons and swirls.
Two dimensional birds soar across the sky, a spider carries fire on her back and a butterfly delivers messages to and from heaven.
The shapes are reminiscent of a time before written language, when Cherokees shared information through storytelling and traded goods with their western neighbors at the ancient metropolises of Spiro and Cahokia.
But the pieces themselves are not ancient. They were crafted by the steady hands of life-long Claremore-area resident Eva Cantrell.
"I've always loved art, the beauty of it, but I never had much confidence," Cantrell said. "I would go to the Cherokee Art Market just to be surrounded by the beauty."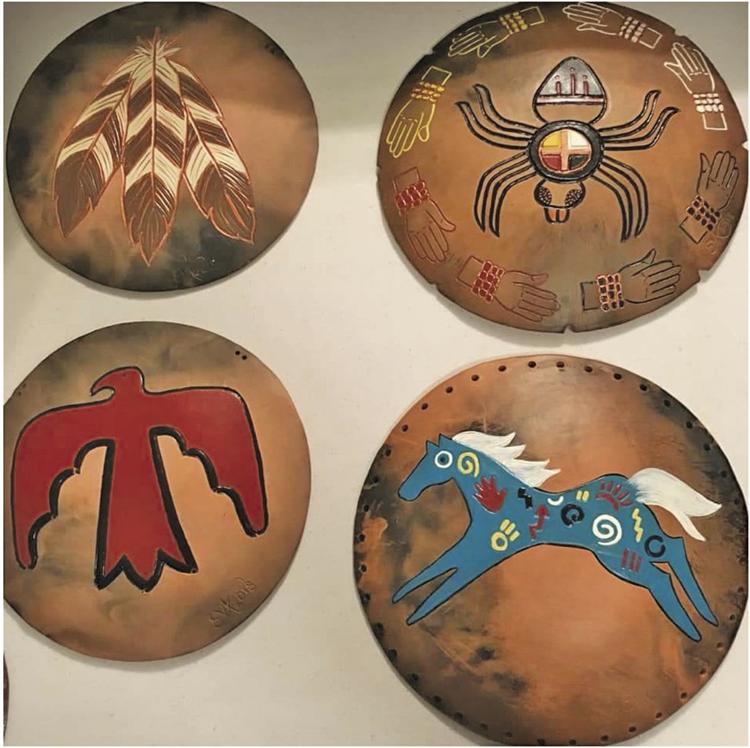 As a young woman, without enough money in her pocket to justify the purchase, Cantrell spent $20 on a flat piece of pottery the size of her hand, a scissortail flycatcher painted on in bright colors.
It was that tiny piece of art that inspired her to take her own creativity seriously.
"I've always been creative, but I never considered it art because it was a part of me. It's what I had always done," Cantrell said.
In addition to pottery, Cantrell does textile art, bead work, some painting and basket weaving.
"I have so many things that I like to do, it's hard to focus on one," she said.
And while she uses modern technique and equipment, all of her crafts center on her Cherokee heritage.
"The whole time we were growing up my mom would remind us we were Cherokee," Cantrell said. However, they weren't enrolled citizens until the roles were opened up to no longer consider blood quantum.
At 12, Cantrell remembers her great, great uncle driving from Locust Grove to rural Rogers County to pick up her family and take them to Muskogee to register as Cherokee citizens.
"These were symbols that were important to our people back in the day," Cantrell said. "People can't forget where they came from. It's important for us to remember how they lived and what they went through."
Her goal is to remind people of their importance today, by telling the stories of the spider, the butterfly and woodpecker as they browse her pieces at art fairs.
The stories and techniques come from the Cherokee National Treasures and other Cherokee artists she has studied under and textbooks of Cherokee history and legends.
One textbook of the iconography found on ancient pots in ruins has been worn down at the spine from use.
"There are so many of these really cool stories, and if we don't keep telling them, they are going to go away," Cantrell said. "I want people to remember their heritage."
Cantrell works full time, making art a hobby and a passive income. Her work can be found on Facebook, Instagram, and her soon-to-launch website, evacantrellcreations.com.
She also travels to various art shows around the state.
"I tend to find art in everyday life. But mostly I find it in nature, in the way things work together, grow together and just exist," Cantrell said. "I think God is an artist. He just has to be."