Claremore Public Schools has handed out over 33,000 free meals to children in the community since they began the Meals 2 Go program March 23.
Averaging 2,040 meals a day, Claremore Public Schools has served 16,471 children, well beyond the 3,700 enrolled in the school district.
Meals include breakfast and lunch in one grab and go sack.
Sodexo General Manager for Claremore Public Schools Janna Ragland said, "We feel very fortunate to be able to help serve the families in Rogers County during this pandemic. The kitchen staff working takes great pride to ensure our meals go out to our families safely and nutritionally sound, and hope we bring some sense of normal routine to our students' day."
Ragland said their biggest concern is, "Ensuring everyone is aware we are here for them - no matter the situation, we are here to serve all children under 18 years old."
Mother and daughter Jennie and Savannah Bickford are among those who have taken advantage of the free meal.
"We went to the CPS Enrollment center. The meals provided were very filling and it was quite a bit of food. We have some leftover for snack later today,"Jennie said.
Her first grader, Savannah, said, "The pizza was so yummy!"
"I really do appreciate the meals. It has taken away the stress of feeding them lunch everyday so we can focus on doing stuff together," Jennie said.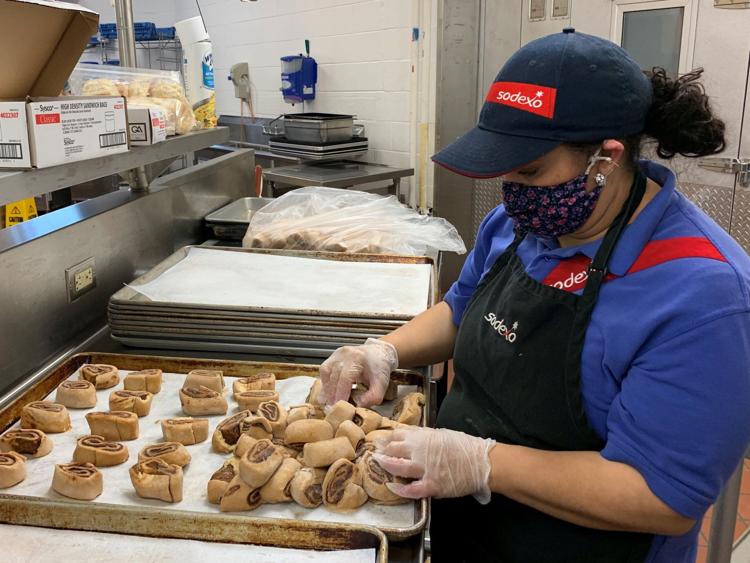 The Sodexo employees prepping meals at Claremore Public Schools are taking precautions to keep your staff, students, teachers and families safe. 
"We practice social distancing while prepping the meals as well as regular hand washing, wearing gloves and face masks. We remind our families as we serve them if meals require heating or cooling to keep the food safe. We limit public access to all campuses and only essential staff allowed in the kitchen prep areas," Ragland said.
"We plan to continue serving meals through the summer months with a projected end date of August 19. Please watch all social media and CPS media outlets for any changes to locations and/or times," Ragland said.