The life of former Rogers County Sheriff Amos G. Ward played out like a movie. It was a World War II epic, a classic western, and a crime drama about chasing down rumrunners, all in one.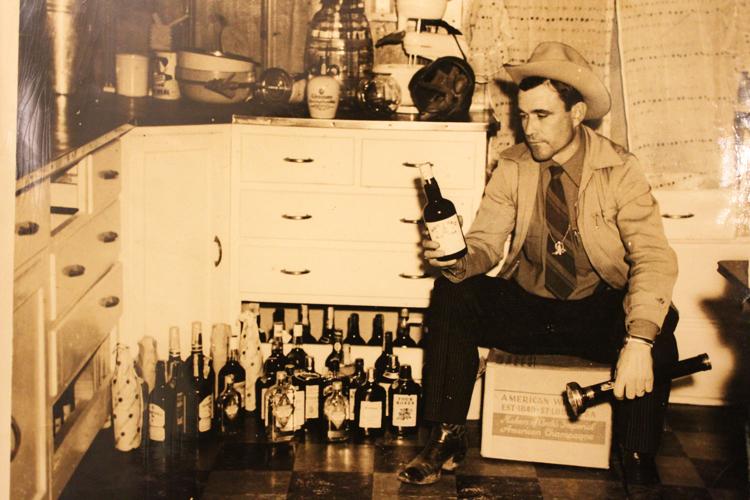 The story is almost too good to be true, but the photographs, letters and memories don't lie.
Amos's daughter, Dana Ward Shouse laid his life story bare at the monthly Rogers County Historical Society meeting Monday night.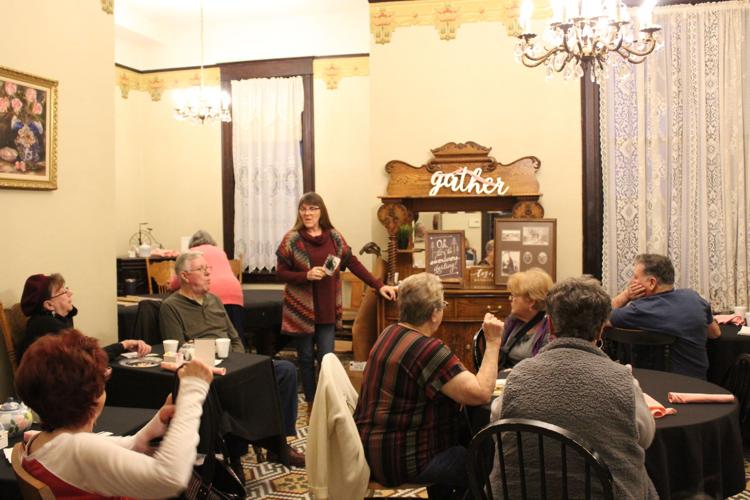 Amos Glen Ward was born in Leach, Okla., on part of his family's Indian land allotment. When he was around four years old, the Ward family moved to Talala, so Amos's father John could take a job as a ranch manager.
Amos attended school through the eighth grade in a little school house near Talala that no longer exists, and then moved in with an uncle to get his high school diploma in Claremore.
After high school, Amos went back breaking colts and herding cattle.
Then, one fateful night, a fellow ranch hand and his wife were experiencing complications in their pregnancy, so Amos drove them to the old Franklin Hospital in Claremore.
"There he met this real pretty nurse," Shouse said. "That was Irene, my mom."
Amos and Irene dated for quite a while, but world events sped their relationship along.
World War II began raging in Europe, and although the United States was not yet involved, Amos was called up to the draft.
It was early 1941, and he assumed it was a one-year stint with the 45th Division.
He was stationed in Texas on Dec. 7. And from then on, the future seemed less certain.
With three days leave in January of '42, Amos rushed back to Claremore and back to Irene.
"He asked my mom if she'd marry him, and she said yes, so he went out to the farm and asked her parents," Shouse said. "They found a preacher that night."
Irene went with Amos to Texas, and then they went together to his next station, on the East Coast.
When Amos was called over seas to fight and drive ammunition trucks at the front lines, Irene joined the Women's Army Corp (WAC), and became one of the first American women to go overseas and serve within the ranks of the U.S. Army.
Irene was stationed in North Africa, Amos in Italy, and they were the only married couple in the Army to serve in the European theatre. Their photo and story was featured in the Stars and Stripes. Their love letters still sit in boxes at Shouse's home.
When the war ended, and the couple came back home, they tried over and over to start a family. Irene had nine pregnancies total, a few live births, but only one daughter, born in 1959 for her and Amos to raise.
"She always said she didn't want to raise an only child, but she didn't have much choice," Shouse said.
While they were trying to start a family, Amos took up driving a truck for Peabody Coal.
And in 1948, he was approached by a couple of old-timers who encouraged him to run for Sheriff.
"They knew dad had won all kinds of shooting medals, he was a real good shot, and they thought that was a good qualification for being Sheriff," Shouse said.
When Amos took office, the biggest problem in Rogers County at the time was illegal alcohol. While prohibition ended nationally in 1933, Oklahoma continued enforcing the practice in the State Constitution until 1959.
"Bootlegging, moonshine stills, rumrunners, all that kind of thing," Shouse said. Amos chased down cars that had trap doors in the back to spill nails or smoke clouds into the road to help bootleggers get away.
He and his deputies tracked down and dismantled numerous stills.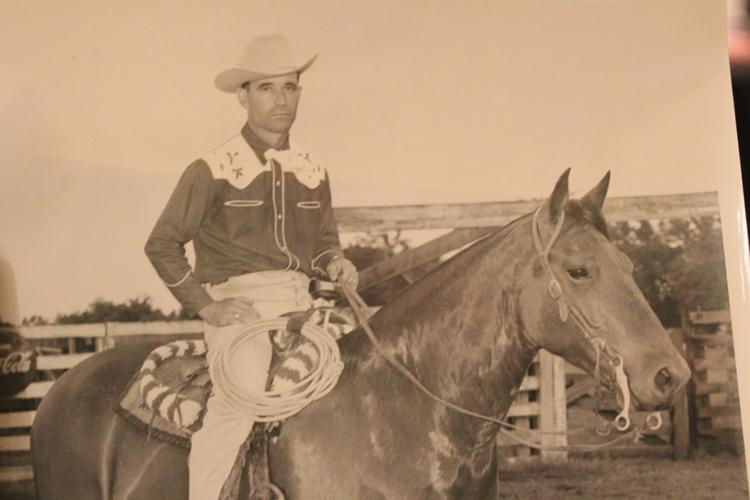 "Dad would be out at night chasing rumrunners, and mom thought it was a really good transition for him, coming from five years on the front lines," Shouse said. "She didn't worry about him too much."
According to Irene, a big black Cadillac once pulled up to their house and a man offered Amos his own Cadillac if he'd let the man run liquor, uninhibited, through a small corner of the county.
"He never did, and he would never let mom drive anything but a Ford, because he didn't want people to think that he did," Shouse said.
After the Oklahoma Constitution changed, things settled down into good, old-fashioned country problems.
Amos once had to chase an escaped buffalo almost clear across Rogers County, and it took four rounds of deer shot, while the beast was ready to charge at him, to take it down. The buffalo burgers were served at a big feast with many community members in attendance. The stuffed head of that buffalo hung at the Tulsa Fair Grounds for decades.
In the 60's, cattle thefts and peeled safes were the most common crimes.
Amos, who could be seen on the back of a horse as often as in a patrol car, was seen as a modern-day Wyatt Earp.
His favorite Palomino was a local celebrity, although every time Shouse saw it as a child, she expected him to talk to her like Mister Ed.
And like Mayberry's Sheriff Andy Taylor, Amos rarely ever carried a gun.
Not once, between taking office in 1949 and retiring due to illness at the end of 1981, did Amos shoot a person.
"I think he had enough of that in the war," Shouse said.
His only bad habit, smoking unfiltered Camels, caught up to him, and Sheriff Amos G. Ward lost his battle to lung cancer at the age of 66.
At the time of his death, Ward was reportedly the longest-serving sheriff in Oklahoma, a title that is still in contention.
In 2001, Irene published "The Life and Times of Sheriff Amos G. Ward," compiling all of the news stories from Amos's career into a large-print narrative.
The book is available for sale at the J.M. Davis gun museum, near the display of Amos's signature .38 revolver, which Shouse also used for a time when she began her own law career with the FBI. All proceeds benefit the Sheriff Amos G. Ward Endowment Scholarship at Rogers State University.
The next meeting of the Rogers County Historical Society, to feature another guest lecturer with information about Rogers County History will be Monday, Feb. 24, 6 p.m. at the Belvidere Mansion. All are welcome to attend.