As a child, Ed Gilsleider had two passions: animals and soccer.
It started out with his own pets, and picture books featuring animals from all over the world.
He loved dogs and horses so much his first two jobs involved shoveling kennels and stalls.
In college, he took up jobs at the local poultry and dairy farms, just for the opportunity to learn.
But when his undergraduate college career was coming to a close, Ed had a choice to make.
Here he was in the soccer semi-pros, getting better and making an impression on the sports world.
And in his hand was a letter from his alma mater, accepting him into the Kansas State University College of Veterinary Medicine.
Anyone who has seen his name on the big red barn across from Will Rogers Junior High knows the choice he made.
Dr. Ed Gilsleider graduated from the Kansas State University College of Veterinary Medicine in 1982, and he, his supportive wife, and their young daughter immediately moved to Claremore to accept a job offer at a local practice.
After 18 months in Claremore, Gilsleider briefly transferred to a practice in Collinsville. But after another year, the pull to start his own practice was too strong to resist.
Gilsleider opened the Animal Medical Center of Claremore in an old carpet store, working nights and weekends to change the giant showroom into a respectable office space, with kennels, stocks and a barn out back.
Thirty-eight years, four kids and several grandkids later, Gilsleider has as much love for the veterinary profession as ever before.
Gilsleider started out in veterinary medicine by specializing in equine animals: horses, donkeys, zebras.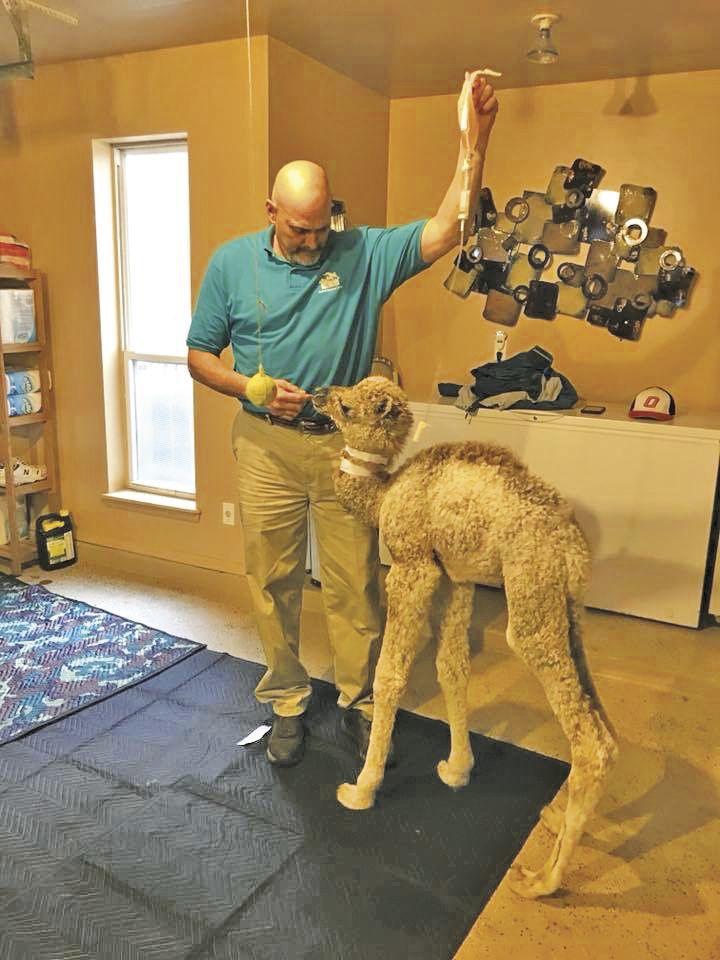 "As the years have gone by, the horse business has changed,"Gilsleider said. With smaller and smaller farms, holding a larger variety of animals, mixed practice veterinary medicine became a requirement.
As far as creatures with hooves: llamas, alpacas, cows, sheep, goats, pigs and deer have all been frequent clients.
At the height of the ostrich industry in the 1990s, Gilsleider became a trailblazer in ostrich and emu care, inventing a corrective leg surgery to overcome a disorder found among giant birds living in captivity.
"I was flying all over the country and outside of the country," Gilsleider said. In total, he performed 15,000 surgeries on ostrich and emu chicks.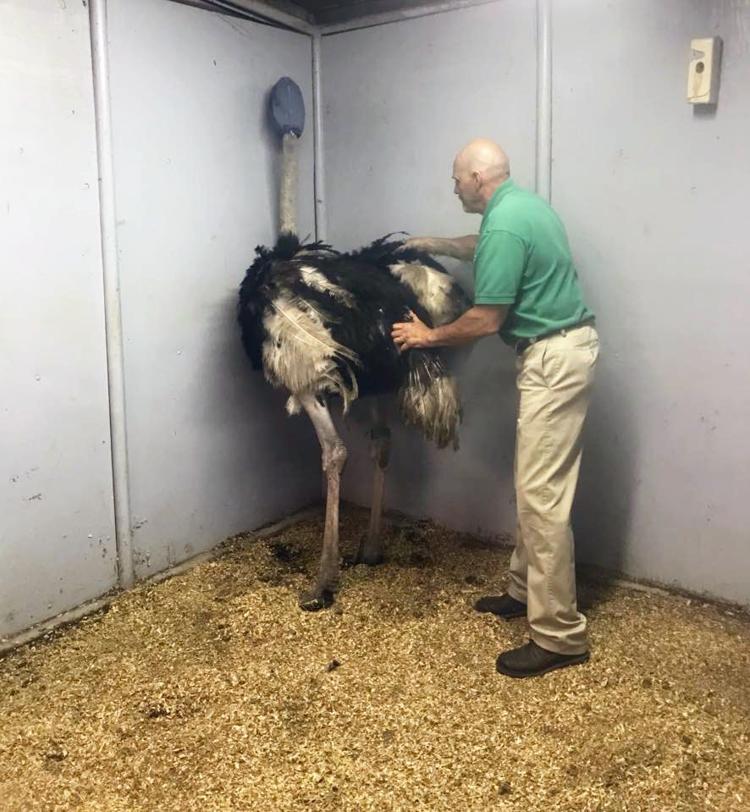 He's also had the pleasure of surgically removing all the strange things that ostriches and emus have swallowed, including knives, screwdrivers, hammers and pantyhose.
For decades, Gilsleider was the doctor on call when the Ringling Brothers Circus came to Tulsa. Giraffes, big cats, wolves, bears, monkeys, lemurs, elephants -- Dr. Gilsleider treated them all.
He has worked with kangaroos and wallabies, and even knows quite a bit about childrens' pocket pets, like gerbils, hamsters, chinchillas, lizards, snakes and rats.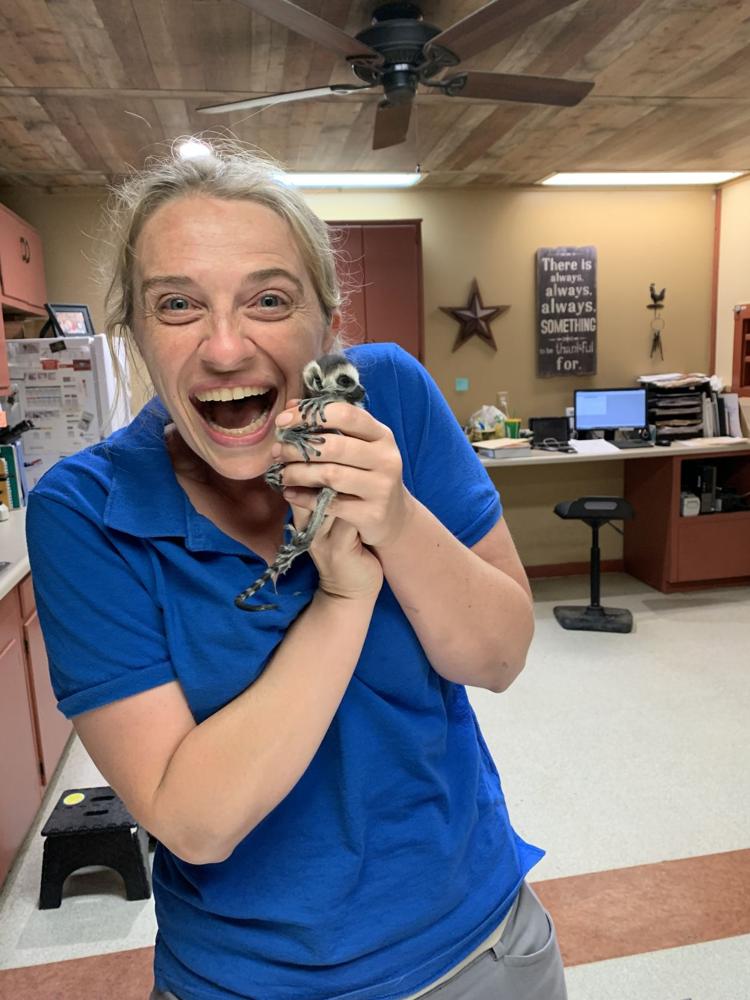 "I've always enjoyed exotics, it's a challenge," Gilsleider said. "Some of the snakes that come in here, especially the ones people are breeding, they've got such incredible colors … they look like they've been painted."
Staying at the clinic last week was a part Sphynx- part American Curl cat with dwarfism, and a bunny rabbit that was more than twice her size.
In 2018, Dr. Amie McCarthy joined Gilsleider at his practice, easing up the stress of a nearly 16,000 client workload.
Originally from Hawaii, McCarthy was a 2018 graduate of the Colorado State University College of Veterinary Medicine.
On an average day, Gilsleider and McCarthy spend about 70 percent of their work time in office, and 30 percent answering farm calls.
"Everything you can think of, we take care of. We work on anything from mice to elephants," Gilsleider said. It's no exaggeration, "In Oklahoma, people own anything and everything."
The main challenge of veterinary work, Gilsleider said, is staying on top of every species, technique and therapy.
Gilsleider devotes three to four hours every Saturday morning to reading veterinary medical journals for the latest research, and goes to continuing education classes.
"Dr. McCarthy reads every night," Gilsleider said, with admiration for his colleague.
The Animal Medical Center also has a library in the building with information about the most common animals, diseases and treatment options they encounter.
"A physician has the human only, but in veterinary medicine, we've got all the domestic animals, plus in our practice, I have the exotic animals," Gilsleider said.
The closest comparison he could draw between the work they do and human medical doctors was that of the pediatrician or neonatal physician.
"Their patients can't talk. The parent brings in the baby and says, my baby is doing this, and that's what animal owners do for us," Gilsleider said. "We have to determine what's going on with that animal, according to the clinical signs that the owner or caretaker is tell us."
Every day, Gilsleider sees people treat animals like family.
"There is a term called Anthropomorphism, that means applying human emotions onto animals' behavior. We see a dog wagging their tail, and they're happy. We see a cat rubbing on us, and they're affectionate," Gilsleider said. "The animals in our homes are companions… They provide a lot of pleasure in our lives."
The day to day joy of working with animals has convinced Gilsleider that there's really no point in retirement.
"I'm 63, and I still love Mondays," he said. "I love my staff. I love our clients. I love Claremore."
Coming to work every day to heal an elephant, ostrich, or lemur — it just can't be beat.