Kim Teehee made history last month as the first Cherokee Nation delegate to Congress.
For those who knew her from her decades of work in Washington D.C. or her time as an advisor in the Obama White House, her appointment to Congress is a commendable next step in her career.
For those who knew her as a child, walking the halls of Will Rogers Junior High in Claremore, Oklahoma, the word that springs to mind is 'inspiring.'
LIFE AND CAREER
Teehee is the daughter of Cherokee language speakers Amos and Polly Teehee, who moved to Claremore when Kim was in elementary school to work for the Claremore Indian Hospital.
"My mom and dad were very stern with my brother and I about education," Teehee said.
Growing up, they relied on the Cherokee Nation's summer youth programs and internships to create further learning opportunities and experiences.
"I learned early on how to engage in public service, how to be respectful of others and how to get things done proactively," Teehee said.
While friends in high school were getting jobs to buy cars and have pocket change, Teehee said, "My brother and I weren't allowed to work while we were going to school. My parents didn't want us to struggle the way they did to go to school and work. They just tried to create a comfortable path for us."
With the available time, Teehee was able to serve as a member of the Cherokee Nation Tribal Youth Council and serve as an intern for Principal Chief Wilma Mankiller.
Teehee is a graduate of Claremore High School, Rogers State [University], and Northeastern State University.
"Claremore is where I got my start," Teehee said. "I couldn't have done what I've done in my career had it not been for the Cherokee Nation and my community being supportive of me every step of the way."
In college, Teehee participated in a variety of clubs that forced her to conquer her shyness and hone her skills as a public speaker.
"I did everything I could to learn more about government and how to lead," Teehee said. The greatest impact, however, was the time she spent with Mankiller.
"The great, late Wilma Mankiller was my mentor," Teehee said.
As an intern, Teehee accompanied Mankiller to many meetings, including to the US Capitol.
"I got to be in the room when she engaged with dignitaries and elected officials, federal and state," Teehee said. "I got to see her interaction with our tribal council, our elders, the cleaning crew. I got to see her engagement on all levels."
"It always stuck to me how important and how good it makes one feel to be in public service. When you serve something bigger than yourself, you always have that in the forefront of your mind, and it compels you to be kind and to treat everybody with dignity and respect," Teehee said.
On Mankiller's advice, Teehee pursued a law degree from the University of Iowa College of Law.
"She knew there was a lot of litigation starting to pick up, and the outcomes of those lawsuits would complicate things for tribal governments," Teehee said. "She said, 'If you want to be in Indian Affairs and you want to lead, you should probably have a law degree,' because things were becoming a lot more complicated."
After law school, Teehee briefly worked for the Cherokee Nation before an opportunity presented itself for her to make a mark in Washington.
"With all that I've learned, with the support of the nation, with the support of my family and with the support of this community, I was able to take these skills to D.C. where I worked for nearly 20 years," Teehee said.
For a majority of her time in Washington, Teehee ran the bipartisan Native American Congressional Caucus, informing U.S. representatives about the complexities of Federal Indian Law and advising them on policy related to Native American affairs.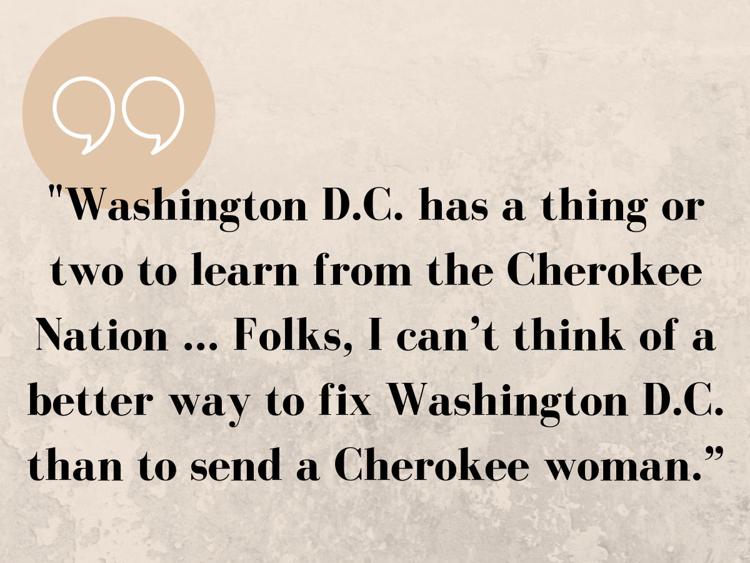 In that time the caucus defeated every anti-Indian proposal and every item they wanted to be passed into law was passed.
Teehee was the first, and so far only, person to serve as the senior policy advisor on Native American affairs to the president of the United States, serving from 2009 to 2012.
"Kim Teehee will be a tremendous asset to our team as we work to strengthen and build on the Nation-to-Nation relationship between the United States and tribal nations," President Barack Obama said when he made the appointment in 2009. "She is rightly recognized as an outstanding advocate for Indian Country."
Over the last few years Teehee has served as the Senior Vice President of Cherokee Nation Businesses. In Principal Chief Bill John Baker's administration, Teehee's responsibility was government relations, serving as the primary means of communication between the tribe and the state and federal governments.
"I built up our government relation efforts from being at a place where we are monitoring to being at a place where we are at the table, helping form positions on any number of issues that impact us," Teehee said.
Teehee's expertise working within the system has led to successful legislation and appropriations under both the Obama and Trump administrations.
"I learned more from her about how to deal in Washington D.C. than anyone else," said Principal Chief Chuck Hoskin Jr. "She really leads the way."
Tribal Councilor Keith Austin agreed, saying, "Ms. Teehee's leadership has made sure that as we go in to advocate for and represent the Cherokee people, we are prepared."
CONGRESSIONAL DELEGATE
Principal Chief Chuck Hoskin Jr. visited Claremore last week to make several announcements about his administrations actions so far.
By far the most historically significant announcement:
"I've said it before and I'll say it again, Washington D.C. has a thing or two to learn from the Cherokee Nation … Folks, I can't think of a better way to fix Washington D.C. than to send a Cherokee woman."
"I am sending one that has so much experience, and has worked on both sides of the aisle," Hoskin said. "When she and I go to Washington D.C., it's not democrat or republican, we have one label, and that is Representative of the Cherokee Nation."
Teehee was appointed by Hoskin and unanimously approved by the Tribal Council.
The right to appoint a delegate to Congress was written into two of the Cherokee Nation's treaties with the U.S.: the 1785 Treaty of Hopewell and the 1835 Treaty of New Echota. It is also outlined in the tribe's 1999 Constitution.
However, until now, it had never been utilized.
The rights and responsibilities of tribal delegate are still unclear.
The current assumption is that Teehee will serve as a non-voting delegate similar to the delegate from Puerto Rico, with the ability to speak on the floor, vote in committees and introduce and support legislation, just without the right to take a final vote on the floor.
The main difference from Puerto Rico is that the Cherokee Nation is not a territory of the US, but a sovereign, dependent nation within the US.
"We are fortunate in this country that we have a template for how the US authorized US territory delegates to be seated," Teehee said. "But I caution by saying, we are different. US territories were established differently, and their delegates weren't seated because of a treaty right. We have treaty rights."
"While I think it is productive to look at a template that is already out there for non-voting delegates, I do think it is important that we also honor the uniqueness of having a treaty right," she said. "We are taking steps collaboratively with our delegation, with leadership and with key members. We want everyone to be willing partners in this."
As a delegate, Teehee's responsibility will be to advocate for the governmental interests of the Cherokee Nation.
Unlike US representatives whose main purpose is to represent hundreds of thousands of constituents, Teehee's only constituent will be the government of the Cherokee Nation. She is appointed by and serves the elected administration.
One of the items on her agenda will be ensuring that federal funds don't stop flowing to the Cherokee Nation every time there is a government shutdown.
She will also be working to refine existing laws regarding Native American affairs to ensure they are up to date and strong.
"I love that the dialogue so far has been positive," Teehee said, "It's been 'how do we make this happen?' not 'how do we prevent this from happening?' I love that."
"I wasn't expecting that reception, because I remember what it was like to have the door closed on me when I tried to do bold things. It took time for this to happen," Teehee said. Now is the right time because, "We have a more informed Congress than we have ever had in our history that respect Native American issues and Native American tribes."