Love and unity were the prayers of the day in Claremore.
In recognition of National Day of Prayer, community, congregation and local pastors came together for an hour of prayer and song Thursday afternoon.
Ministers of eight different denominations led the packed room in prayer. They prayed for love, for city leaders, for the governor and the president.
After reading Ephesians 4:3-6, John Ray of Destiny Life Church, prayed first.
He prayed that God would grant them "a spirit of wisdom and revelation, most importantly in the knowledge of who you are for us."
"I pray over this city that you would help us to know you, that you would open the eyes of our hearts to really see the hope that you have called us to…I thank you father that your hand is on this city. As we gather together to pray today as the church in Claremore, I pray as all of us do, that your kingdom will come in Claremore, Oklahoma and that your will will be done in this city."
Judy Conner, of St. Andrews United Methodist Church prayed for a spiritual awakening.
"We pray there would be a desire to turn towards you, Lord, that there would be a hunger and thirst for your word, for truth and for light. Lord, give us the hearts to love you more and more and more and the grace to be honest with ourselves, with each other and with you," she prayed. "Lord, we long for an awakening of your spirit…We want things to be in your will. I thank you father that we have you to come to. We pray for our state and for our nation as well, that the spirt of God will heal and unify and bring peace. Thank you, Lord, for your mercy, for your grace and for this group that loves you so much that they come together to seek your face."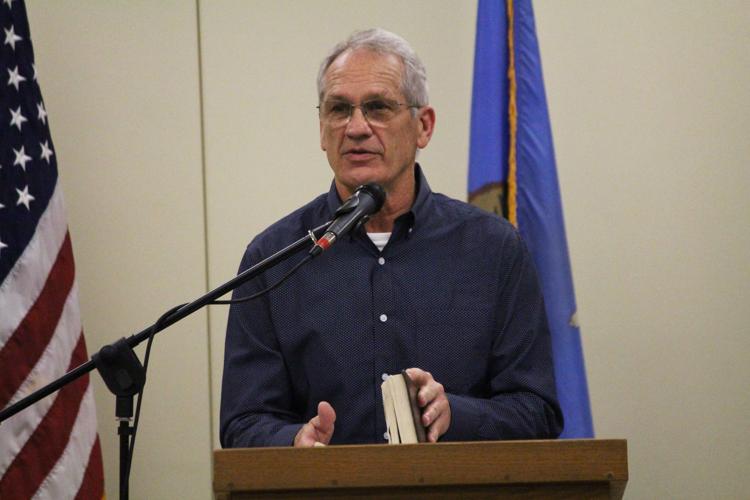 In praying for President Trump, First Baptist Church pastor Scott Newton said: "I pray that each day you will give him wisdom, and insight, and that you will guard his heart and mind. Lord, that you would speak into his life, that his heart, his mind, his ears would be open to your voice and to your direction for our country. I pray that president Trump and his advisors and cabinet would know that your ways are perfect, that your will is perfect and that you never change. God give him the courage to stand strong for the right principles, for Godly truth and we just pray that you would guard him from attacks of the enemy, from attacks of his flesh. And God that you will give him the strength to do what's right even in the midst of attacks from all sides and we pray that your presence would surround and fill that white house and fill those offices and fill his cabinet that we can see your light throughout the darkness."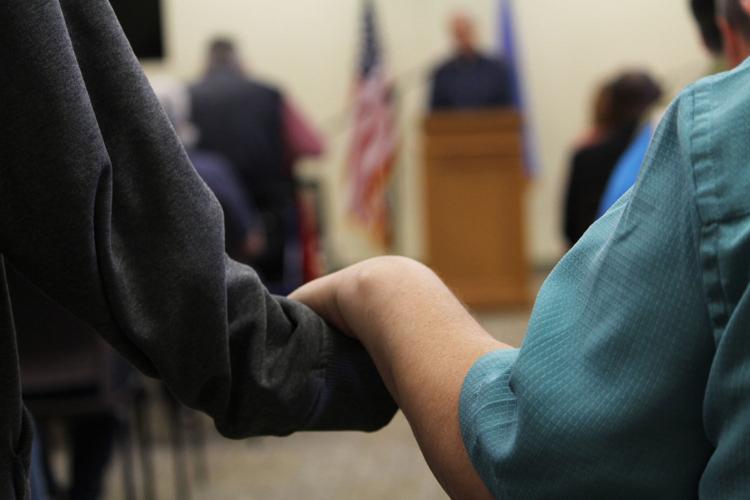 Ryan Honeycutt, of Redeemer Lutheran, prayed that Governor Stitt would have the determination to strive for peace with all people.
"Lord, give him wisdom in the hours of decision and give him serenity in the face of crisis; give him courage in the moments of danger; guard and defend him that he may serve with security and well-being of the residents of our state in mind. Lord, make him a leader of a people who seek to do your righteous and holy will among the nations of the earth," he prayed.
Ray Crawford, pastor of First United Methodist Church, prayed specifically for Claremore's mayor, city manager and other community leaders "who give so much of themselves for the good of our city."
The ministers read scriptures of love and unity. They prayed for families, for emergency responders and for our military.
Real Life Church's pastor Kendrick Oakley prayed for perfect unity.
From John 17:21-23 he read, "I pray that they will all be one, just as you and I are one—as you re in me, Father, and I am in you. And may they be in us so that the world will believe you sent me. 'I have given them the glory you gave me, sot they may be one as we are one. I am in them and you are in me. May they experience such perfect unity that the world will know that you sent me and that you love them as much as you love me."
He prayed: " Thank you for Claremore, that this city is unique and that you are doing something beyond our comprehension. I thank you that you've called us to be a part of this particular time in history. I thank you for your sovereign will, your perfect timing, that each of us are alive and in this room, all from different areas but that you brought us together for a purpose. I pray that Claremore will become a model of what unity looks like."