You'll want to leave the little ones at home for RSU Theatre's weekend production of Murder in the Studio.
Set inside a vintage radio station, complete with iconic Golden Age microphones and a Foley-artist creating sound effects, RSU Theatre students step back in time as 1940s actors, producing two Agatha Christie orginal murder mystery radio plays.
Director Renee Cox, assistant professor of English and Humanities at Rogers State University, said the original plan was to stage a simple reading of the two plays, with actors sitting in a circle, scripts in hand, before a live audience.
"We decided 'well, we can put them in 1940s costumes for the reading, since we have a lot of 1940s costumes in our theatre stock already.' Then we decided 'well, if they're in 1940s costumes, we really should have them standing in front of tall, vintage-looking microphones.' Then, we thought, 'since they're standing in front of tall vintage radio microphones, we might as well create a little set that will look like the inside of a radio station studio.' And that's how this simple reading became a fully staged production," Cox said.
The Foley artist, responsible for all the perfectly-timed telephone rings, doorbells, teacup tottering, suitcase thuds and doors opening and closing, adds a layer of storytelling hard to capture in radio.
"The Foley artist is a critically important element of radio show performance, and our Foley artist—Jacob Canright—is doing a great job," Cox said.
The plays, titled "Butter in a Lordy Dish," and "Personal Call," are quickly paced and thoroughly entertaining.
As two of only three radio plays the famous and prolific author created, the plays are on par with the intensity of Christie's short stories and novels.
"Both of the radio plays are very spooky, and quite violent! No one who is familiar with Agatha Christie would be surprised by either of those characteristics," Cox said. "Christie's genius for writing dialogue, creating intricate plots, building tension and crafting fantastic endings are all on display in these radio plays, just as they are in her novels."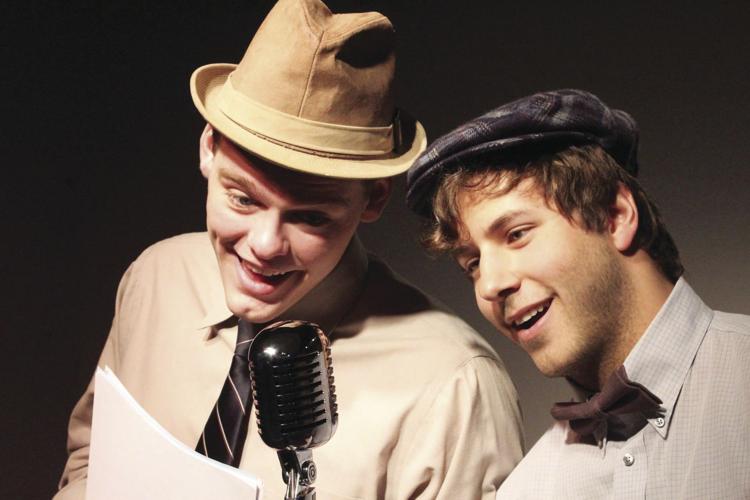 "Butter in a Lordly Dish" is about a successful lawyer, Sir Luke Enderby, played by Luke Huen, whose cavalier approaches to law and matrimonial faithfulness come back to haunt him in an unexpected and violent way.
"Personal Call" follows a newly married couple whose bliss is interrupted by repeated phone calls from the husband's recently deceased former wife, Fay, played by Harlea Benton.
Modern viewers will appreciate the intelligence and depth Christie imbued in her female leads, inventing the female revenge fantasy genre.
RSU actors Kessiah Neff, Shea Brandt, Ariel White and Harlea Benton portray that complexity well.
Other cast members include Tara Cox, Grace Campbell, Mikaela Scott, Cambry Standridge, Michael Moore, Auvi Davenport, Hannah Gray, Caden Coleman, Bryce Hort, Jairus Bradley, Cody Pechanec, Zach WIlson, Cody Berry,and Gio Wahome.
"I'm very, very proud of my cast. They have worked hard, and I'm so glad they will have a chance to showcase their talents in these radio plays," Cox said. "Going through the process of creating these shows has given all of us a heightened interest and greater respect for the Golden Age of radio. What a time to be in the entertainment industry. We hope the audience will enjoy our tribute to the great Agatha Christie and to that fabulously creative time in radio history."
The RSU Theatre production of Murder in the Studio will take place in the Baird Hall Performance Studio on the Claremore campus, at 7:07pm on Thursday Oct. 24, Friday Oct. 26 and Saturday Oct. 26.
Tickets are $10 for adults, $5.00 for seniors and $3.00 for students.