The reigning champion of the Oklahoma Giant Pumpkin Growers' Weigh-Off, Dan Snyder, is bringing the competition home this year to the Rogers County Fair.
Giant pumpkins and watermelons from across the state, and across the country, will arrive in Claremore Saturday, Sept. 14, and be weighed live at the fair ground at 1 p.m.
The weight to beat, set by Snyder last year, is 893 pounds.
That record is all the more impressive when you consider that Oklahoma is a grim place to grow gargantuan gourds.
"This is about the worst kind of climate that you could attempt this is," Snyder said. "One reason I do it is because it is difficult. You don't see many people growing giant pumpkins around here."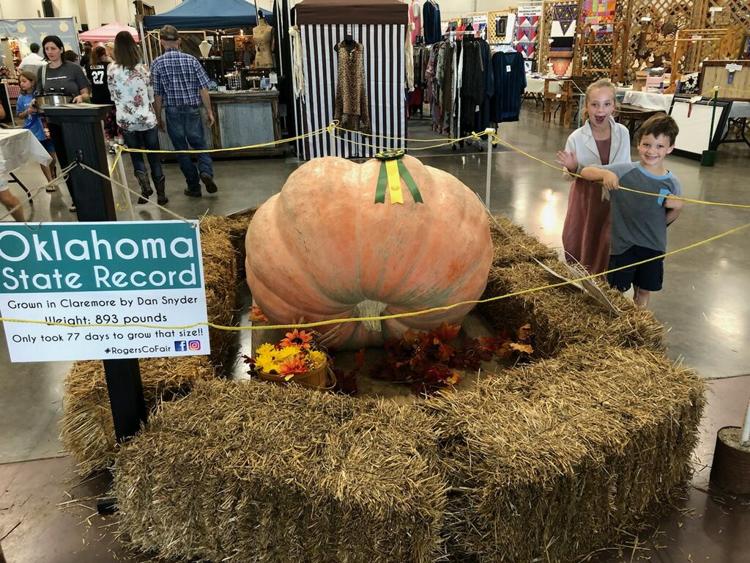 Giant pumpkins don't do well in heat over 90 degrees or environments with high humidity. Pumpkins are also subject to more natural pests in Oklahoma than in states up north like Wisconsin, Michigan and Minnesota.
Snyder started growing giant pumpkins in 2012.
"The first year I didn't do so well because I only used store-bought seeds instead of anything that was premium," he said. "I only got 137 pounds."
"Over the last few years I've been doing a whole lot better with techniques and research, talking to a lot of people who have done it for decades," Snyder said.
But just under a month from competition day, Snyder isn't counting his chickens yet.
"All kinds of bad things can happen between now and then," he said. "You can just walk outside one morning and find that it's split open, which will disqualify it. It's a touch and go thing from day to day."
The second annual Oklahoma Giant Pumpkin Growers' Weigh-Off is an officially sanctioned event of the Great Pumpkin Commonwealth, an international organization that sets the rules and measures for giant fruit and vegetable events.
The event was moved to Rogers County this year in order to have a venue large enough to accommodate this hefty challenge. It's also the largest county fair in northeast Oklahoma, bringing more eyes to the unconventional agricultural sport.
Snyder hopes the Rogers County fair will serve as the home of the Oklahoma Giant Pumpkin Growers' Weigh-Off for years to come.
Future participants should start now, learning the ins and outs of giant pumpkin growing.
"The best thing you can do is, first, have a soil test," Snyder said. "Locally, you can get tested at the OSU Extension Office. But if you want to pay more, there are other labs out there around the country."
"If you don't get a soil test and learn how to amend your soil, you most certainly are going to fail," he said.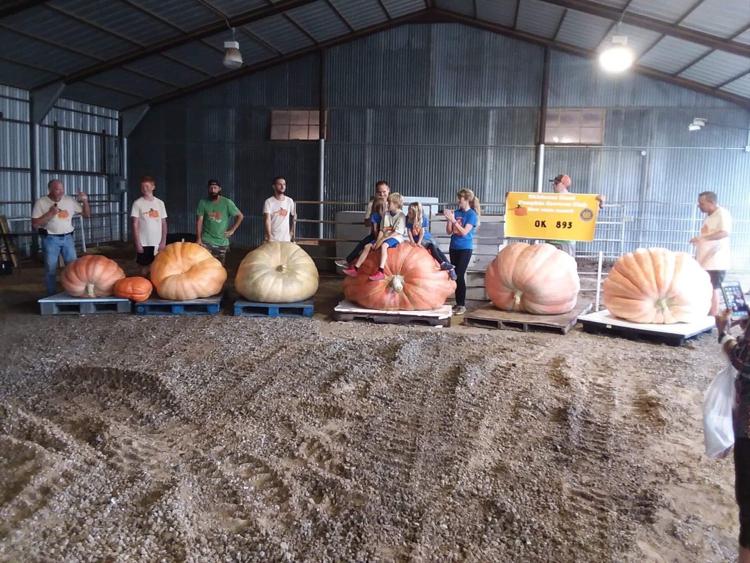 On average, the Atlantic Giant Pumpkin takes approximately 60 days of plant growth and 60-90 days of pumpkin growth to reach full size.
Most competitors start in April to have fair-ready produce by September.
The competition is not strictly limited to Oklahoma growers.
"People can come from as far away as they want," Snyder said.
Kansan Tony Prochaska has made a verbal commitment to come give Snyder a run for his money.
And yes, money is on the table.
Among the pumpkins, first place wins $500, second place wins $200 and third place wins $100.
For watermelons, first place wins $300 and second place wins $100.
"If we can land some more of the sponsors we're seeking, we'll expand the amounts and places," Snyder said.