In the year 2000, the Oklahoma Department of Transportation began making plans to update State Highway 20 from U.S 75 west of Collinsville to an overpass in Claremore.
Now, 20 years and dozens of government studies later, Highway 20 from I-75 to 209th E Avenue is complete.
In fall 2020, the realignment of Highway 20 through Keetonville Hill will go out to construction companies for bid.
The realignment through Keetonville Hill will remove all the sharp turns and improve sight distance for oncoming traffic. The alignment avoids relocating any of the numerous homes, businesses and churches on the path. The alignment also replaces the bridge over the Verdigris river tributary that is considered to be "at-risk," according to ODOT records.
For the portion of Highway 20 that will run through Claremore, ODOT Public Information Officer Kenna Mitchell said, "We're still not to a final design on it, and we're at least a year away, probably closer to a year and a half for putting anything out for a construction bid.
The Claremore section of the project will divert Hwy 20 south of the town with exits at Country Club Road, Southaven Road, and Flint and King Roads, before connecting to the Will Rogers Turnpike. Hwy 20 will include an overpass over the BNSF rail line and Hwy 66.
For both the Keetonville Hill and Claremore sections of the project, the previous two-lane highway will be replaced with a five-lane road with a center median for making left turns and a two foot shoulder on either side of the road.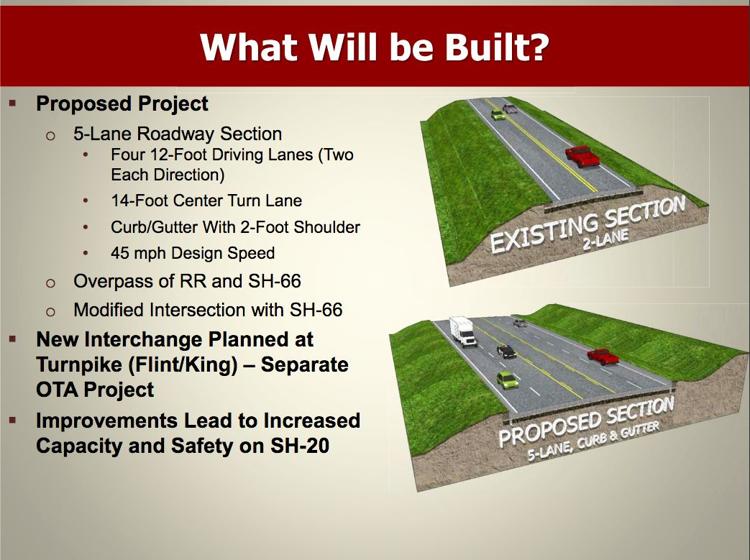 ODOT recorded that Highway 20 carried almost 12,000 cars a day in 2015, and projected the road to carry 19,000 by 2040.
In addition, Highway 20 has approximately three times the number of injury collisions compared to the statewide rate on similar highways, with more than 1,000 recorded between 2005 and 2015.