This week, the Claremore Veteran's Center staff and residence are mourning a special loss.
"Clyde the Claremore Veterans Center's first-ever therapy dog, crossed over to join many of his friends this past weekend," said Shiela Barrett, a former pet therapy associate at Claremore Veterans Center.
"Dogs have a way of finding and connecting to people who need them. As it turns out, there were a lot of us who needed Clyde, and we didn't even know it! Clyde provided a valuable service to those who served," said Monique DiLonardo, Program Administrator at the Veteran's Center.
Clyde was born Aug. 13, 2006 and began service and training at the Alzheimer's unit in Claremore on Nov. 1 of that year.
"This special rescue pup was an instant hit with the residents. They chose his name and considered him their dog.  He excelled in his training and gave real meaning to the term service dog," Barrett said.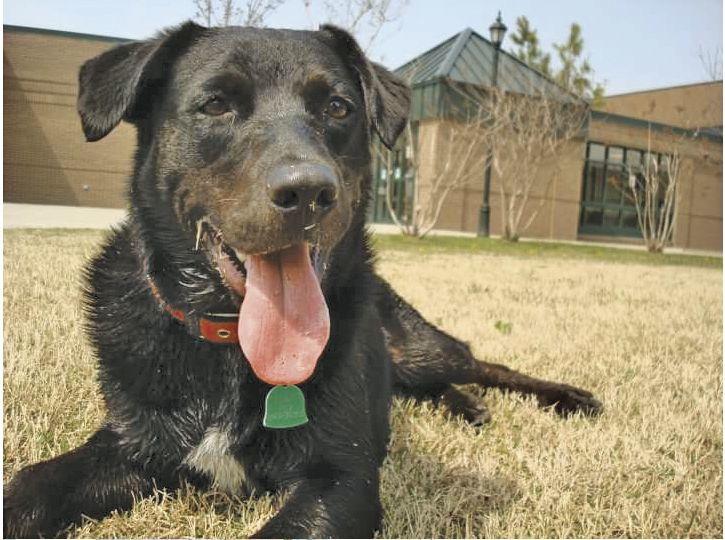 After Clyde adjusted to life with wheel chairs and walkers he was enrolled in obedience classes with Barb Linden and ultimately graduated second in his class.
"He was taught using hand gestures so he could take commands from anyone in the center.. He could not walk the hallway without a toy in his mouth, so not to surprise visitors.  He passed rigid requirements to receive certification as a therapy dog through American Association of Therapy Dogs," Barrett said. "He could be found anywhere in the building, he easily persuaded apprehensive residents to calmly participate in any care activity or treatment needed.  This frisbee chasing pup would bring a smile to the most hardened faces."
Barrett said Clyde was very sympathetic to the residents: "He was diagnosed with hip dysplasia at six months, he knew the face of pain."
She said he retired early, in 2016 and "crossed the rainbow bridge the morning of Nov. 16, 2019, appropriately the week of Veterans day."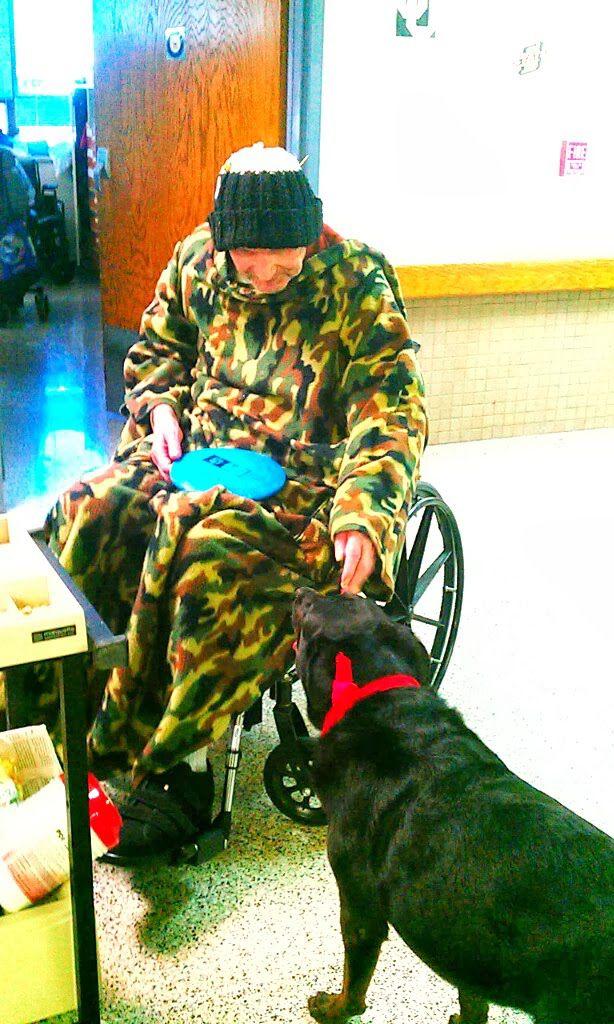 "I had the privilege of bringing Clyde into the center and served as his trainer, student and mother," she said. "I want to extend a special thanks to his best buddy, Andy Crouch who spent many hours working with him and teaching him the value of "going long" to catch a football. He took early retirement for one on one care with Andy, his wife Lisa and their friend Carol Ford. Thank you, Dr Walkingstick and Shipman Veterinary service for the special care you lovingly supplied. He was treated like royalty. Clyde is survived by his many friends, numbering hundreds of residents and their families. He was a bright spot in the lives of everyone he met. Clyde was a good boy."