Editor's Note:  This story is the first installment in a three-part series exploring inmate experience and jail standards as explained both former-inmates and jail staff. This installment focuses on issues of health and hygiene.
When Robin Welch was released from the Rogers County Jail she left with a promise to the women she shared a cell with that she would tell people what it's like.
Though she was only there for one night, she was shocked by what she experienced.
"I told them, I will fight for you girls. This is ridiculous. No human should be treated like you are in the Rogers County Jail."
Welch was booked into Rogers County Jail after turning herself in on a domestic assault and battery charge.
"First thing, I had to put everything on the counter, my jewelry and Fitbit and everything," she said. "Then they took me and fingerprinted me…I talked to a nurse and they tell you what meds you're allowed to have and what you can't have."
Welch said she was then taken to a holding cell occupied by four other women.
"Oh, Jesus. There was toilet paper, pads, everything all over the place," she said. "There were four other women in there with me—high or drunk or on meth, I don't know I was terrified…"
In the holding cell, Welch said she was "given a blanket and told to sleep on the cement floor."
She said at 4 a.m. a jailer came to get her and told her she was moving to a cell.
"At 4:15 they turn on the lights, it's time to eat breakfast. That early? Why?" she said. "Slam, slam, slam—those doors all night, you couldn't go to sleep if you wanted to so 4:15 comes real early."
She said the food, which she opted not to eat, was non-descript.
"All you can get is water. If you want juice or milk or coffee you have to order it from commissary and it comes in the next week. But that doesn't help when you're new," she said.
Soon, a jailer came around to dispense medications. Again, Welch refused.
"One of the girls told me they charge you $8 per pill. Another girl said they charge you for meals. I didn't know, no one explains anything," she said.
"I get talking to the women in the cell… This one girl was four or five months pregnant. I said 'Do they give you any milk or anything?" she said 'no, if you want that you have to buy it and I don't have money on my card.'"
Welch said before she was booked in, she knew nothing about jail—other than what she sees on TV.
"You get one towel per day. You get a little bar of soap like in a motel. You get a cup you have to turn in before you leave, and a spork. You get a thing of mini toothbrushes that already have toothpaste on them and you have to make them last all week. I didn't get to change uniforms but I asked them for a clean one—I didn't know. They said you get one every three to four weeks. This other girl asked the jailer 'I started my period, can I have underwear to keep the pad in place?' The jailer told her 'hold it with your hand,'" she said. "I said I was dying for coffee and the jailer told me, 'drink your own piss, it's probably got a lot of caffeine in it.' And I thought 'how low can you be?' Why does it have to be like that?'"
When Welch tells this story it comes out in a flood of sometimes-disjointed details describing an experience she said was simply unbelievable.
"I was so humiliated. I felt like a murderer when I left because that's how they made me feel. I want to reach out and take every one of them home and let them know the world's alright, not everyone is like this. You have to be tough in jail. As a jailer you have to be tough, as a female jailer you have to be tough—but how tough do you really need to be," she said.
But jail administrators say there's a rhyme and reason for everything they do, or don't do. Most often, that reason is state-mandated standards.
Undersheriff Jon Sappington said complaints, like the ones voiced by Welch, aren't unheard of. He said when it comes to housing the 300-plus population of the jail, there are a lot of factors at play that most people don't see.
He describes the booking process saying first an inmate is booked in, then fingerprinted and searched.
"We issue each inmate two jumpsuits, a towel, a blanket, shampoo, toothbrush and some hygiene items."
When it comes to feminine hygiene items, Sappington said: "Women are issued pads. They are not issued underwear. They essentially wear whatever they come in with….We can't do tampons because of the containers they come in and the problems they can cause."
After being "dressed out" he said inmates are sorted into pods based on a classification system that factors in things like criminal history, seriousness of offense, mental health, and gang affiliation.
"We feed at 5 a.m. and you get up and eat then or don't' eat breakfast. We feed between 11 a.m. and 12, and again at 5 p.m. You have to be in bed with the lights out at 10:30 p.m. You don't have to go to sleep, because we can't make you, but the lights are out at 10:30 p.m.," Sappington said.
"I've had complaints about the food. But the food is approved by the Department of Health, so as long as it meets state standards, there's no other regulations.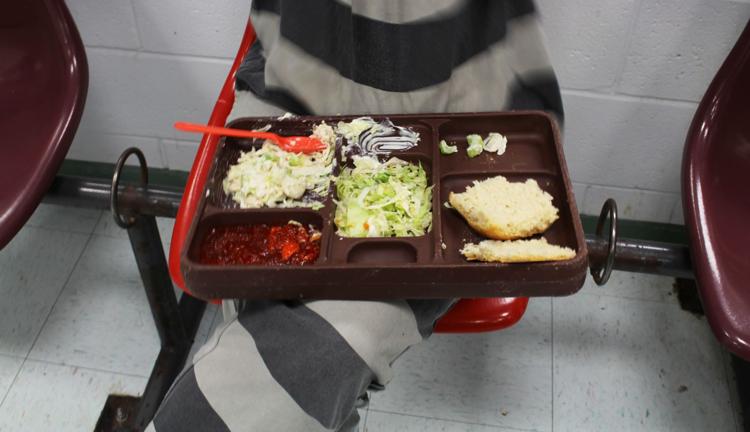 Jail standards
They said in-house inspections are done weekly to ensure compliance with state standards.
These standards, outlined by the Oklahoma State Department of Health, require that "clean bedding and personal hygiene items shall be available."
Further, they require that shower facilities with hot and cold running water be provided at a ratio of one shower per every 20 inmates.
The health department says that sufficient showers shall be provided to provide prisoners the opportunity to bathe at least three times each week" though, "prisoners working in food service shall be required to bathe daily."
Toilets are required at a ratio of one toilet, and one wash basin, per 20 inmates.
"Each prisoner shall be provided at least three meals each 24-hours that meet the national recommended allowance for basic nutrition," according to the state. "At least two hot meals shall be provided daily. There shall not be more than 14 hours between the breakfast and evening meals.
State standards mandate that an inmate held over 24 hours shall be issued a clean set of jail clothing including "at least shirt and trousers, or coveralls, and footwear. Further, it requires that inmates receive a complete change of clothing at least one time each week.
Personal hygiene items like soap, towel, toilet paper, toothbrush and toothpaste, are issued to each inmate, the state stipulates that feminine hygiene items shall be provided upon request.
"With the exception of toilet paper and feminine hygiene items, prisoners who are not indent and have funds in their prisoner account may be required to purchase hygiene items from the jail facility," state standards stipulate.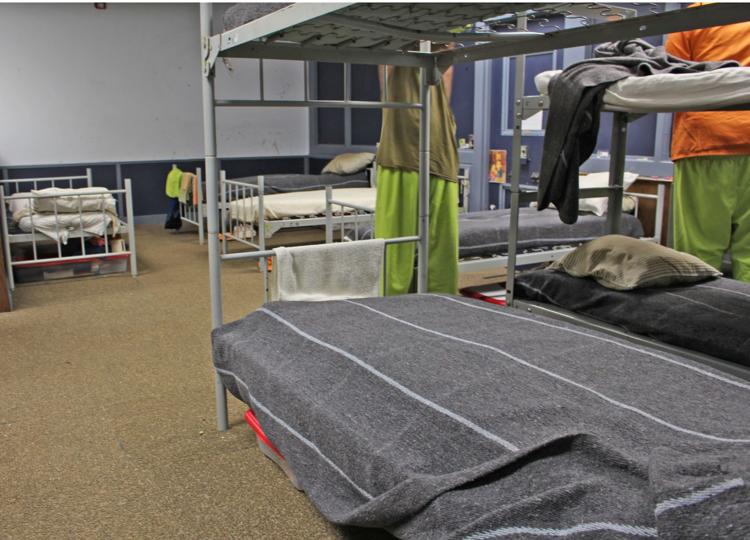 Medical care
Sappington said medical staff interact with every inmate that comes into the jail to assess any medical status or needs.
Captain Kelly Guess, Jail Administrator, said, "Prescriptions can be brought up to the jail anytime and given to medical. If you are a new arrestee you may not receive them immediately as medical will evaluate to see if your under the i influence, or other medical conditions prior to issuing. The doctor may also want to see them before giving the medication depending on the prescription."
Guess said the jail doctor may prescribe medication to an inmate while they are in custody. The prescription is delivered in doctor-approved doses by jail medical staff.
This procedure is based on the health department standards which say: "Medications in the possession of the prisoner at the time of booking, whether prescription or over-the-counter shall be logged, counted, and secured. Prescription medications shall be provided to the prisoner as directed by the physician or designated medical authority. The prisoner shall be observed to ensure the prisoner takes the medication."
Mental health and suicide watch
What does suicide watch look like in the Rogers County Jail?
Guess said, "Suicidal inmates are housed in isolation and given preventative garment to prevent any suicide attempts. They are on an increased observation and have limited access to items like pencils, books, etc. These inmates are seen by a mental health professional if they have been placed on suicide watch."
Guess said inmates with mental health concerns are separated from the general population.
"And the medical contractor has a mental health professional that sees them weekly and makes changes accordingly," Guess said. "If the crime is thought to be due to their mental state they may be referred to a mental health assessment through the state. A report is given to the courts to direct them of the inmates mental condition and whether they are competent to proceed with the trial."
Rogers County Sheriff Scott Walton says most people have no idea what it takes to feed, clothe, house and otherwise care for some 300 people. He said he understands complaints are made about the accommodations and inmate experience.
"This is important to me, it really is. We don't run this thing to brutalize people or be mean to them, that being said this is not a fine hotel that we want people to enjoy their stay," Walton said. "We keep prisoners safe and healthy. The fact that they're not happy or don't like the accommodations- well, my suggestion is they don't come back, don't break the law."
He said, "The majority of complaints are unfounded. We're not there to make problems, if a prisoner comes to that jail and follows the rules they won't have any problems. Whether they're comfortable or anything, certainly that's low on my priority list."
Walton shared an example he's heard from another sheriff—"You've got military troops that don't have what they want to eat, don't have comfortable sleeping conditions, and they're defending the country. They're not breaking the law."
"If someone doesn't like the way the food tastes or how comfortable the mattress is- the only suggestion I have is don't come back," he said.
Walton said the majority of inmates booked into the Rogers County Jail simply want to do their time and get out but a small percentage "causes all the trouble."
"But anybody that runs a jail says the last thing you want is someone to get hurt or die in your jail," he said. "We want them to be safe, we're not there to torture them. I think the freedoms that honest people enjoy, coming home to their home, eating what they want for dinner, going to bed when they want, turning the lights out when they want, those freedoms come to people that punch a time clock, make a living, and obey the laws."