Germaine Watkins has become a U.S. citizen and the Rogers County Literacy Council couldn't be more proud.
Watkins, originally from Belize, has resided in Claremore for 10-years and is self-employed as a personal care giver. In her free time, she volunteers for Safenet Services.
"She is already making a difference in our community," said Malinda Brown, RCLC instructor.
The Council said, "Ms. Watkins participated in the Rogers County Literacy Council citizenship classes."
The class, they said, was provided by a LSTA federal grant administered by the Oklahoma Department of Libraries and the Oklahoma Museum and Library Services.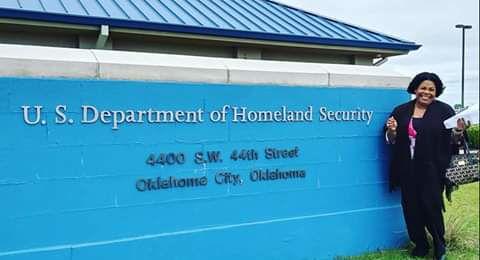 "To become a naturalized U.S. citizen, individuals apply to the United States Citizenship and Immigration Service online or by mail," they said. "When the application is approved and fees are paid, the USCIS will contact the individual for their face-to-face interview in Oklahoma City."
Brown explained that during the interview, applicants are "asked questions in English pertaining to the information in their application, are asked to read a sentence in English, write a sentence in English and pass the 10 question U.S. Civics test with at least a 60%."
She said the 10 questions are selected from a pool of 100 civics facts.
"The citizenship classes provided in Rogers County by the Rogers County Literacy Council provide explanation and study guidance for the civics questions as well as improving reading, writing and speaking English," Brown said.
How would you do?
The Literacy Council provided some examples of questions that appear on the citizenship test:
•Who was president during World War I?
•How many amendments to the Constitution are there?
•How many representatives are in the U.S. House of Representatives?
•Name two freedoms listed in the first amendment?
•Name three of the original 13 colonies?
For more information about joining the next citizenship class offered by the Rogers County Literacy Council, contact Director Edel Godwin at 918-277-4331 or instructor Malinda Brown at 918-923-1338, or come by the RCLC office at the Will Rogers Library in Claremore during the office hours of Tuesday/Thursday, 9:30 a.m.-4p.m. The classes are free and all study material is provided.