Will Rogers Junior High 8th grade English teacher Brooke Lee received the surprise of a lifetime Tuesday, a $25,000 Milken Educator Award recognizing her exceptional work in education.
State Superintendent of Public Instruction Joy Hofmeister, Governor Kevin Stitt and Milken Educator Awards Senior Vice President Jane Foley presented the award at a school-wide assembly overflowing with cheering students.
"We recognize excellence in other professions. The best athletes get trophies and most valuable player awards. Entertainers have music awards, Emmys and Oscars. In science and medicine there are Nobel prizes," Foley said. "But our educators, who have the most important job of all, teaching all the people who get all the other awards, and teaching you, don't get that kind of a celebration."
"One teacher during his or her career has the power to positively impact thousands of young people's lives," Foley. "One of the best teachers in the country is here, at your school."
Foley involved students and Superintendent Hofmeister in revealing the dollar amount of the award, and Governor Stitt announced Lee as the winner to an eruption of applause and cheers from students and coworkers.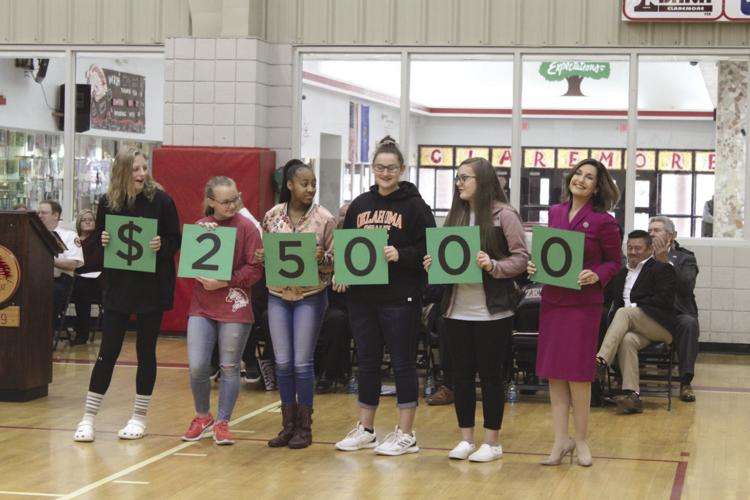 "Brooke, we are so proud of you in the state of Oklahoma. You are doing an amazing job, influencing the lives of so many young people," Stitt said.
Hofmeister said, "It is exciting to see national attention on Oklahoma educators, and on a teacher who is so well deserving – one who collaborates and puts her students first."
Last year, nearly half of Lee's students showed an average increase of at least two years of academic growth.
Lee leads professional development, mentors incoming teachers, and is a Great Expectations instructor for her colleagues.
She also partners with Rogers County Youth Services to bring programs into the school that benefit students facing social and economic challenges.
"The positive effects and results that teachers have on our student performance and outcomes, not only elevates Claremore students and the city of Claremore, but it really effects our entire state," Stitt said. "Every child deserves to be inspired by the very power of education itself, and the potential for a bright future."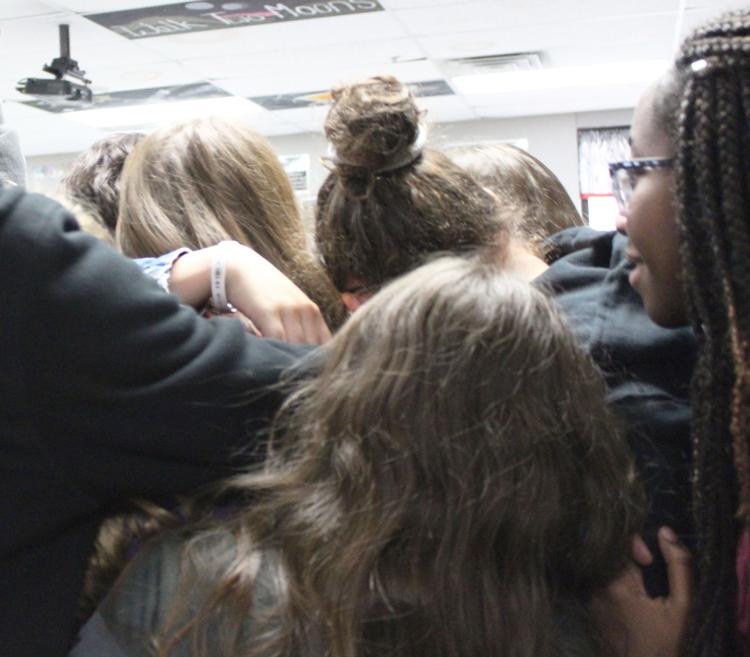 "Our educators are truly on the front lines of making our shared vision of a top 10 education system," Stitt said. "I want to thanks also, all the other teachers in this room who, every single day, inspire, do to work, and teach our young people."
Stitt and Hofmeister gave the Claremore Public School system as much credit for student achievement in the area as Lee herself.
"We know that the world outside the classroom impacts the world inside the classroom," Hofmeister said to the school. "But what you all are known for, is making inside these walls a great place to learn."
Will Rogers Junior High Principal Bryan Young, "Mrs. Lee will be the first to tell you, there are multiple teachers in our building of her caliber. But, it's well deserved. She separates herself from a good teacher. She is a superstar. There is a big difference."
Young said the recognition is a huge honor for the school and for the whole community.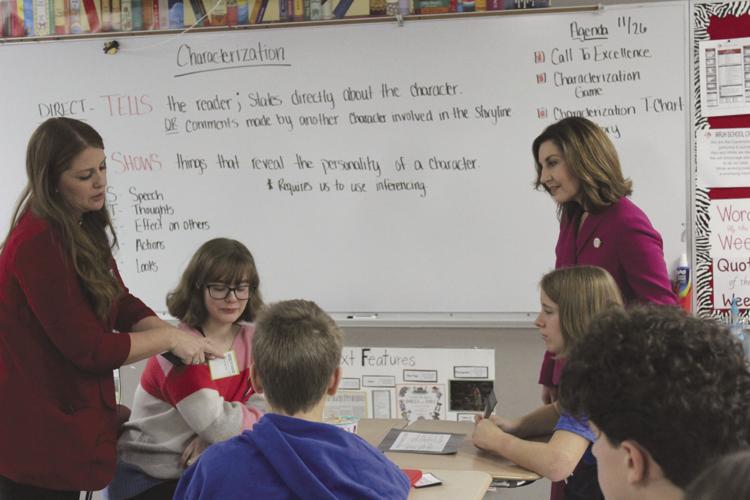 A teacher of six years, Lee did not know she was being considered for an award. She is the only Milken Educator Award winner from Oklahoma, and one of only 40 honorees nationally this year. The award, often referred to as the "Oscars of Teaching," recognizes early to mid-career educators for what they have achieved and for the promise of what they will accomplish.
"I'm honored to have won such an amazing, prestigious award. I am so grateful for this opportunity to represent my school and showcase my kids," Lee said. "I am very shocked, very surprised, so excited."
Lee said she will talk to he husband about what to do with the award, but they will most likely put it towards paying for their home.