Claremore has a history of turning out nationally recognized names. Will Rogers. Stuart Roosa. Patti Page. Lynn Riggs.
Another name may soon join that list.
Alexis Dillon, 23, may not have been born in Claremore, but she grew up here, attending Justus-Tiawah, Inola, and Claremore Public Schools.
And she still calls Claremore home, even as she pursues a burgeoning career as an actress in New York City.
Earlier this month, Dillon was accepted into one of the most prestigious acting schools in the country, the American Academy of Dramatic Arts. The school boasts 110 Oscar, 317 Emmy and 94 Tony nominations and famous alumni such as Danny Devito, Anne Hathaway, Jessica Chastain, Paul Rudd, Robert Redford, Adam Scott, Lauren Bacall, Grace Kelly, Anne Bancroft, Jennifer Coolidge, Spencer Tracy, Kim Cattrall, Don Rickles, Dale Carnegie and many more.
This is how she got there.
Dillon was born in Rockingham, North Carolina, was adopted in Fresno, California, and was moved to Oklahoma all before she started school.
She attended Justus-Tiawah for elementary, Will Rogers Junior High for 7th and 8th, Inola for 9th, 10th, 11th and part of 12th, before transferring to Claremore to graduate.
"I've always wanted to pursue acting and I love to sing," Dillon said. "I always felt when I was growing up that I was meant for something big in my life."
Dillon realized her passion for music while singing karaoke at age 6. Her best song was Friends in Low Places by Garth Brooks, which won her begrudging praise from her mom.
She sang along to The Phantom of the Opera and Josh Groban cds, and realized over time that she had a promising voice.
She also discovered a passion for musical theater.
She joined the Inola High School choir and performed at several talent shows.
In senior year of high school, Dillon left her home to escape physical and emotional abuse and found refuge with Thomasin and Danny Cotner.
The Cotners are the parents of Dillon's ex, but they have continued to treat and support her as a daughter even as their son has moved on and married someone else.
"At 18 I didn't know where I was going to go. I didn't know where I was going to sleep. I didn't know anything," Dillon said. "They took me in and never let me go. They are my mom and dad now. I claim them."
"Without their love and support, without their home, a lot of my accomplishments would not have been possible," Dillon said.
After high school Dillon enlisted in the United States Army, serving three years before being honorably discharged in 2017.
"In the military, I was good at being a leader, but I wanted more," she said. "I did not just want to sound off and sing cadences."
She wanted acting and singing to be a full-time gig.
"I wanted to wake up to my career not feeling like a career at all, but me just going out and having fun. I wanted something that didn't feel like a job to me, and the only thing that doesn't feel that way, that I am very passionate about, is acting and singing."
Dillon moved to New York, in part to pursue her dream and in part to escape the pattern happening to several young women back home.
"Everyone was out here getting married and having kids, but I didn't know one person who was going for their dreams," Dillon said. "I had nothing else to do with my life, so why not?"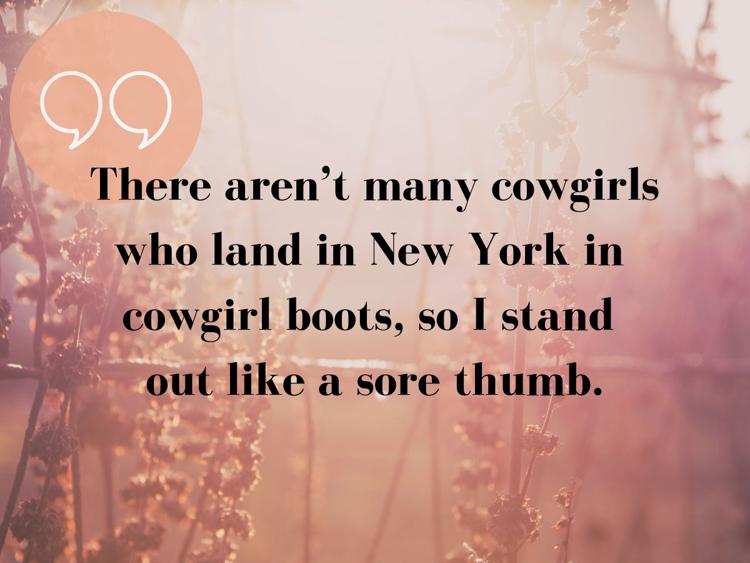 Dillon stayed with a military buddy and his family for about a month until she found a position as a live-in nanny.
She worked as a nanny for several months while applying for acting schools and looking for community theaters in which to participate.
She ate the best pizza and bagels of her life.
Dillon's dream of performing on Broadway was getting closer.
But the cost of living and working in the big apple was getting heavier.
It was lonely, and a major culture shock, she said.
"There aren't many cowgirls who land in New York in cowgirl boots, so I stand out like a sore thumb," Dillon said. "As soon as someone hears me say 'y'all' they turn around and ask me where I'm from."
Dillon said that southern hospitality sometimes goes a long way in making an impression, and other times is the pavement people use to walk all over her.
The steady, thorough way in which southerners get their work done is considered far too slow and lazy.
Backroading, tailgating, hanging out with friends by the lake, those pass-times don't exist.
The skyscrapers on all sides create a sense of claustrophobia.
The stress of it all got to her, and she came back to Oklahoma for a few months to re-center.
"I needed to remember who I am, where I came from, and why I was out there pursuing my dream," Dillon said.
She spent the time visiting friends and family. She parked out by Claremore Lake, to the same spot she used to go in high school, and stared into the water trying to find peace.
"I need to see friendly faces. I need to see people smiling and waving when you walk by on the street. I need to see Claremore Lake," she said.
She moved back to New York to continue her hustle in July, 2018, taking another nanny position, and restarting the process of getting into acting school again.
"The kids I currently nanny for, I love them," Dillon said, though she followed that up by saying she didn't want any of her own any time soon. Especially not if she has to raise them in the city.
Dillon said that parenting in Oklahoma is more laid back than parenting in New York.
In Oklahoma kids have the freedom to play outside and adult supervision can be a little lax.
In New York, not a moment goes by that kids aren't under constant surveillance by parents, teachers and nannies. Safety isn't a guarantee, even in one's own back yard.
"It's a hard job because you get connected to these children, but you realize that you're not going to be around to watch them grow up into being a beautiful man and a beautiful woman," she said.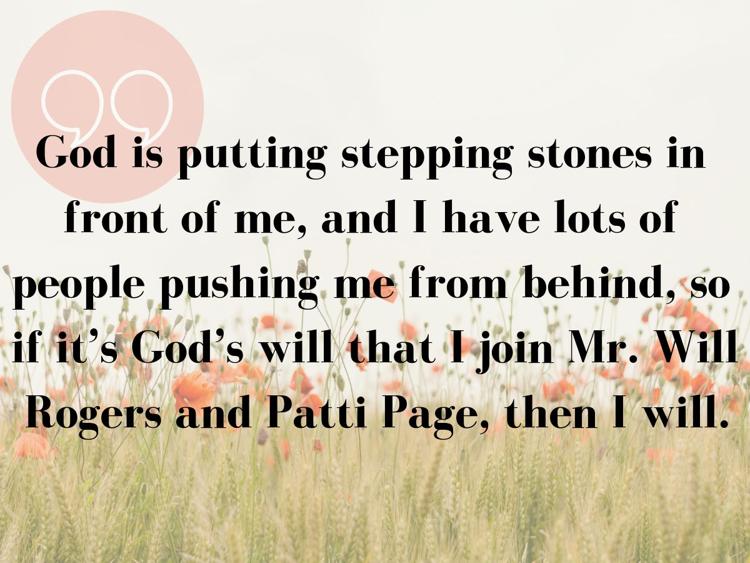 Her first acting role in New York was "99 Minutes from Broadway" with the nonprofit Celebrate St. James on Long Island.
The theater sat 936 people, but opening night all the seats were full and several people were standing.
"It was crowded, people were sitting on the stairs," Dillon said. "I was in tears, backstage, getting ready for my part. I had dreamed of this moment and I was doing what I loved. It might not have been broadway yet, but it was a great start."
Several of the theater-goers were good friends from a local bar where Dillon is a regular.
Dillon played real-life historical figure Madam C.J. Walker, the first African American woman to run the game as a philanthropist, entrepreneur and multi-millionaire business owner.
"Her biggest thing was following her dreams. She got shot down a lot and she never gave up," Dillon said. "For me, she was a role model."
Dillon got a standing ovation for her solo on that first night on stage.
"I was in tears on stage. Totally broke character. I didn't care. I had never had a standing ovation my whole life, so for me it was very important. I knew I was where I belonged," she said.
Dillon said being on stage was a totally unique experience, balancing between utilizing your past experience and escaping into an entirely separate reality.
"I've gone through a lot in life, from being on the streets, to foster care, being adopted, being mentally and physically abused, switching schools and just the crazy life I've had for 23 years. I'm very wise for my age," Dillon said, bringing all of that emotional wisdom with her to give realistic performances on stage. "With acting, I have so much more emotion to offer to each character because most likely I've already gone through what the character is going through. I can relate, and portray what that person would feel."
And yet, Dillon said, acting is also about stripping off your own identity and taking up another.
"Once you finally understand acting, it's not just reading off scripts. It's not just trying to portray someone. You legitimately feel like that character," Dillon said. "You get to be a different person. Your personal problems and life fall away."
To join the American Academy of Dramatic Arts you have to audition against thousands of people from all over the world for 50 seats.
Auditions involve memorizing and reciting the monologues of two plays that are part of the public domain as well as a cold reading a script.
Dillon memorized the monologues in a week thanks to help from friends and family in Claremore who would pester her to get off Netflix and study.
The person who evaluates each audition gives critiques, from which the actor's reaction to criticism is assessed, and then gives numerical scores on a variety of acting skills.
Dillon scored well enough to receive both a merit and an honor scholarship.
"It's a blessing. I'm just getting blessed left and right with this school," Dillon said.
When school starts in January, she will take classes in both musical theater and film.
She said she is excited to get help with her cold reading, as well as real musical training and voice lessons.
While she is in school, Dillon plans to maintain a part-time job and continue to build her resume with community theater productions.
"I think it's really important to be flexible," Dillon said, and she hopes that like so many others before her, Broadway is where her talent will be noticed to go on to even greater opportunities.
"It's not about fame," Dillon said. "This is what I love."
"If I'm making pennies in a small-town theater, that's fine with me, because at least I'm on stage and I'm doing what I enjoy the most," she said.
Dillon said her strong and reliable support system has meant everything to her success so far.
"I don't think I ever would have gotten this far without the people of Claremore, Oklahoma, who support me in this," Dillon said, acknowledging all of the friends and family who send her messages of encouragement every week. "Everyone is pushing me to stay out her and be someone."
When asked how she felt about following in the footsteps of some of Rogers County's biggest stars, Dillon said, "I pray that I am in that tradition. It would be crazy."
"God is putting stepping stones in front of me, and I have lots of people pushing me from behind, so if it's God's will that I join Mr. Will Rogers and Patti Page, then I will," she said.