It was a packed house. Eight members of the community signed up to share strong opinions with the Claremore city council leading into a one hour and 52 minute executive session. The item up for discussion? The annual performance evaluation of City Manager Jim Thomas.
Each of the individuals who signed up to speak were kept to three minutes and the council was not at liberty to reply to their remarks. Nearly everyone attending the meeting sat through the lengthy executive session waiting to hear what the announcement would be.
Claremore business owner Rhonda Bear was the first person to speak.
"Sometimes you don't know how great something is unless you've experienced bad. And I have lived in very crime-ridden cities. Many that know me know that I've lived in a maximum security prison and I've made poor choices in my life. But 12 years ago I came to Claremore, Oklahoma, and I find it to be one of the safest and best communities in our state," Bear said. "Our governor has visited my business several times over the past year and he has commented on how great our community is and what a leader we can be across our state."
She continued, "I believe our community is great because our leadership is great. I'm here today to speak on behalf of Mr. Thomas, the city manager. I appreciate the way his office operates with integrity and I appreciate the way Mr. Thomas operates with integrity. I appreciate the fact that I can call his office whenever I have a problem and I can get pretty quick assistance."
Kurt Levan was the next person to take to the podium.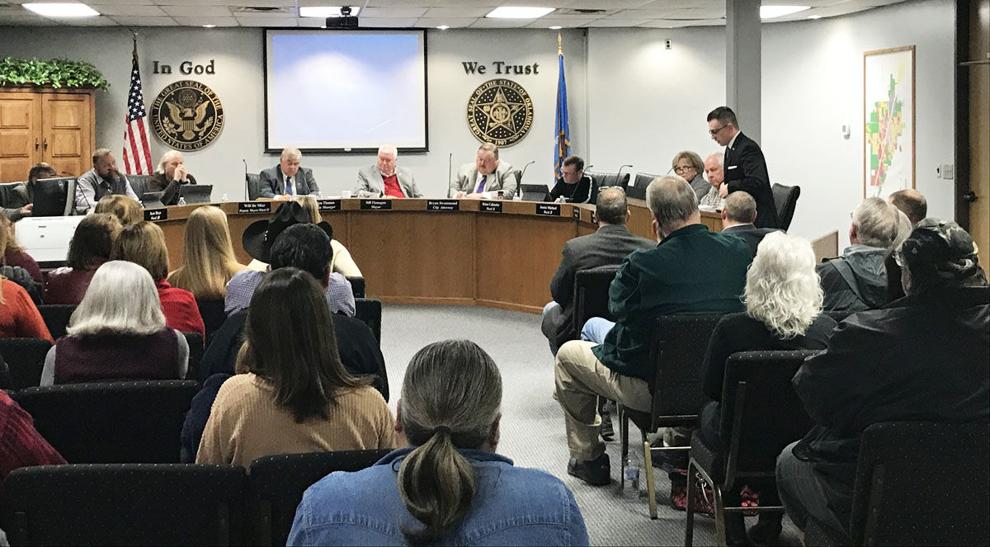 "You may be familiar with my military service, a certain member of your body has mocked me on the internet before for it, so that's fun," Levan began.
"When I enlisted nearly three years ago today, I took an oath to defend both the US and Oklahoma constitutions against foreign and domestic enemies. In fact, you all took a very similar oath when you were sworn into office. An oath that you have since either forgotten or discarded entirely," he said. "Despite years of claims that we're on the pathway to progress we still have brown water, we still have unfathomable electricity prices that you continue to lie about, our firefighters are constantly in danger due to negligence by this body, and our traffic system remains a nightmare."
Levan continued, "Tonight you will enter into executive session to evaluate an employee who has not only mismanaged our city but has burned nearly every bridge of public trust and decency. You have an option to aid and embed this behavior, or terminate it. Mr. Flanagan you spent a lot of money to be sitting in that chair right now and I think it's about time you did something in the public's interest for once in your tenure."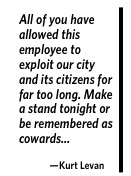 "Do the right thing tonight and stand behind your rhetoric for once even if you never do so again in your time in public service, vote in the interest of the entire community tonight. All of you have allowed this employee to exploit our city and its citizens for far too long. Make a stand tonight or be remembered as cowards by those of us who are constantly watching your actions. Thank you for your consideration and I yield my time to the next citizen," he said.
Claremore business owner, and former city council member, Buddy Robertson spoke his mind next.
"…I saw five different city managers and Jim was by far the best. The way this works is, the city manager and his staff bring stuff to the city council, different options. Once it gets there the city council votes on it and takes it back to the city manager for him to make sure it happens. Now, there are times Jim didn't fully agree, but he was still steadfast in doing everything he could to make it happen. I think the city of Claremore deserves and needs a city manager like Jim Thomas."
Claremore couple Ashley and Kevin Buff each took their turn speaking to the council.
"I'd like to come here today to speak my mind on behalf of my wife and other citizens of Claremore. From what I've seen and heard and read and through my own judgement, we want to call out shooting from the hip, calling out faking news.
Did you ever go out and look for yourself? Did you ever actually listen to the citizens that voted for this council? Did you ever hear their point of view before you said it was fake news or pointed your finger at a fireman and say this is the reason?" Kevin said. "Before you point your finger to someone else, as a manager, it falls back to you….When you automatically call something fake news, you're calling your citizens liars….I think as a council you need to understand where the city stands, and see what we want as a community."
"We'll start with the city's Facebook page on Sept. 25 where they say 'We're pleased to report that upon consistent testing of our water, all samples continue to be independently verified as compliant.' That is a lie. The city did testing at my house and my house had maximum contaminant levels for chloroform, total trihalomethanes, and total haloacetic acids. It's a lie, they already had the results," Ashley said. "A couple weeks ago the Progress did an article on the failed water test prompting public notices. Steven Sears from Inframark claimed 'there were two individuals who took advantage of the free testing offered by the city and there was no lead found in either. THM's were in compliance, slightly elevated.' That's a lie as well. Inframark had those test results from the test at my house and at the junior high and high school which also had maximum contaminant levels for disinfectant byproducts, which are the THM's. I've got it in writing where I talked to Jim Thomas and our mayor and made sure they understood our test results happened long before these statements were made."
She continued, "Why was Mr. Sears permitted to fail to bring up the testing done at the junior high and high school? Why was he permitted to lie? Why does the city continue to use deceptive language?"
"Mr. Thomas continues to fail to keep his word and fails to require honesty and integrity during discussion and statements pertinent to public health. His behavior has destroyed trust between the city's government and residents. When a city manager is more concerned with attempting to discredit legitimate widespread unresolved concerns with regard to public health than actually acknowledging and disclosing the problem; when a city manager fails to disclose documents when he said he would and still feels comfortable enough to make statements which are downright insulting to the intelligence of the community, the community can't help but become more suspicious of the water situation alone," Ashley said. "I can personally say the chance for reconciliation of trust is long gone. Mr. Thomas shows no signs of moving towards transparency."
Up next was Claremore developer Brian Green.
"I've been a contractor and Claremore-native all my life. I've seen Claremore evolve into what it is today. I've seen the challenges in years past. Developing in Claremore 10-1 years ago was a challenge. I've seen a lot of city managers come and go with a lot of visions, a lot of ideas, a lot of romantic sexy stuff, but a lack of seeing those things completed," he said. "Over the last five years I've seen a big change in the direction the city is going with the help of the city council, the great leadership skills we have here, and the management skills of Jim Thomas."
Another Claremore business owner, Paul Pixley, was next to speak.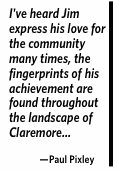 "I want to talk for a few moments about our city manager, Jim Thomas. I believe he is unfairly under attack and I hope that will cease. Jim arrived here a few years ago I believe never having set foot in Oklahoma previously. He was hired by the city council at the time to provide fresh leadership in government in a community that didn't quite know where it was going. He was asked not only to provide the solutions but also to help identify the problems. If you relate this to a human illness, we knew we were sick but we didn't have a diagnosis, let alone a cure," Pixley said.
"Good, strong leadership brings new ideas and it became obvious early on that Jim is a good leader. He advocated and helped commission studies to identify opportunities for Claremore to better itself. Unlike we've seen so many times in the past where studies were done, but then put on a shelf, Jim made sure the council and community were well informed and fully-engaged in traveling new directions."
"He reorganized departments and responsibilities and hired and provided for a staff strongly sprinkled with talented people whom he empowered to help reach for new heights. Because he understands processes and achieving goals once identified, and because of his tenacity the city is making its progress during his tenure. I've heard Jim express his love for the community many times, the fingerprints of his achievement are found throughout the landscape of Claremore," Pixley said. "He's been the spark to reignite community drive to help establish many work group organizations, to develop long range community goals, to recruit good paying jobs, to develop transportation and public utility infrastructure, to set the stage for commercial developments, to add vision to the creation of geographic sectors within the community, to identify and support efforts and entities that make Claremore a desirable place to live and help facilitate other governmental units in their efforts to provide complimentary results for the benefit of Claremore. I'm glad that we have him as our city manager."
Claremore firefighter Ty Burnett spoke first of his problem with recent information released by the city regarding water discoloration.
"Recent statements made reference to fire department hydrant testing causing water discoloration. We did the same testing last year and I'm not aware of it causing any types of issues. Actually, I'm not aware of any issues in the past 20 years of this causing a problem other than when we were testing maybe a dead end problem that might cause a short, isolated problems. We have members that have been working with the fire department for 30 years and have never seen this type of water we are seeing flowing from our hydrants this year," he said. "The fact that we are flowing water through hydrants may cause this problem to show up, but it is not the source of the problem. It is likely the symptom of a much greater concern."
Burnett continued, "There appears to be a great deal of sediment in the system and it is very easily disturbed. In the past, we may see a little brown or rusty-looking water when we first open a hydrant, I assume from what is sitting in the hydrant itself. But this would generally clear up quickly, in the past we have not had the muddy or black looking water that we are seeing throughout the system this year. I know parts of the system are very old but if what we are seeing is the result of an aging system, it seems like it would be a gradual change. There's been a drastic change in what we're seeing."
"I feel like the statements being made by the city are misleading the public to make it seem like the actual problem is us testing the hydrants which is simply not the problem, we've done it for years and never had an issues," he said. "As I read in the Progress, there was an issue of misleading information given to you as councilors. I would ask that you look at your city charger and find the area that gives you authority, and investigate these concerns. I've tried to bring up some atrocious concerns that we have in the fire department, safety wise. From what I understand councilors have been warned not to speak to me…"
Later, the council entered into an executive session to discuss an agenda item listed as: "Discuss and evaluate the employment performance of the City manager."
After one hour and 52 minutes of deliberation the council returned and announced they were going to table the discussion until the next council meeting.