The international allure of Route 66 draws tourists of all kinds.
One of them is Polish native and cross-country cyclist Andrew Andrzej, 57, who came to the states for the first time May 21 to make the famed journey and continue on to New York.
Andrzej has traveled through several countries in Asia and Europe over his lifetime, including the Balkans and the Middle East.
He was welcomed into stranger's homes while traveling through Iran.
But the most dangerous moment of his itinerant life happened right here, in Claremore, Oklahoma.
Cycling on the shoulder of Highway 66, a couple feet to the right of the rumble strip and 20 miles from his hotel room in Chelsea, Andrzej was side-swiped by a passing driver.
"In one second I felt a big power which pushed me," Andrzej said, making a forceful motion with his hands. He spoke in broken English tempered by a trenchant Slavic accent.
In the next second Andrzej found himself lying in the grass, with a crack in his helmet.
Cars stopped and bystanders started calling emergency services.
"I tried to move, to check if I am okay, but they ordered me to stay," Andrzej said. "It was a shock because the adrenaline was on me and I can't feel any pain in my body."
Andrzej had deep scrapes on his elbows and knees, a swollen ankle, pain in his hip and back from a bruised muscle and a cut on the bridge of his nose from where his glasses dug into his face on impact.
Overall, Andrzej said, he was lucky not to have any broken bones or fatal injuries.
Highway patrol arrived, asking questions and making reports.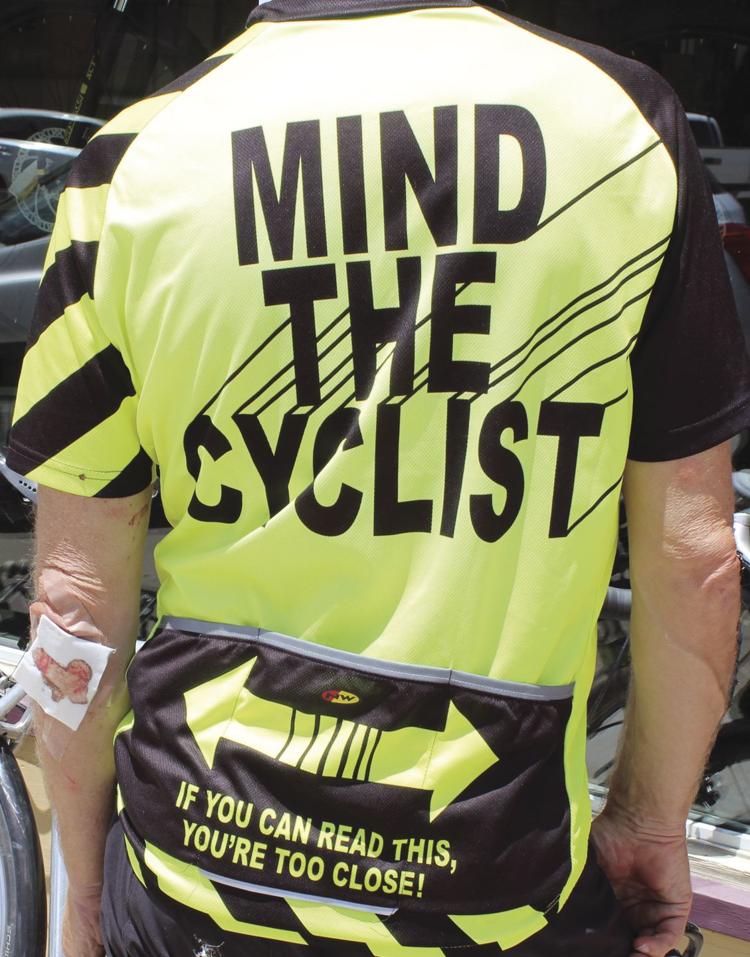 "To see if I am conscious they ask me a few questions about where I am, what is my name," Andrzej said. "I said correctly what is going on, and that means my brain is not shaked."
"After the adrenaline came out, I felt that I started to lose the consciousness and I have to lie on the ground at put some ice on my head," Andrzej said.
Andrzej was taken in an ambulance to Claremore Hillcrest where doctors ran tests and wouldn't let him move around.
By chance, one hospital employee happened to be first generation Polish immigrant Ania Cegielski.
"When they called and said 'hey, we have this guy in here and he is from Poland,' I thought someone was playing a joke on me," Cegielski said. "How many Polish people are you going to see come through town? It was just a shocker."
Cegielski went up to the hospital to help translate.
Then she and her husband offered up their home for Andrzej to recover after he was released.
"When I see people in need I like to help," Cegielski said. "My husband said, 'If it was me overseas wouldn't we want someone helping me?'"
Wednesday morning was a sore one, Andrzej said. Moving up and down to check his bike was a strain.
He used Cegielski's tools to fix what he could, and then took his bike to Bike About in downtown Claremore, where owner Janice Whitaker made repairs for free.
Andrzej thought if an accident like this was going to happen, it might have happened on the trip he made to Cambodia, Laos and Thailand.
He was there during a week long New Years celebration, in a place where cops do not really enforce rules against drunk driving.
In the U.S., the problem is less about substance abuse and more about distraction.
Distracted driving claimed 3,166 American lives in 2017 alone, according to the National Highway Traffic Safety Administration.
"Just like the highway patrol explained to him yesterday, a bike is a legal vehicle in the road," Cegielski said. "He could have been just in the middle like a car and he has the same rights as the cars have."
The driver of the car was found at fault.
"It's no different than being distracted and then hitting another car," Whitaker said. "Yes, we are a legal vehicle and we do have a 3-feet passing law."
"I know that cyclists are also crazy," Andrzej said, jokingly, "but the population of the drivers is bigger than the population of the cyclists. When a bicycle is on the road, you have to pay attention."
Other than this incident, Andrzej said he has enjoyed his time traveling through the U.S.
Andrzej has spent most nights in the homes of fellow cyclists through a social networking site where cross-country cyclists offer their homes as rest stops.
"They offer a place to sleep, sometimes meal, to wash and to spend the night," Andrzej said. "I also offer every cyclist who sends me a request in my country."
Andrzej said the bicycle community is full of kindness and trust that transcends borders.
"What happens when you are outside your country and you need help?" Andrzej said. "I have to do everything I can to help, because when I have problem, then I can also be sure that somebody would help me."
He found the same kindness in the Cegielskis' home, Andrzej said.
"I don't want to make trouble to my friend Ania who is very hospitable," Andrzej said, planning to find a cheap hotel to rest as he continues to recover.
"I planned a whole week. It was perfect planned. Every day I had a place to stay," Andrzej said. "But, you know, after the accident I have to recover."
Andrzej's plan is to be in New York by July 11 in order to make his flight home.
"I hope I will do that," Andrzej said. "I can't plan anything perfectly, because I am dependent on people that use the road with me."