Homecoming week was a non-stop blur for the Claremore Zebras Marching Band.
It began with a first place win at the Stallion Battalion Band Contest last weekend and won't end until the last homecoming activities come to a close late Saturday.
From competition, to daily practice, a day-long performance at the elementary schools, a parade and a football game, the word that followed the Claremore kids this week was "professionalism."
These Zebras are defined by hard work and strength of character.
For kids in the band, summer break is short. Regular workouts start in June to condition kids to march in the heat, and daily practice with instruments begins three weeks before the start of the school year.
On average, the Claremore marching band does 15-20 hours of practice a week, not including time spent performing at football games and pep rallies.
"I don't think people realize the amount of physical activity these kids do," Band Boosters President Tray Kimball said.
Marching is more than walking. Bends, turns and lifts keep pressure on the legs. Instruments have to be held in place for nearly an hour at a time, straining arms and backs.
"A lot of these kids could physically outperform some of the kids that are in sports," Kimball said.
Band kids often out-perform their peers intellectually as well.
The collective GPA of the Claremore band is around 3.5.
During the 2018-19 school year, the Oklahoma Secondary Schools Activities Association (OSSAA) recognized the Claremore band for their high academic achievement.
And, research consistently shows a correlation between the ability to read and play music and skill in math and memorization.
"It is a very specific art form," Kimball said. "It is just amazing how quickly you can give these kids a piece of music and they can turn around and win a superior at state on it within just a matter of weeks."
"It amazes me that the band director can say, 'let's got to section 27,' and these kids automatically know where to go on the field and exactly what point in the music to start playing," Kimball said. "There is so much memorization that goes into it."
Beyond the field and the classroom, the Claremore band excels in competition.
In the 2018-19 school year the band won sweepstakes and the Accent Award from OSSAA for having a superior ranking in all categories of judgment, marching, concert, guard and jazz band.
In the Oklahoma Bandmasters Association contest, Claremore placed 8th in the state last year.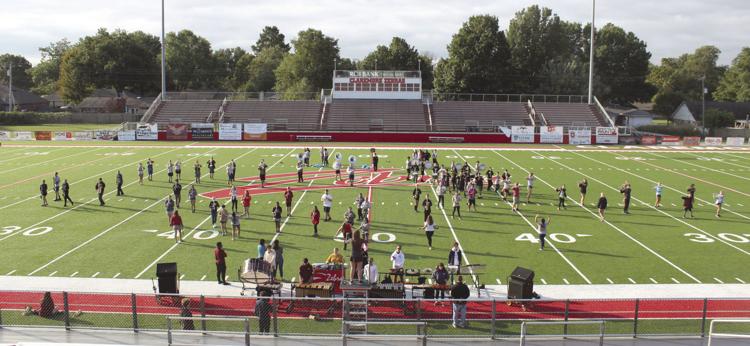 Currently the team is looking for ways to improve on last year's performance.
"We have four contests that we go to during the fall," said Band Director David Mudd. "Most of those contests are a way for the band to get out in front of some judges and get some comments, criticisms and advice to make the show better."
With around 100 students, Claremore has one of the smaller bands among 5A schools in Oklahoma, meaning they have to work extra hard to get noticed.
"Today's band contests are so much more visible. It is such a big deal. There is a lot of money involved, a lot of scholarships that come from it," Kimball said. "Band is more than just supporting the football team and having an occasional concert at school."
Aside from being good at what they do, Mudd said the reason he is most proud of his kids is, "they are good people."
"They are a family. They are very loving and supportive of one another. I am not every ashamed to take them out in public," Mudd said. "The hard work and camaraderie these guys have, it's a team."
"This group of kids is some of the hardest working kids that I know," Mudd said. "The amount of work that we do, the number of performance we put on a year and the fact that we do it at a consistently high quality, they work very hard to achieve all that and still be good students in school."
Kimball encouraged the community to give as much support to the band as they do for the sports teams.
"They need community support. They need people to cheer them on," Kimball said. "These kids put in a lot of time and effort. It is nice to be recognized."