She spent 18-hours dressed as Harriet Tubman standing in protest in Bentonville Square.
Police warned her that a white supremacy group was making their way across the square to protest her presence. Sheree Miller looked up and saw a familiar face, former Claremore classmate Bud Curtis and her resolve was bolstered. The two are no strangers to facing racial tensions together.
Miller, who said she would have graduated with the Claremore High School Class of 1973 if it wasn't for getting married and starting a family, recently dressed as Harriet Tubman to protest the location of a confederate monument in the center of the town she now calls home.
"I shared my plans on Facebook and Bud Curtis saw and said he wanted to come down and help. He and his wife live in Wyandotte now," Miller said. "I thought it was just something he was saying, so I was so surprised when he showed up on the day of the protest. We were close friends as kids, but I hadn't seen him since high school. It just meant the world that he came all this way."
Looking in the rearview mirror at their shared Claremore days, Miller said from the way they met to the way they united, represented generations of change.
"Claremore integrated earlier than most schools, that's how Bud and I met" she said. "When we did integrate, sure, there were some instances of—let's call it ignorance. And Bud witnessed some of the things that happened to me, like us not being able to ride the bus like the white kids. He was there when one little girl asked to see my tail because she'd been told that African Americans had tails because they descended from monkeys. But it was a different time, and it was everywhere, not just Claremore."
Curtis recalled their meeting saying, "Sheree and I go back many years. We were classmates in fourth grade at Claremont Elementary. That was the year integration happened in Claremore."
He recalled that Sheree was attending Lincoln School on the west side of town, "the only school where black kids were allowed."
"When they integrated, she was in my class and we became friends immediately," he recalled. "Claremore, in those days, there was a lot of racism. I saw it growing up…these were Jim Crowe days."
For example, he said, "In town, Claremore's black residents could only go to the pool on Thursdays, because that's the night they drained all the water out."
He recalled a highly-contested argument within one church congregation—"The church was fighting over whether or not black residents could attend."
He recalled one member of the church questioning "if black people even had souls."
"Ultimately it caused the church to split, and a new church formed on the north side of town."
While the integration itself meant very little to Curtis, who was just happy to have a new friend, he said some of the finer points of life in that time didn't occur to him until much later.
"They decided to integrate schools, but they didn't bus them. They weren't allowed on the bus," he said. "So they had to find their own way to school, which usually meant walking all the way from the west side. I remember Sheree and her friend Joyce used to walk from the west side to Claremont and people would come out and make them walk in the middle of the street because they weren't allowed to use the sidewalks."
Recalling that part of their life he said, "It just, it all went against everything I believe in."
He described Miller as being "one tough lady" and said that's a big part of what compelled him to join her cause.
"She's lovely and has a heart like you wouldn't believe. The fact that anyone, especially someone who is such a good person, would be treated that way because of the color of her skin is outrageous to me," Curtis said.
"It meant a lot to me to be there with her. We were just kids then, but if I had been old enough to participate in some civil rights activity, I would have. I just wasn't old enough."
Curtis said i, "If I couldn't stand up for her then, I was going to be sure to stand beside her now."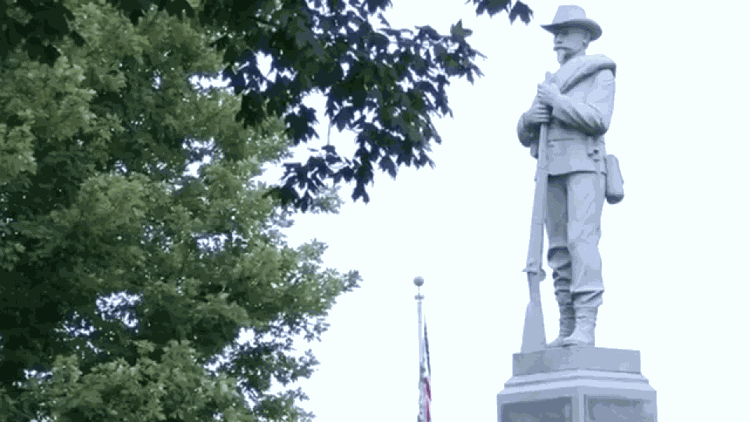 About the statue
The monument was installed in 1908 by the United Daughters of the Confederacy, using a generic soldier mold that was duplicated and placed in countless cities. Later, many towns added plaques and dedicated the monuments to specific Confederate soldiers.
"It was put here as a red flag for people of color to know that the Confederacy is still alive and well in Benton County," Miller said, adding that she hopes the county will move the statue somewhere more appropriate.