There was kicking and punching and yelling you might see at any martial arts school.
On the surface, Beaven's Martial Arts was a place to learn taekwondo; but below that sweaty surface, there was far more happening. It was a place where anyone was welcome and everyone seemed to become like family.
"I'm so grateful our lives crossed on this ol' earth," said Jeannie O'Connor, shortly after giving her longtime teacher a hug.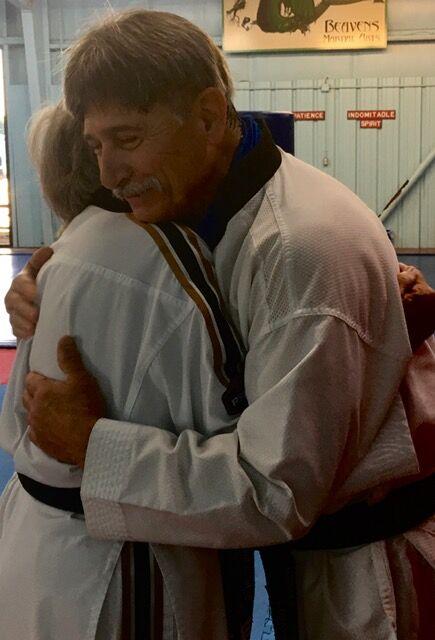 O'Connor was among dozens of current and former students who came to the school on Lowry Road last week to honor John David Beaven and his wife, Lynna. After 25 years in Claremore, Beaven's Martial Arts is closing.
It's possible few in the school will recognize the name Jeannie O'Connor. She's better known as Mam-maw, the 85-year-old with a fifth-degree black belt. She's trained under Beaven for 17 years, and -- like other black belts -- has done plenty of teaching, too.
She learned from John David Beaven, a Grandmaster with a seventh-degree black belt. He was the man teaching classes in a room where you could see ageless grandparents or young children, known as Little Dragons. If the kids met two criteria – 3 years old and potty trained – they were headed onto the big blue mats for training.
A key lesson: "We train to fight so we don't have to," Beaven said, noting that martial arts is about building self-discipline and self-control. Every class started and ended with students making this statement in unison and then bowing to the instructor: "Focus your eyes, focus your mind, focus your body …"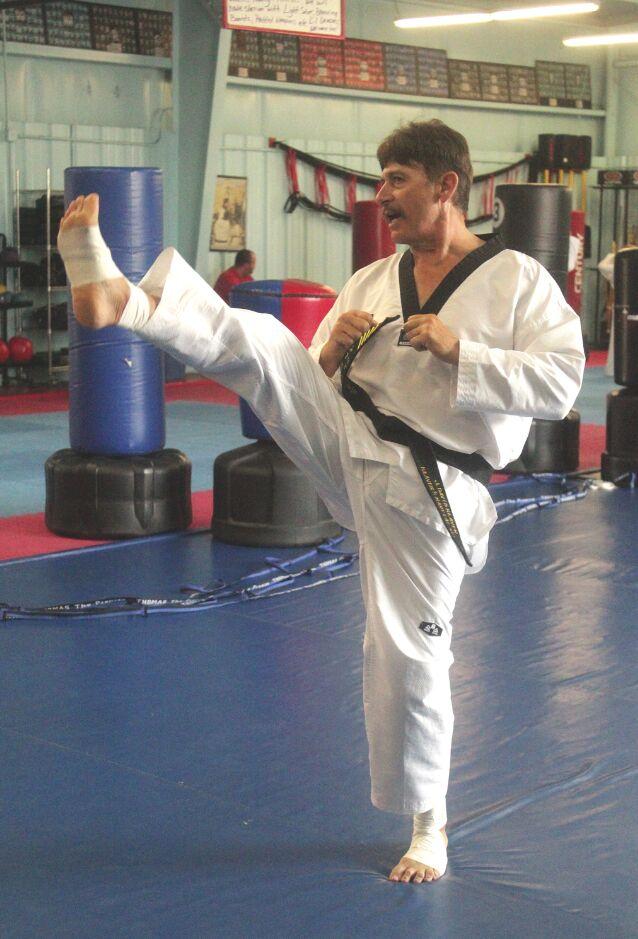 Beaven helped students build taekwondo skills. He said footwork and agility that young children learned often helped them compete in other sports as they got older. But taekwondo is about far more than agility or self-defense, he said. It helps build confidence to face life's inevitable challenges -- whether that's stress in the workplace or teasing in school hallways.
"The true aspect of martial arts is personal development," Beaven said. "If you have self-respect, you don't care what other people say. When you know what you are and what you're capable of … it trains you not to be a victim."
Beaven, 62, started in martial arts in 1985 when he brought his 5- and 6-year-old sons to a school in Claremore where his brother taught. You could say it was a family affair. After 10 years of training, mom and dad opened their own school. One son is a fourth-degree black belt. Another is a third-degree black belt. (By the way, John David Beaven's mother got a fourth-degree black belt.)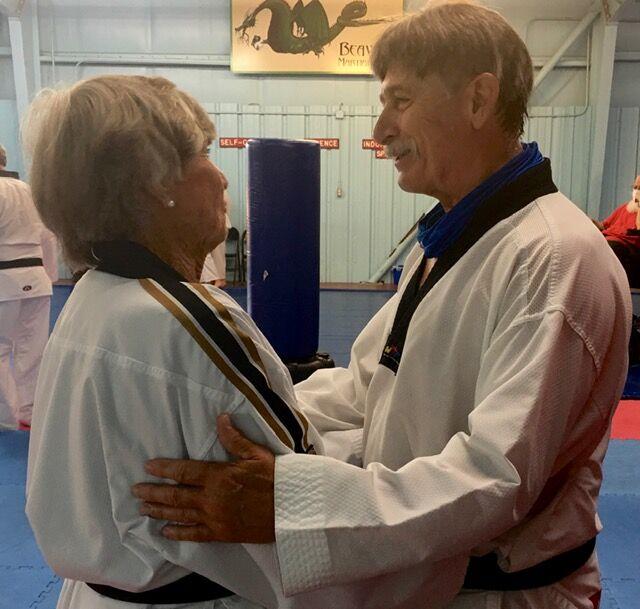 Ask Beaven about the number of his students who reached black belt and there's a pause and then an "ohhh" as he tries to recall 25 years of work. He estimates 200 to 300, a testament to the commitment to Beaven's teaching. For youth, it takes at least four years to become a black belt, he said. For adults, it takes at least three years.
Beaven talks with pride about his sons and many students becoming productive members of society. One son was in the Navy before becoming a registered nurse in the Tulsa area. The other son was in the Army and is now a physical education teacher at a school in El Paso. Children who grew up attending Beaven's Martial Arts have gone on to careers ranging from Air Force fighter pilot to accountant.
Lynna Beaven was a constant influence at the school. She earned a fourth-degree black belt and also could be found behind the front desk handling business affairs.
"She heard everything that was going on. She knew the pulse of the school," John David Beaven said. "We were a great team."
Lynna said her greatest memory in 25 years was how the school welcomed anyone. Children who may struggle with focus or finding a place to fit in could find a home at Beaven's.
"Just seeing the kids that aren't able to do other things, and they excel in this," Lynna said.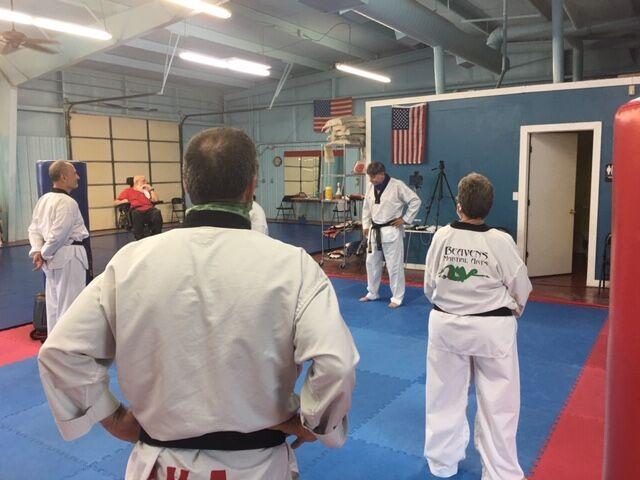 She mentioned a student with Down Syndrome who had told her parents she just "wanted to have a normal life like other kids." Her parents found that opportunity at the school.
"It's for everybody," Lynna said. "And seeing how she has done … that's what I liked seeing, how it has changed (students). Giving them confidence to do other things."
Linda Putnam started taking martial arts classes 30 years ago at John David Beaven's brother's school and then continued at Beavens Martial Arts when it opened in 1995. As a seventh-degree black belt, Putnam joins Beaven as the school's highest-ranking members.
She's witnessed the impact on lives and the family connections. She said one family has seven members who have become black belts. She's seen Beaven's influence through the years.
"He's so patient. I know there were times when he wanted to pick me up and throw me out the door," Putnam said laughing, before praising how Beaven worked so well with everyone, including the Little Dragons. "It's just the most amazing thing you ever saw. He gets on their level."
Beaven said it's time for a "new journey" now, although he will still have a few classes once in a while for black belts. He said he has been contacted by some businesses about doing periodic consulting work related to personal safety. But his days running the school have ended, almost exactly 25 years after the Aug. 26, 1995, beginning.
Lynna said she's looking forward to getting to spend more time with their five grandchildren.
While the doors are closing, the effect on the lives will be lasting, said O'Connor aka Mam-maw, who started at the Beavens' school when she was 68.
"You meet someone and you don't know" what might happen, said O'Connor noting the feeling of having family in that school for so many years. "You go down this road together, the Beavens' Road. It's awesome."