Elections can be confusing.
Common questions of eligible voters include: When are we voting? What are we voting on this time? And, when is the last possible day that I can register and be able to vote in this election?
But in the life of a ballot, it all boils down to one thing – game day.
From 7 a.m. to 7 p.m. on a Tuesday, that is prime time.
And when it comes to election day, there is no bush league.
COME OUT SWINGING
Ballots start out the day trapped in a box, marked with the number of the precinct where they are headed. There are 36 precincts in Rogers County from northwest Talala to southeast Inola.
And each precinct is run by at least three precinct workers: an inspector, a judge and a clerk.
Well before election day precinct workers are paid $25 to attend four-hour training class.
On election day, judges and clerks are paid $87 a day for their work and inspectors are paid $96.
"I call them all volunteers because we pay them money, but we don't pay them nearly what they are worth at all," said Rogers County Election Board Secretary Julie Dermody said.
"It's a long day, long hours," Rogers County Precinct Inspectors Lisa Stiles and Roni Fortner agreed.
The inspector shows up at the county election board as early as 6 a.m. to check out their box of ballots and voting machine.
"There is a lot of paperwork and regulations to follow, which are necessary to make sure that everything is secure," Stiles said.
Then they head to their polling place to set up with the help of their judge and clerk.
"We have a team that is bipartisan that works together to set things up, and we are always watching each other to make sure things are done correctly and above board," Stiles said.
On most elections there are three people, though for larger elections there are sometimes more.
"My particular polling place is the largest in Rogers County so sometimes the election board secretary does recruit extra people," Stiles said. "We may have two teams of three or even three teams of three."
The biggest part of set-up, perhaps besides the large cardboard booths, is the ballot counting machine.
The Mobile Ballot Box (MBB) is actually just a small flash drive.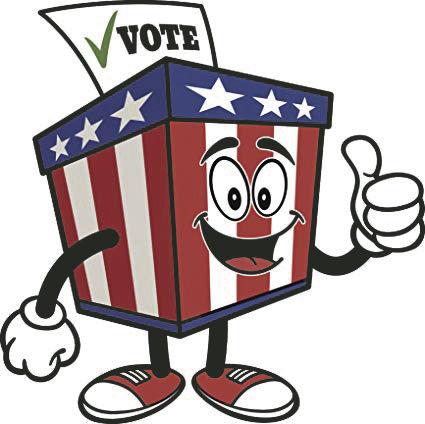 However, it is a small flash drive is securely sealed within a silver briefcase-sized machine attached to an empty black box.
The silver briefcase counts and reads ballots as well as giving blind or hearing impaired voters an accessible way to cast their votes.
The information it reads is recorded onto the flash drive.
The paper ballots drop into the empty but secure receptacle below.
The machines never go to the same precinct twice and no part of the machine is ever online to prevent tampering.
Then at 7 a.m. all across the county, precinct doors simultaneously open.
Every voter in Oklahoma is required to bring state-issued identification with them to the polls, whether it is a driver's license or a voter registration card.
"It's not optional," Fortner said.
That information is checked against the book of registered voters in the precinct. Voters are required to sign, verifying that they are who they say they are.
After signing, the clerk hands each voter a ballot, a pen and an "I voted" sticker.
"In a lot of elections, if they are municipal or if there is a fire district or a school district or something, some people get certain ballots that other people don't," We have to be aware of that so each individual who comes in, we check to make sure they get the correct ballot."
The steps for the voter are pretty straightforward from there. Fill out the ballot. Stick it in the machine. Return the pen. Place your sticker proudly on your chest. And go about your day.
But for the ballot, it's still a long way from the goal line.
KEEP AN EYE ON THE BALL
It should probably go without saying, but some elections are busier than others.
During presidential elections or high profile state questions like medical marijuana, Stiles said, "sometimes we just work through lunch. We might grab a sandwich and eat it while we are servicing people."
During busy elections a single precinct might see almost 3,000 voters. Nearly 250 people an hour is a lot even before you consider that the quarterback — sorry, inspector — spends the whole time running interference.
"As an inspector I trouble shoot the machine if anything goes wrong with it and I'm the chief coordinator for any problems that come up, though we always have the election board as a backup," Fortner said.
Everyone who fails to bring proper identification or whose name cannot be found on the registry is given the opportunity to vote provisionally.
"We have a few people that walk in the door on any given election and for some reason they are not in our book so we have to research why," Stiles said. "We start out by looking online to see if they are registered or if they are in the correct precinct. If we can't find them online or there is some problem then we will call the election board and try to figure that out."
Provisional ballots are filled out and placed in a blank envelope, which is then placed inside a provisional ballot envelope.
Personal information is written on the outside of the second envelope and the provisional ballot is stored in a secure location until it can be returned to the election board where voter registration can be verified, and if so, counted.
"We do the best we can to make sure that every vote counts," Fortner said.
Dermody likewise assured, "Provisional ballots are always counted."
Other times, hardly anyone shows up to vote at all.
As an extreme example, the city of Tulsa fence line runs into three Rogers County Election Board precincts in places where there are no registered voters.
The City of Tulsa has the legal power to close precincts where there are no registered voters, but when they fail to do so the Rogers County Election Board has to employ nine precinct workers to sit at polling places from 7a.m. to 7 p.m. with a stack of 50 provisional ballots knowing no one will show.
According to Dermody, a conservative estimate for election costs is about $800 per precinct.
"The people of Rogers County are, for the most part, very kind and easy to work with," Stiles. "Generally, if we have a problem, we are able to work it out. And most of the time they are very kind and understanding."
Keeping an eye on the ball and ensuring that elections are run with integrity are an important part of what precinct workers do.
But with each passing year, fewer and fewer people are filling to role.
And it is a problem all across the country.
For 2020, the election board is going to need a lot more volunteers.
"We have been working with the Greatest Generation, who have a heart to volunteer and serve, but they are losing steam and retiring quickly," Dermody said. "It is a long, 14-hour day at a minimum, but it still has to be done."
The average age of a precinct worker in Oklahoma is 75.
But Stiles and Fortner had strongly-held reasons for why they do what they do, despite the long hours.
"It is a great opportunity for me to serve my country," Stiles said. "I believe in the voting process and I want to ensure it is done with integrity."
"It's a process that is part of our democracy," Fortner said. "It sounds a little hokie, but it's an important part of our democracy that everybody has a voice in making decisions. And I believe that this is the best thing, at my age, that I can do to help."
ENTER THE HOME STRETCH
Almost counterintuitively, the game heats up as the players head into the final quarter.
"There is a lot of paperwork that has to be done," Stiles said. "Depending on the election, it's not unusual for me to get home between 8:30 and 9 at night after I have been there since 6 in the morning."
"At 7 p.m. we check to make sure no one is still there, proclaim that the polls are closed, and then start the process on the machine to close the polls," Fortner said.
All the recorded ballot information stored on the MBB is printed onto a piece of receipt tape at the end of the night.
"They look at their tape to see how many ballots have been used," Dermody said. They compare that number to the number on the first remaining unused ballot. If the number on the receipt is one less than the number on the remaining ballot, they are in good shape. If not, you can guarantee a recount.
They also account for the number of provisional ballots.
Once that is done, paper ballots are removed from the black box and placed in cardboard boxes that are sealed with tape seals. All the precinct workers sign the tape seals to ensure that they are not tampered with.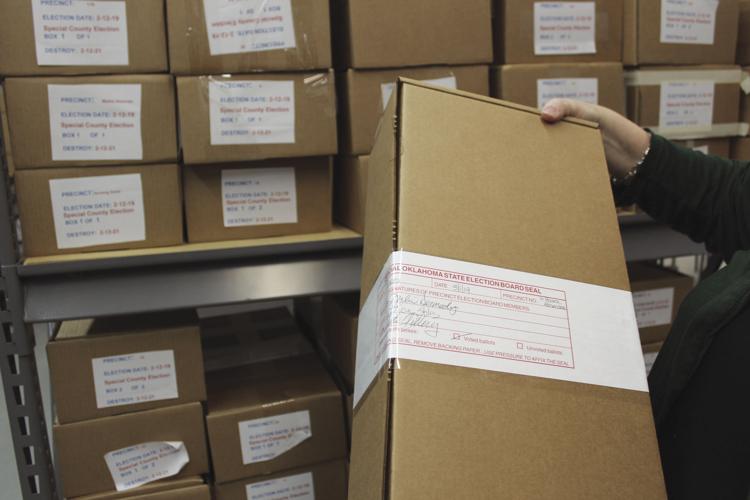 Everything is meticulously recorded and then every worker at the polling location takes everything down and makes sure it is securely placed in the inspector's car.
When the inspector arrives at the election board, volunteers help them bring everything inside.
The ballot boxes are checked in with a sheriff's deputy, who confirms that the integrity of the boxes has not been compromised. If it has, a recount is guaranteed.
The boxes are then placed on a shelf within the election board where they stay, sealed, for the rest of their lives (Two years in most cases).
"The integrity of the ballot is so important," Dermody said. "And if we have a recount or something, all we have to do is pull the shelf out and everything is right here."
Once the paper ballots are accounted for, "we go through a checklist as we go through there to account for all the supplies and the machine," Fortner said.
The machine is checked in with an election board employee who ensures that the seal over the MBB has not been tampered with. If it has, a recount is guaranteed.
"It's a little involved, but I've watched this process for a while now," Fortner said.
"The great thing about Oklahoma is that we have a paper ballot," Dermody said. "If there was ever to be compromise with the machines, which there hasn't been, we can just go back and count the paper ballots by hand."
The MMB is removed from the silver briefcase machine by an election board official and plugged into a computer that has a one-way secure connection to the Oklahoma Election Board.
"It loads directly to the state website immediately so that when you are watching online, you are getting real-time results. As soon as we plug it in, it populates everywhere," Dermody said.
In countywide elections, this thorough process happens 36 times between 7:30 and 8:30 p.m., depending on how long it takes to wrap up and drive to Claremore.
"At the end of the evening, after all of our precincts are in, the board and I check that everything is in and all our ballots are accounted for. At the end of the evening we know exactly how many boxes we had sent out with them and they have to bring that many back," Dermody said. "The sheriff's deputy counts to make sure that we have the right amount and then I go through and I count."
"The most important part of my job is to make sure all those ballots are accounted for," Dermody said.
Then, together, the deputy and Dermody take the shelves of sealed boxes and store them in a giant, metal cage where they are secured for 72 hours.
"He has no access to this building, I have no access to this cage," Dermody said. "Checks and balances."
The only reason there could be to open that cage is a recount.
There have been two election night recounts in the time that Dermody has been in charge of the Rogers County Election Board.
The provisional ballots are counted and the election results certified by the Friday after the election.
All in all, the election day is a well-regulated sport.
"The state of Oklahoma really sets the bar for the entire United States," Dermody said. "We have the best system in the country."