Rogers County based non-profit Light of Hope has partnered with national emergency disaster relief non-profit Mercy Chefs to serve as an area distribution hub throughout the coronavirus pandemic and beyond.
Both organizations are part of the USDA "Farmers to Families" food box program, getting fresh produce and dairy products that might otherwise go to waste to families.
The USDA contracted with the company GoFresh to distribute food across Oklahoma, Texas, Arkansas, Missouri and Kansas. GoFresh, in turn, recruited three different major food distribution organizations with existing networks in place to get the food into communities. One of those was Mercy Chefs.
Mercy Chefs used their connections with existing organizations to orchestrate the delivery of food local hubs like Light of Hope, who in turn distribute that food to even smaller non-profits and churches throughout their area.
Other local hubs include the Claremore Senior Center and Grand Nation in Vinita.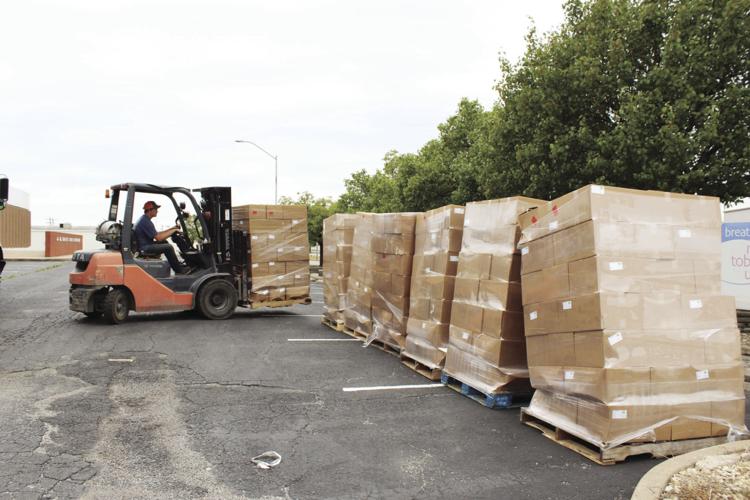 Light of Hope Founder Layla Freeman described it as a vine, with tendrils branching off of one another to cover a much area as possible, but all springing from the same root.
"We can't provide for everyone ourselves," Freeman said. "We have to be a vine, and that vine has to grow and grow and grow. And God is the root of it all."
In the last week Light of Hope has distributed more than 2,200 boxes of food from their food pantry to other non-profits in the area, including the Sheriff's Office, Dividing Bread, the Collinsville Baptist Tabernacle, Calvary Baptist Church in Inola, Safenet, Real Life Church of Claremore, The Baptist Village in Owasso, Zion Hill Church in Oologah, the Gatesway Foundation in Broken Arrow and Loaves and Fishes of Nowata.
Gatesway Foundation Director of Operations Chris Douglass brought extra diapers and fuzzy jackets that his organization had when he came to Claremore to pick up boxes of food.
"anytime we get a donation that we can't use, we think of our partners," Douglass said, giving the diapers to Freeman who accepted them with gratitude.
Light of Hope first opened their food pantry in December 2018, just before the government shutdown in January 2019 that left dozens of families in Rogers County without a paycheck for several weeks.
In the time sense they have provided for individuals who lost everything to historic flooding and now families laid off due to COVID-19, in addition to the clientele they formed to assist, individuals and families struggling with addiction.
Mercy Chefs chose Light of Hope because of the assistance they provide in emergencies.
"They called me the day they found out this was going to start happening and said, 'I want you involved, let's figure this out,'" Freeman said. "They know that we've done this well, we've done it in several emergencies that have happened, and we have a system, and we have wonderful volunteers too."