Ollie Christina (Callison) Starr was once a little girl, sixth in a family of seven kids, running around a cattle ranch in Mayes County.
"From the time she could count, Ollie could be found trailing behind her daddy, learning the rigors of the cattle trade," her son Keith Austin recounted. "Her mother took care of academics while her dad taught her how to take on the world despite obstacles."
Ollie married at 16. Then she was a mother.
By age 25 she was raising four children in the small town of Talala. She imparted to her children the values of integrity, hard work and a giving spirit of community involvement.
During her children's formative years, Ollie always had an extra seat at the dinner table, a meal prepared for a nearby family in need, and was actively involved in the community, never passing up an opportunity to make a new friend.
When the voting rights of Cherokee citizens in there own government were restored in the early 1970s, Ollie and her family were among the first to exercise their right to vote.
Ollie drove her kids from Talala to Tahlequah to witness the historical moment when Principal Chief W.W. Keeler was sworn into office
At 47, with her children grown and divorce finalized, Ollie set out to make changes and build a new life.
"Ollie will tell you she went to Hollywood and became a star," Austin said. "She then will laugh and explain she went to Hollywood, Florida, and married Mr. Starr."
It was in Florida where Ollie's sense of community and political activism really took shape and created change.
As a landlord in a declining area of Ft. Lauderdale, Ollie noticed that the drug and prostitutions trades were taking a toll on the community and overtaking properties left and right.
In response, Ollie rounded up neighborhood mothers and grandmothers to go on "Crime Marches."
They formally organized into the Lakeland Civic Organization, successfully reducing the crime rate and increasing the property values.
To ensure children in the area knew they had more opportunities than a life of crime, Ollie was a frequent donor and volunteer to the Boy and Girls Club.
Ollie was recognized for her service to the community, receiving several honors and awards from the Sheriff of Broward County, the City of Ft. Lauderdale, the Governor of Florida and several national organizations.
After her husband Vernon passed away in 1991, Ollie returned home to Rogers County, where she could be near her children and among a vibrant tribal community.
Her passion for community service only grew more fervent over time.
Former Principal Chief of the Cherokeee Nation Bill John Baker, said, "My goal is to improve the lives of our tribal citizens in a myriad of ways, from economic development to investments in health care and public education to Cherokee cultural preservation. Ms. Ollie Starr is an invaluable ally in these efforts, especially preserving the history and heritage of the Cherokee people."
"As a citizen of the Cherokee Nation, she has always shown extraordinary leadership and dedication to improving our Cherokee communities in northeast Oklahoma," Baker said in his letter of recommendation, nominating Ollie for the award.
Ollie has played an instrumental role in revitalizing the Indian Women's Cherokee Pocahontas Club, the oldest continually operational club in Oklahoma.
In various roles over 15 years of service with the organization, she has raised thousands of dollars in scholarships for young Cherokees and mentored many young men and women. Through the club she is also an advocate for Cherokee elders, to improve living conditions and access to services.
Most recently, Ollie helped curate and coordinate the Cherokee Recollections Pocahontas Club exhibit, on display last summer at the Cherokee Heritage Center.
Her continued work with the Boys and Girls Club in Chelsea has led to upgrades in the gymnasium and kitchen as well as the creation of a continuing arts program.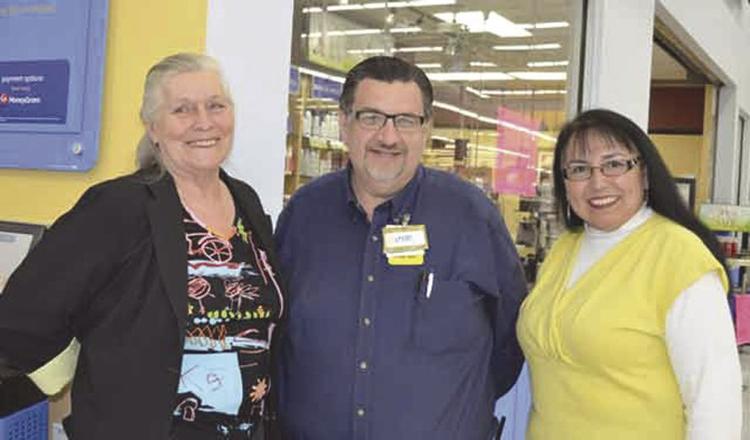 S. Michelle Place, executive director of the Tulsa Historical Society and Museum said, "Just to be in her presence is a visible lesson of what it means to work for the betterment of a community."
"Ms. Ollie can make a plan and work a plan better than many people in leadership positions. We can all be assured that her plan will be sprinkled with wisdom, strength, kindness, compassion and humor," Place said in her nomination letter. "Although retirement from the workforce is just over the small next hill for me, I know that when I 'grow up,' I would like to be just like Ms. Ollie. She is the brightest of stars who deserves recognition so that others may see her light and strive to use their gifts and talents for the good of others."
Baker said, "Her 'can do' attitude and tenacious devotion to her community, her state and her tribe have always allowed her to accomplish great things, which have a positive impact not just for today, but for generations to come."
At 78, Ollie is still an active member and avid volunteer in her community.
Ollie received the 2014 Cherokee National Community Leadership Award and was an honoree at the 2015 AARP Oklahoma Indian Elder Honors.
But the greatest praise came from her children, grandchildren and great grandchildren.
"Ollie Starr embodies the indomitable spirit of the strong native women who persevered with their families, to survive the trek to Oklahoma during the forced removal of native tribes in our recent past," Austin said. "Ollie continues to see what needs to be done and does not wait for someone else to notice. She rolls up her sleeves and is willing to work tirelessly until a solution is not only thought of, but implemented."
Ollie will be inducted into the 2019 Oklahoma Women's Hall of Fame Thursday, October 10, 4 p.m., at the Oklahoma Judicial Center, 210 N. Lincoln Boulevard in Oklahoma City.
"I feel very humbled that this would be awarded to me. It is a very huge honor," Ollie said. "I didn't get there by myself."
Ollie's philosophy of life is to take one day at a time and look for ways to do better than the day before and to help someone else do the same.
"It's all about what we do and how and encouraging others to be the best they can be also. I really believe in encouraging others and helping other people, because without what are we?" she said. "Don't wait until everything is perfect to do something. Don't wait until everything is convenient to act. That has been my whole philosophy … Look for solutions and see what we can do about it today."