While much of the country is grieving the loss of a former president described as honorable and kind, Claremore's Chamber of Commerce President is taking the opportunity to give back to the man who gave her so much.
After two days lying in the rotunda of the US Capitol, visit by thousands, the first of former President George H. W. Bush's memorial ceremonies will begin Wednesday, Dec. 5, 11 a.m., at the National Cathedral in Washington, DC.
President Donald Trump designated Wednesday as a national day of mourning.
The former president will then be moved to St. Martin's Episcopal Church in Houston, where he will lie in repose for an evening of visitation before a second service, 11 a.m., Thursday.
Bush will then be taken by a motorcade procession to the George H.W. Bush Presidential Library in College Station, Texas, where he will be laid to rest, next to former first lady Barbara who died in April, and their daughter Robin, who died of leukemia as a child.
Assisting with all of these preparations is Claremore resident and Chamber of Commerce President Barby Jobe Myers.
Myers was born and raised in MidWest City, Oklahoma, and got a Bachelor's Degree in political science from Oklahoma State University.
Her first job after college was with former U.S. Senator Don Nickles (R-Oklahoma). When he won his 1986 election, she traveled with the rest of his staff to Washington D.C.
She worked on the hill for some time, then took an appointed job in the Department of Energy. As part of her job in the agency, she communicated with White House staff on a daily basis, and clearly made a good impression on the right people.
She was asked to apply for one White House job that didn't pan out, but her resume was sent on to the advance office, where someone recognized her qualifications and work ethic.
"I was in the right place at the right time and got lucky," Myers said.
At 22, she was hired on by the Bush White House staff, and worked from 1988 to 1993 as a trip coordinator in the advance office.
"I organized all of the logistics and details for whenever the president left the White House," Myers said.
She was one of four trip coordinators who alternated planning every one of the president's excursions, whether it was just down the road, halfway across the country, or in another hemisphere.
Her job involved making an itinerary, sending the president's advance team to confirm all the arrangements, coordinating with the president's security detail, updating and making copies of the itinerary for the president and his staff, and keeping everyone apprised of last minute changes.
"My job was to put it all on paper so that all the senior staff and everyone that was traveling with the president would know, minute by minute, line by line, exactly what the president was going to be doing," Myers said.
Myers met with former President Bush and his family several times over the years, always in an employee- employer capacity.
"As a staff person, especially a staff person at that level, staying out of the way and just doing your job was kind of what you did," Myers said. "My job wasn't ever to talk to the president, just to make sure that his logistics were set and he knew exactly what he was doing."
Still, she has a handful of personal anecdotes about former President Bush.
Myers rarely got to go on the trips she planned for the president—but one exception was when the president gave the commencement speech at her Alma Mater in 1990.
"He was really generous with his time, and my mom and dad got to meet him," Myers said. "That was a really special time for me."
Myers said she enjoyed being a young professional in the city, getting to travel the world (more than 20 countries) and to learn and grow in her career.
"I had a lot of great mentors and great experiences," Myers said. "I've seen places and things that I would never had seen if I hadn't worked at the White House."
The closest memory to her heart was a photo opportunity she and her family had with President Bush in 1991.
Her oldest child, Kylie Jobe, wasn't quite a toddler.
"The president promptly took her out of my arms and held her the whole time," Myers said. "I have a really great picture of him holding her and kissing her cheek."
Bush signed the picture, "To Kylie, I hope your life is full of joy."
"It's very bittersweet now," Myers said. "Her life was full of joy."
Kylie's life was cut short in 2011, at the age of 20, when she and her highschool sweetheart Kyle Thornbug were hit by a drunk driver while returning home from a ski trip over spring break. Neither survived.
"She epitomized everything that he wrote in that note to her. She did have a life full of joy," Myers said.
"It was an honor working for such a kind and honorable man as President Bush," Myers said. "I was very blessed and lucky to have landed there, and I couldn't have asked for a better place to be."
Myers has heaps of respect for the late Bush.
"He was a very humble man. He was one of the most well-qualified people to be president. I think our country was blessed to have him as our leader," she said. "It's in so many stories now, everybody is saying the same things, but faith, family and friends, those were the things that were most important to him. And he lived that example for all of us to see, all of the time."
This week she is volunteering with the funeral proceedings, doing much of the same arrangement and logistics coordination that she did during his presidency.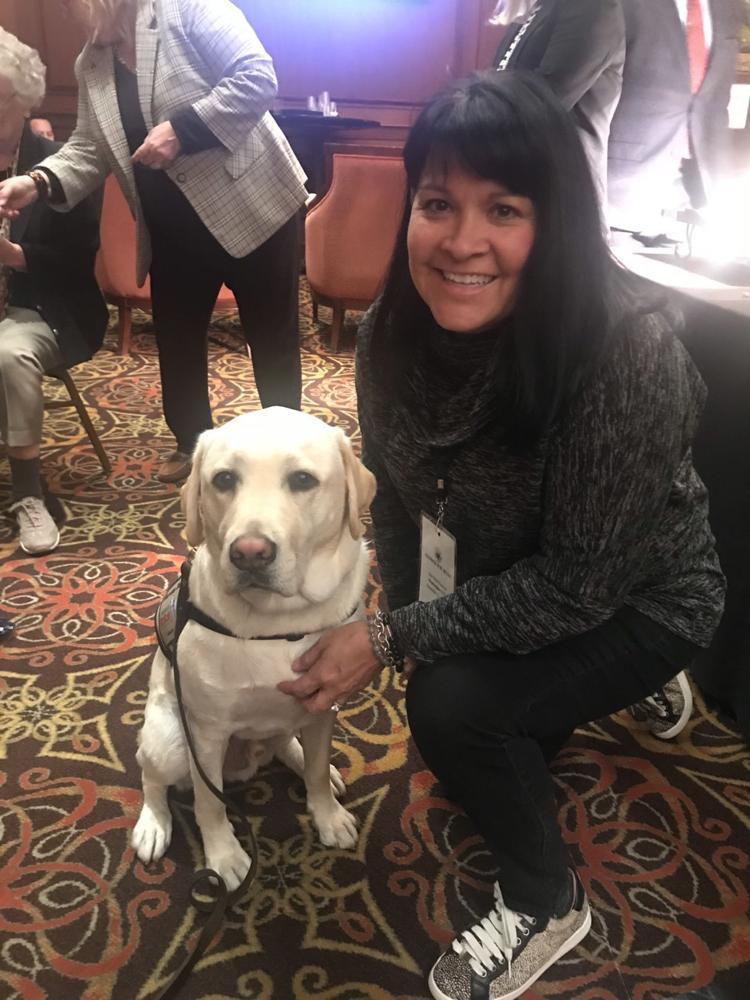 The majority of the volunteers are Myers' coworkers from that time.
The group is scrambling to make all the proceedings run as smoothly as possible, planning invocations, organizing RSVPS, and funneling the myriad of VIP well wishers.
"There are a lot of wheels in motion and a lot of different people making everything happen," she said. "I'm really blessed to have been able to be a part of it all."