A new round of Oklahoma school grades came out Thursday, offering a more accurate picture of student learning than grades in previous years, according to State Superintendent Joy Hofmeister.
The state hasn't issued school grades since 2016.
The new grade uses new benchmarks and formulas intended to emphasize academic achievement; student growth; English language proficiency; an emphasis on college and career readiness through graduation rates, advanced course work or dual-enrollment programs; and reducing chronic absenteeism.
The goal of the new system, according to previous reports, is to control for the criticism that the last measure was solely a measure of the wealth of each school district.
Detailed information about how each school did can be found at oklaschools.com. There is also a link on the page to the Oklahoma Parent/Student Portal, which provides information about students.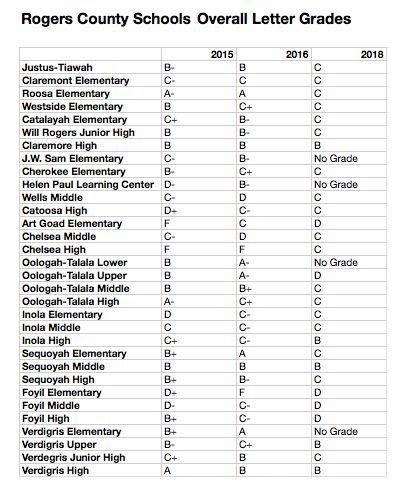 Claremore High School, for example, got a C in Academic Achievement, a D in graduation, an A in English language proficiency progress, a D in chronic absenteeism and a C in postsecondary opportunities, resulting in a B overall.
Claremore Superintendent Brian Frazier said, "We're not satisfied at all where we are at, but we are also of the mind that we are where we are, so we take this test and we move forward."
Frazier said that even if the district had all scored As they wouldn't be satisfied and would still be looking for ways to improve.
Frazier said the indicator for chronic absenteeism was most surprising, particularly for how much it weighed on the final score for each school.
"Chronic absenteeism hurt a couple of our schools pretty dramatically," he said.
In order to address the issue Frazier said the school is going to look into Attendance Works and other resources to improve attendance rates. The district also hopes to improve communication with parents.
"We know we have growth to do and we have put structures in place already to address the academic issues," Frazier said. "Now we have to look at the absenteeism and some of the other variables at the secondary level."
The school district implemented early-out fridays for professional development this year, which will improve their academic achievement and growth scores in next year's assessment.
The high school has also taken steps over the last year and is continuing to take steps to improve the graduation and postsecondary opportunities indicators.
Some schools in the county received a No Grade. This is because the school did not submit enough information to receive a score in all of the categories, so an overall score could not be assessed.
There is still valuable information available online for schools with no score.
Then new grading system was met with mixed reviews.
Frazier expressed the view shared by many superintendents across the state.
"Any time you try to assign a letter grade to something as complicated as education, fair is probably not a word that I would use," Frazier said. "The overall letter grade is very misleading, whether its good or its bad. An A would be just as much misinformation as a C. I don't think you can make a judgement on the effectiveness of school based on a letter grade."
However, Frazier appreciated that the new assessment breaks up school data into indicators that show the school where they can make improvements.
"If you look at each individual component as an assessment, and you look at it from the perspective that this is where we are and how do we improve, I think the assessment is good," he said. "Parts of it give us some accountability that I am good with. We are going to strive to improve those areas. And we're not going to do it because of the grade. We're going to do it because that is what our jobs are."
Shortly after grades were released Thursday, the Oklahoma State School Board Association shared their thoughts.
"Great work is happening every day in schools across Oklahoma to help every child be successful, and we're hopeful the new school report cards will be a reflection of that effort," said Shawn Hime, executive director of the Oklahoma State School Boards Association in a release.
"While the new report card's focus on growth in student achievement is a welcome change, there are still many unknowns. Our chief areas of concern about report cards haven't changed. We don't believe identifying schools with a single letter grade is necessary nor helpful on such a complex issue. Letter grade systems have a history of being closely tied to poverty, and we'll be closely examining that issue as the new report cards become publicly available.
As they always do, education leaders across the state are studying the underlying data and identifying ways to help improve student achievement. What I hope families and communities will remember is that no report card can measure the true worth or value of faculty, staff, administrators, school board members, families and community partners who labor daily to make sure every student is safe, fed and well taught. Meeting student needs — not grades — should and will remain the top priority."