The body of a passenger involved in a high-speed pursuit was recovered from a Claremore creek around 8:30 a.m. today.
Zeth Patrick Daly, 23, from Claremore, drowned while attempting to flee from police, according to police records.
"We've had burglaries around the city's shop building," said Claremore Police Department's Deputy Chief Steve Cox. "Patrolling the area an officer saw a suspicious vehicle near the building around 3:40 a.m."
Cox said an attempt to make a traffic stop on the individual resulted in a pursuit.
"The driver and passenger take off. The pursuit starts in Claremore and during the pursuit we learn the license plate comes back stolen, possibly indicating a stolen vehicle," Cox said. "The chase continues into the county. Around south 4180 road and east 510 road the vehicle crashes and the driver and passenger bail out."
He said the driver, later identified as Nazra Daly, was located shortly thereafter.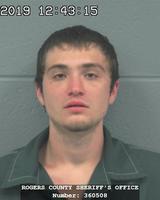 "While dealing with the driver, and the wrecked vehicle, a Claremore officer heard screaming. He follows it and sees a male in the creek. The officer sees him go under, but he does not resurface."
Cox said the body was recovered from the creek around 8:30 a.m.
Cox said Daly was treated and released from the hospital and is being booked into Rogers County Jail.
"Nazra Daly has been arrested the by Claremore Police Department for 2nd degree murder in the death of his brother, Zeth Daly, following the pursuit and subsequent drowning," Cox said. "Nazra Daly was also arrested for possession of a stolen car."