The Navy Band Concert at Robson PAC Wednesday night ended with a special tribute to a local hero.
The Rogers County TLC 4-H Club, composed of students from 4-H clubs at several county schools, worked together to create and gift a Quilt of Valor to a local veteran, Clinton Hoover.
Hoover served in both the Navy and the Air Force. He joined the Navy in 1985 and achieved the rank of petty officer. He served aboard the U.S.S. Saratoga and the U.S.S. America, involved in several major exercises in the North Atlantic and in the Mediterranean. He was also involved in Operation Desert Storm.
During a cold night on watch in an air hanger full of power jets, someone opened the cockpits. The overhead foam fire suppression system failed and began filling the hanger. His quick action to close those cockpits saved many of the jets and saved millions of dollars.
Hoover earned a bachelors of science in aeronautics from Embry-Riddle Aeronautical University in January 1992, where he was on the Dean's List.
He returned to military service as an Air Force Reservist with the Tulsa Air National Guard 138 Fighter Wing. He was deployed to Turkey, Kuwait, Iraq and Afghanistan.
He retired from service in 2018 with the rank of master sergeant and 33 years of military service.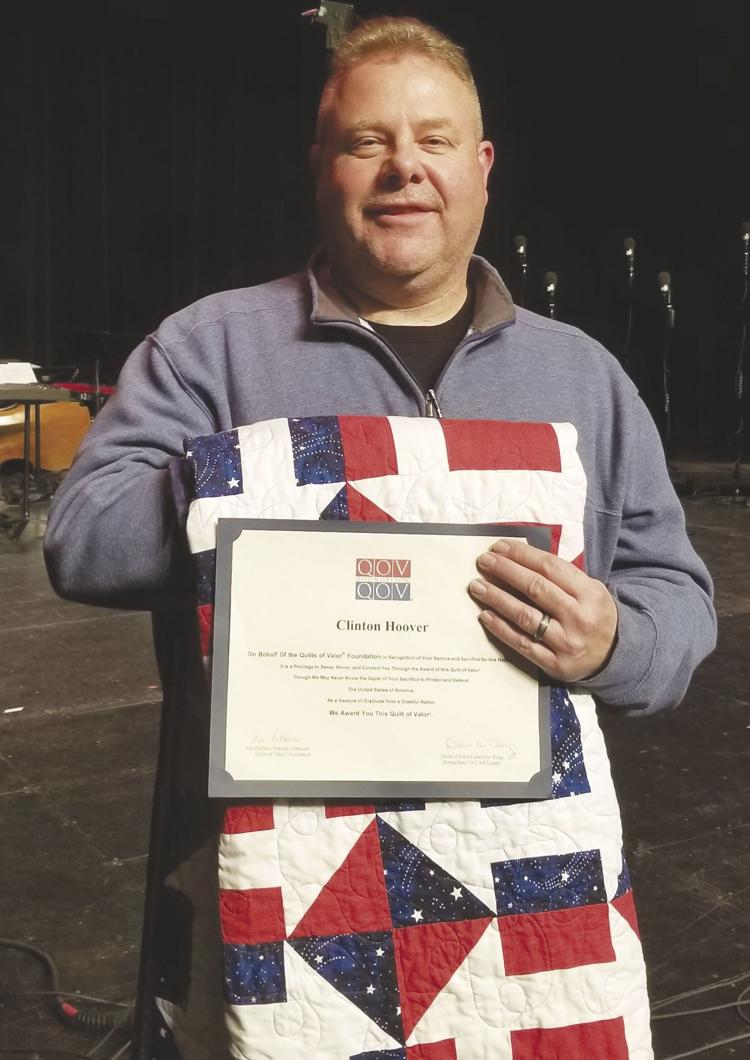 Oklahoma State Coordinator of Quilts of Valor Sarah Wheatley said, "The mission of quilts of valor is to cover service members and vets who have been touched by war with comforting and healing quilts of valor."
In the fifteen years since the Quilts of Valor Foundation began, they have covered more than 212,000 active service members and veterans with handmade quilts.
The Rogers County TLC 4-H Club has previously awarded 10 quilts of valor made by the students in the club.
"A quilt of valor is a quilt, not a blanket. A quilt of valor is awarded, not passed out. A quilt of valor is saying, in a tangible way, thank you for your service, your sacrifice and your valor," Wheatley said.