Close to 200 people gathered in the newly renovated Rogers State University Esports Facility, inside Herrington Hall, Monday to celebrate the dedication of the university's newest club sport and facility.
According to Forbes, the esports entertainment industry has grown rapidly, from $493 million in 2016, to nearly $1 billion this year.
With that growth is not only the realization that videogames are fun for all ages, but that videogames can be a full-blown sporting event, with full-time professional players and millions of fans, worldwide, tuning in just to watch.
RSU is becoming a part of that hype, with the first varsity esports team in Oklahoma. RSU President Dr. Larry Rice said the newest club sport will likely have a positive impact on enrollment.
RSU announced plans for the new sports program earlier this semester, and 150 students signed up almost right away.
The team performs and practices in their new facility, a converted lecture hall equipped with the latest gaming pcs and large screens for live viewing of the competitions.
The nature of the game allows for teams to both play at their home schools and live stream the action to their home audiences.
Larger competitions are played in arenas, with tv crews and professional sports casters.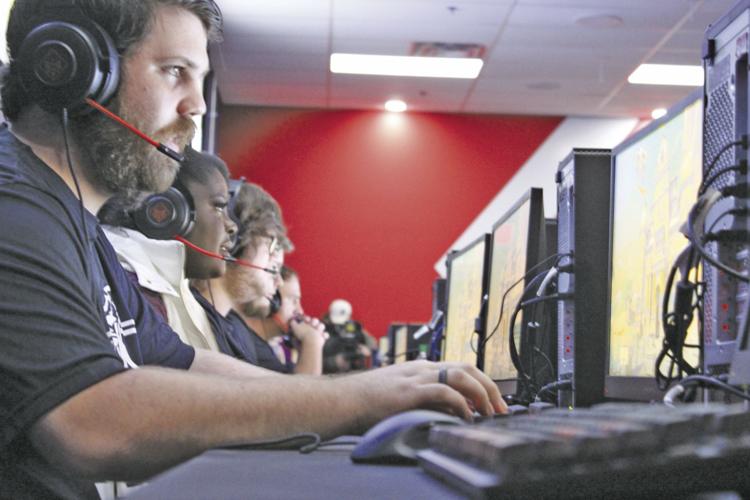 Esports is an umbrella team for several small teams dedicated to a specific videogame.
Coach Blake Fisher said, "Within these 150 students, we have two Counter Strike Global Defense teams, one Overwatch team, one League of Legends team, and one Rocket League team quickly on its way."
He said the games are chosen through finding a game that enough students are interested in to form a team and then finding an existing league in which to compete.
"In total, this brings us to about 30 current students who are practicing and preparing to represent RSU on these monitors right here, next semester, against other colleges all over the country." Fisher said.
Fisher joined the team in October after the facility was complete, to complete the program on the team building side.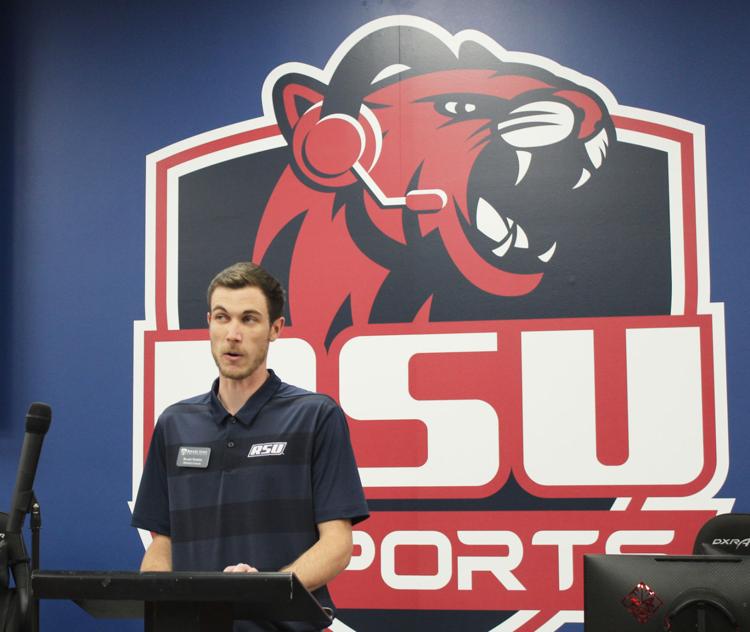 Coaching esports essentially requires Fisher to be a Jack of all Trades.
"To be an expert in any one of these games you have to have thousands of hours logged," Fisher said. "I have an overview of all the games. I know the ins and outs of them for the most part. But the specific skills, when it goes into detail, I have team captains chosen for every single team, and they are all very, very knowledgeable about that game. They have thousands of hours and are qualified to know all the specs. I work very closely with them to help coordinate our teams in practices."
Currently practices are dictated by the schedules of the team members, but there are plans to solidify multiple practice times a week moving into next semester, when all of the teams will be competing regularly.
In the first semester, the Counter Strike team competed in the JV Collegiate Star League, where they went head to head with several university teams in Texas, finishing 4 and 3, third place in their region. They made the playoff tournament, beginning in January.
"It won't come easy, but I am confident as Hillcats that we will work together to conquer this uncharted territory of collegiate esports in Oklahoma," Fisher said.
Fisher said that the University of Central Oklahoma, The University of Oklahoma, Oklahoma State University, The University of Tulsa, Carl Albert State College and even a college in New York, have reached out to see how they could follow in RSU's footsteps.
"Bringing an esports program to RSU was the right choice," Fisher said. "Now, let's use this platform to better our esports community and ultimately our own university."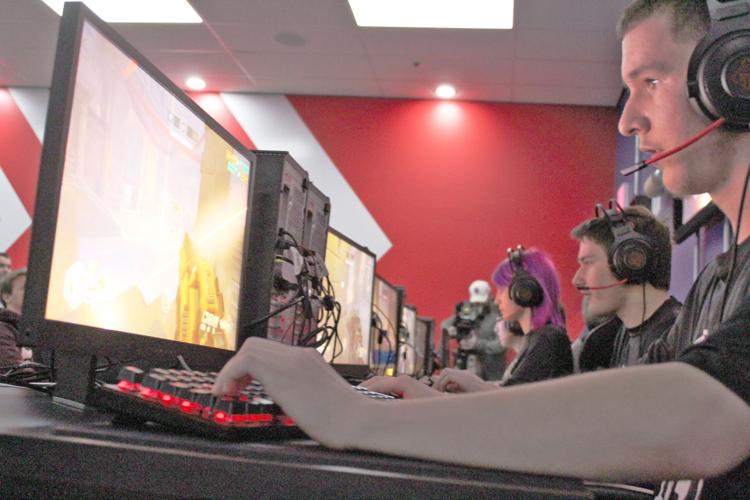 One of the most significant differences between esports and traditional sports is the lack of uniformity and regulation.
As esports progress in popularity and are taken up by more schools, regulations will most likely be put in place.
Currently at RSU and many of the other esports schools, student competitors get to keep a portion of any financial winnings the earn in competition, which is one of the features Fisher said he hopes remains as regulations occur.
RSU student Mianra Treleaven spoke about the importance of the new program to her as a transfer student and former collegiate soccer player.
"Gaming is something that has been pretty close to me for along time," Treleaven said. "My first game was Call of Duty back in 2010. It's always been a big part of my life."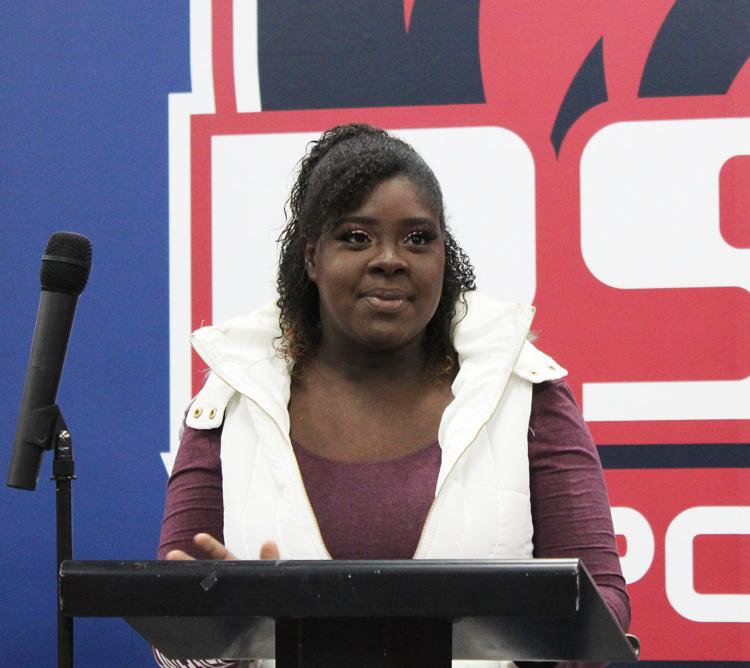 "I love gaming. I love the community. I love the people," Mianra said.
She spoke about the uniqueness of being a girl in a community that is dominated by men, and how the gender disparity in the gaming community is quickly disappearing.
"What Rogers State has done, by creating this organization, is to become more inclusive to groups of students who may not participate in other clubs," she said.
She followed that up by quickly deflating the stereotype of gamers as loners, pointing out that she and many of the other players on the team were actively involved in sports and other extracurriculars.
"As someone who has been on both sides, I believe gaming challenges me just as much as soccer," Treleaven said.
Treleaven said, "I love being a part of RSU Esports because it brings a group of people together with a shared love and lets us express ourselves without the fear of judgement."
Vice President of Student Affairs Dr. Brent Marsh said, "We're excited to have a new way for our student to be involved and have a fun and competitive atmosphere. We're excited to have teams competing against other colleges and universities across a variety of games. But we've also made a space here for any student that want to just hang out, play some games and be involved."
Marsh highlighted the connection between the sport and some of the schools academic programs, such as game development, computer network administration and software development.
"We think it's a win-win both for our academic programs and for our co-curricular programs as well," Marsh said.
All RSU students have 24/7 access to the high end computer systems in order practice or play, in groups or alone.