The holidays are a time for family. A time to relax and appreciate the ones we love.
That appreciation is especially deep in the young, small, and tightly woven Wolf family, of Rogers County, where every member has the distinct honor of being specifically chosen.
Amy Wolf, Amy Burnett at the time, was teaching 7th, 8th and 12th grade English at Sperry Public Schools when she unwittingly met the love of her life.
Denton Wolf was a new teacher, who joined Sperry High School in order to teach upper level math. Denton also began coaching football, basketball and baseball.
For one hour a day they taught classes directly across the hall from one another.
They started as friendly, and then friends.
Other friends and coworkers we're pushing to set them up.
"I don't remember how it happened, but once it did it was forever," Amy said.
They dated for less than a year before they said their vows.
Ever since she was little, playing house with her siblings, Amy said she knew she wanted children.
"I remember being in high school, thinking that I was going to college, I wanted to become a teacher, but I really just wanted to be a mom," Amy said.
By the time Amy and Denton were married, they were the aunt and uncle of a handful of wonderful babies. But that wasn't quite good enough.
"We loved our small family, but we were not complete," Amy said.
"Our story is probably very similar to other peoples," she said. "We tried to have biological children, and it wasn't working."
Amy said, "My heart was crying 'No. Something's got to give. I've got to become a mother.'"
After trying and trying to no avail, the couple sought out a fertility specialist.
Amy was diagnosed with endometriosis, which caused infertility. Denton was diagnosed with male factor infertility.
"Our options to have a child were off the table," Amy said.
"After about a year we started praying a lot, and it seemed like our hearts were put to adoption, so we started the process," she said. "It was not easy."
They went to the Gladney Center for Adoption, and put their names into the candidate pool of parenthood.
The first step is a mountain of paperwork and a home study, a six month process completed by multiple case workers, looking at finances, lifestyle, background checks, extensive interviews, parental training and recommendation letters from close friends and family as well as acquaintances.
They were accepted as clients, but the next hurdle, affording an adoption on two teacher salaries, loomed in front of them.
The cost of adoption, between $20,000 and $40,000, has to be paid up front.
"We did a lot of saving and we did a few fundraisers, garage sales and things where our friends and family really stepped up," Amy said.
Somehow they managed to swing it.
In February, 2015, they were approved to be adoptive parents.
In May, they were matched with a birth mother.
Seemingly, the struggle to have a child of their own was coming to an end.
"A few days later she had her son, and we went down to meet them in Texas," Amy said. "But she never signed the paper work."
"We went down there, thought we were going to leave with a son, and had to leave without one," she said, emotion welling up in her voice.
That experience left both Amy and Denton bruised and upset.
"June to December was a very dark time for us," Amy said. "It was hard knowing that fertility failed us and then our first placement failed us. It was not a happy time for us."
"I still think about that little boy. I still pray and hope that he is okay and that his life is what it was supposed to be," Amy said.
As the 2015-16 school year rolled around in August, the sting felt especially painful.
"Being teachers. Having to go to work every day and work with other people's children. You're struggling," she said.
Time ticked onward without news or relief.
August. September. October. November.
And then, on December 11, 2015, a call came.
"I was teaching pre-AP sophomore English class when I got a call. I knew this was the call," Amy said. "I went out and sat in the hall to answer it. It was our case worker wanting to know if we wanted to be presented with another case."
"I ran down to my husband's classroom and knocked on the door," she said.
When he didn't immediately answer, she said, she started kicking the classroom door.
The caseworker told them both about a baby boy that was born the previous Monday, and whose birth mother had picked their names out of the line-up of prospective parents.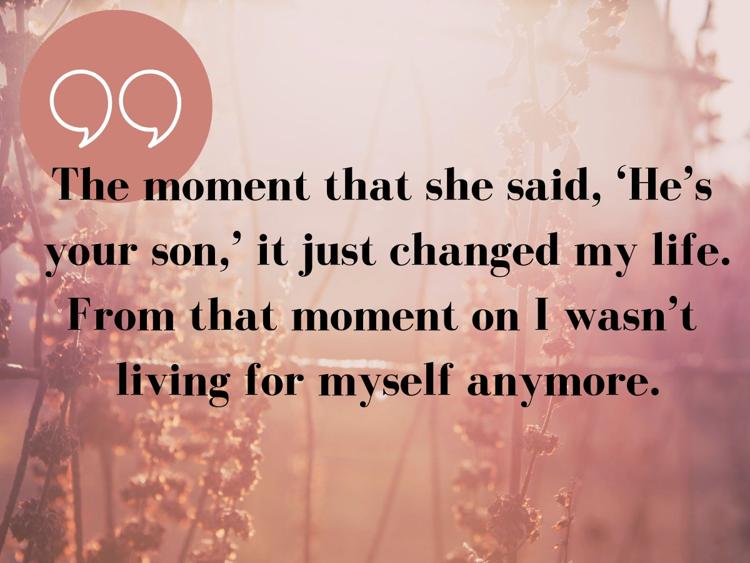 "Dallas," the name the boy was given by his birth mother, was born premature and was waiting for Amy and Denton in the NICU.
For the first few days, they couldn't see him, but they sat down and talked with his birth mother, Tiffany.
"The moment that she said, 'He's your son,' It just changed my life," Amy said. "From that moment I wasn't living for myself anymore."
They travelled to Waco, Texas, and stayed for two weeks, spending as much time as possible bonding with their new son, Amos Jacob Dallas Wolf, while he was trapped inside the hospital's four walls.
"I could not imagine not having him," Amy said, full of motherly love. "I think he was meant for us."
Taking Amos home right around Christmas was the best, and most fearful, moment of their lives, they said.
"Now you go to sleep, but you're not just worried about going to work, you're worried about your baby and is he going to be okay. Is he happy? Is he sad? Is he going to learn? Is he going to get a good education?" Amy said. "You're whole life changes. For the better. It's scary. But it's awesome."
Although a blessing, adopting their son has not always been easy.
Because they had adopted out of state, there was paperwork to fill out and people to see before they could bring Amos back to Oklahoma.
"You can't just cross state lines until the state of Oklahoma and the state of Texas agree, basically to keep people from trafficking humans, so we were forced to stay in Texas several days after taking him out of the NICU," Amy said.
During that time they went back to the hospital for Amos's routine blood work, and a receptionist stopped them.
"She was asking some pretty insensitive questions. Wanting to know if the mother was young, wanting to know if she was a drug addict," Amy said. "People assume that only teenagers and drug addicts place their children, but the statistics show that it usually women that have at least one child that they are already parenting, and the majority are in their 20s and 30s."
When Amos was 1 year old, at a doctor's appointment, the receptionist wouldn't let them see the doctor.
Amos was clearly black, his parents were clearly white, and she wanted to see proof that they were really his parents before she would let them get medical care.
"There is a lot of misconception and judgment because we don't look alike. When you adopt and you have a kid that doesn't look like you, you're not considered a family," Amy said. "But I feel like that is the best part of Amos. He may not look like us, but we still love each other."
In another circumstance, a woman approached Amy and asked if Amos was in foster care. Amy corrected her that Amos was adopted.
But then the woman said, in front of Amos who was luckily still too young to understand, "black women always lose their kids to foster care."
"As a mother I was thinking, why would you say this in front of my child?" Amy said.
Amy also gets the question, "How much did your baby cost?"
"To us it's not buying a baby. We were providing counseling and paying medical bills," Amy said.
Through their adoption service, Amos and Tiffany can both receive free counseling for the rest of their lives as needed.
"It's not buying a baby. It's helping facilitate a better future for Amos and his birth mother," she said.
Amos's adoption was fully finalized in July of 2016, and the Wolfs started saving for baby number two.
"Around January, 2017, we both were struggling about whether to go ahead with a private adoption.
We started talking to each other, and we knew that God was telling us our family was not going to grow through a traditional adoption. That's when we started to talk about fostering," Amy said.
This time they went through St. Francis Community Services.
Foster care has a similar approval process to adoption, but with a different aim.
"When a child comes into our home, our job is to not only make sure that they are fed and taken care of, but we're supposed to facilitate and encourage the relationship between the child and the biological family," Amy said.
Their third foster placement was a little girl, who lived with them from May to July of 2018.
The parental rights of the biological parents had already been terminated.
She and her siblings were put into foster care until they were healthy enough to be placed into adoption as a family.
"With her, we were doing visits with her siblings and making sure that they were ready to be adopted together," Amy said.
When she was ready, and a family had been found for her and her siblings, they let her go.
"Our wish is that if a child is not able to reunify, we would be able to be that forever home for a child," Amy said, wistfully.
For now, though, things are right on track to reunify their current foster child with his parents.
Their foster child, whose name and face can't be identified for legal reasons, celebrated his first birthday in November.
Amos gave him the nickname Little Farmer, or L.F. for short.
L.F. came into the Wolf home in August, 2018, where he is being cared for between weekly visits with his parents.
"It's really neat to see when a family, like L.F.'s parents, step up and try to figure out what they need to do to get him back and make sure that he will be successful," Amy said. "It's good to know that once he reunifies he will have happy, stable home to go to."
Amy said that the process to foster can be challenging.
"There are rules that try to make everything black and white, and when you look at a child and you look at a family, it's not black and white," Amy said. "Trying to fit into the mold and make sure that the kid fits into the mold can be very trying."
Over the span of four foster placements, the couple said they've had eight different caseworkers, each of which with different ideas about what is best for the child.
"We've talked about doing a traditional adoption again, because it is a lot easier on the heart. You don't get attached to a child then have to give them back. But right now we feel like our purpose is fostering," Amy said.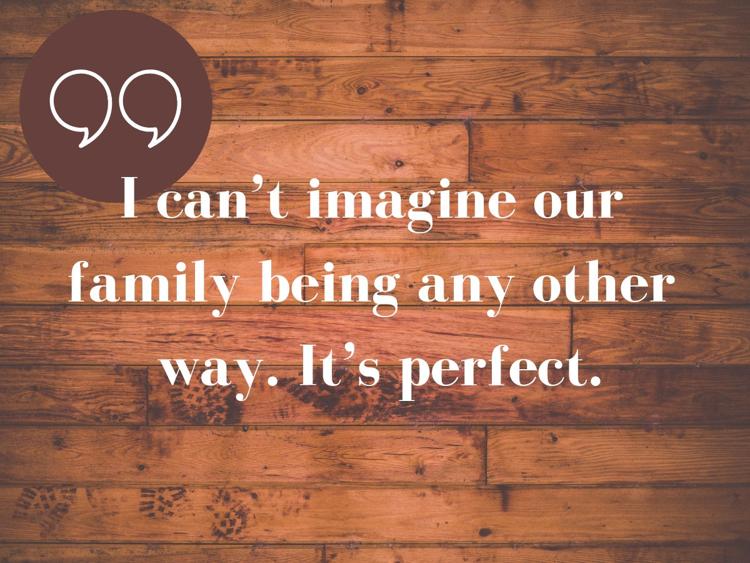 On the plus side, fostering has been a learning experience for each of the family members.
"We're teaching Amos about selflessness. Sometimes it may put a damper on our plans if we have to take L.F. to a visit, but it's not about ourselves all the time," Amy said.
Foster care has also given Amy and Denton an avenue through which to talk about Amos's adoption.
"His birth mother chose for Amos to have life. She chose selflessness by giving Amos opportunities. We're helping him see that sometimes we do for others what we would want done to us," Amy said.
Amos hasn't yet figured out that he has a different skin color from his parents. Or if he has, he doesn't find it remotely important.
But he can talk about where he came from.
"We talk about his birth mother and his eyes light up," Amy said. "He'll tell me 'I grew inside Tiffany's belly and she let me adopt mommy and daddy.'"
For now, Amy, Denton and Amos communicate with Amos's birth mother through photographs and letters.
As Amos grows, Amy and Denton say they're committed to teaching Amos about the beautiful diversity of their family and of the world.
They also hope that one day, when Amos and Tiffany are both ready for it, to have them meet each other again.
Both Amos and L.F. are benefiting from the giant support network of friends and family that Amy and Denton provide.
Friends, family, coworkers and students constantly dote on both Amos and L.F.
Amos gets the benefit of a male role model, which he may not have had otherwise.
And he still has access to and support from his biological mom and grandparents.
"Also, they get to live with us," Amy said, half jokingly. "I don't think that we're the best parents in the world, but we love them unconditionally and would die for them."
Denton, admittedly a man of few words, had one thing to say about L.F., Amos, and his wife Amy, "I can't imagine our family being any other way. It's perfect."