When Claremore High School graduate Travis Detter started Spectrum Paint Company in 1986, he had six months of industry experience, a mini-storage building, a high school buddy, Roddy Russo, and the advice and financial backing of his father, John Detter.
It wasn't much, but it was a start.
Today Spectrum Paint Company is the largest independently owned paint dealer in the United States, with 81 stores in 8 states, and over 450 employees.
And next week, Spectrum will open it's newest location in the heart of downtown Claremore, where the dream for the company first began.
Spectrum Vice President of Marketing and Store Development Gentry Stafford said, "Being independently-owned allows us to have the broadest offering of products and supplies of any nationally owned paint store or home center."
"Shopping at a paint store versus a big box store means that you are dealing with employees that have made paint their career and work in paint every single day," Stafford said. "Being Claremore-owned has also impacted our desire to be a strong partner for our community. Spectrum has over 20 employees that live in Claremore and serve in the community through various charities and churches."
Spectrum opened its first Claremore paint store in 2013, next to B & B movie theatre.
The decision to move downtown came this year, as Vessel Church, also located in the Spectrum building, expressed interest in expanding.
Spectrum owners started thinking about where to move so that Vessel could open a children's center and Claremore Main Street came to top of their mind.
"We love the liveliness and action we've seen on main street," Spectrum Owner and President Travis Detter said.
"Our family and employees enjoy the events put on throughout the year and when we found a building for sale on main street, we jumped at the chance to be a part of it," Travis said. "Everything we've done, from renovating our building, to planning a new mural, to putting up a old-fashioned neon sign, is to be a great partner to main street. Our community is important to us and we want to bring a positive impact."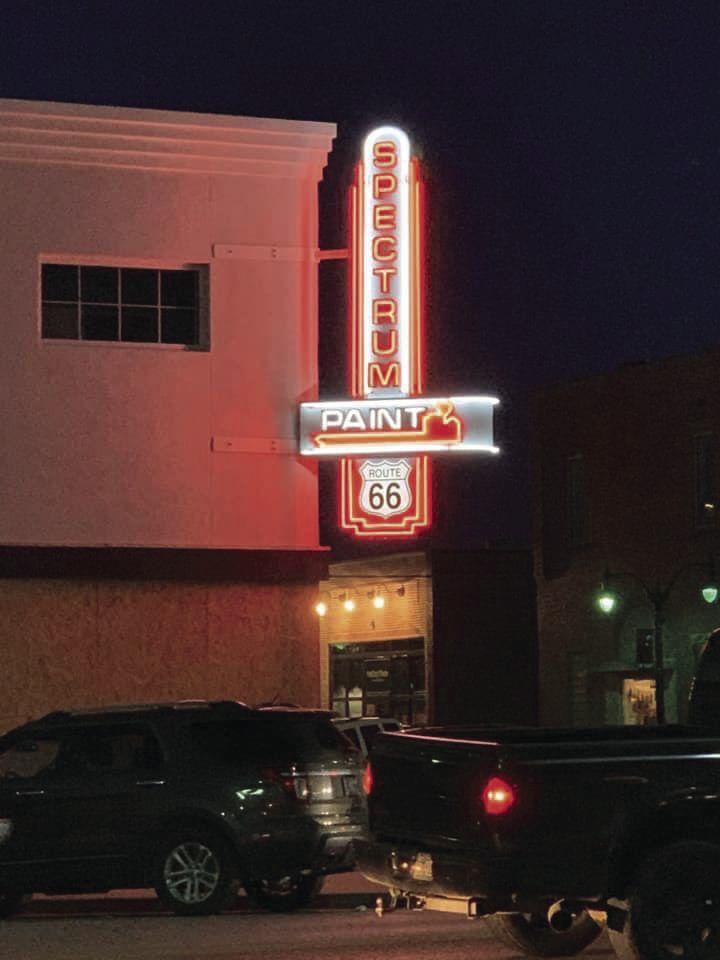 Claremore Main Street Director Jacob Garrison echoed the positivity and spirit of partnership regarding the newest business to move in downtown.
As a local, family owned business, Spectrum Paint fits into the community spirit on main street businesses while adding their own personal touch.
And while some have approached Garrison asking if a paint store really fit the community's vision for what downtown Claremore would look like, he said Claremore could not have asked for a better partner to take over the building.
"Historically, downtowns were predominantly the 5 and Dimes, hardware stores, and paint stores," Garrison said.
Among the boutique and antique stores of today, Spectrum will add diversity to the store fronts, he said.
"Spectrum will bring a totally different set of clientele downtown."
"I cannot think of a better business that could have occupied that building, because it took a lot of work," Garrison said. "It took a business the size of Spectrum to handle that and take on the magnitude of work. From a business point, from an investment point, and from a sheer partnership point, we couldn't have had a better tenant and family move into that spot."
Manager Curtis Coyle, also a CHS graduate, started his paint career in the Tulsa area and it took him to Texas. He returned to Oklahoma when he joined Spectrum Paint and he's managed stores in several regions for the company. He's excited for the opportunity to manage his hometown paint store.
Spectrum's current location will be closed Saturday, Feb. 29 to move from 1301 W Country Club Rd to 500 W Will Rogers Blvd. Spectrum will open in the new location on Monday, March 2. Spectrum will announce a Grand Opening event in April.