He had a front row seat to history being made.
Dr. Kenneth Hicks, Department Head, History & Political Science Professor of Political Science Rogers State University was recently afforded the opportunity to attend one day of the impeachment hearings for President Donald Trump.
From his "50-yard line seats" he watched it all unfold, made comparisons to the Clinton impeachment, and reflected on the state of the nation. He came home with insights and notes abundant, but said at the end of the day he had one thing he wanted to impart to his students.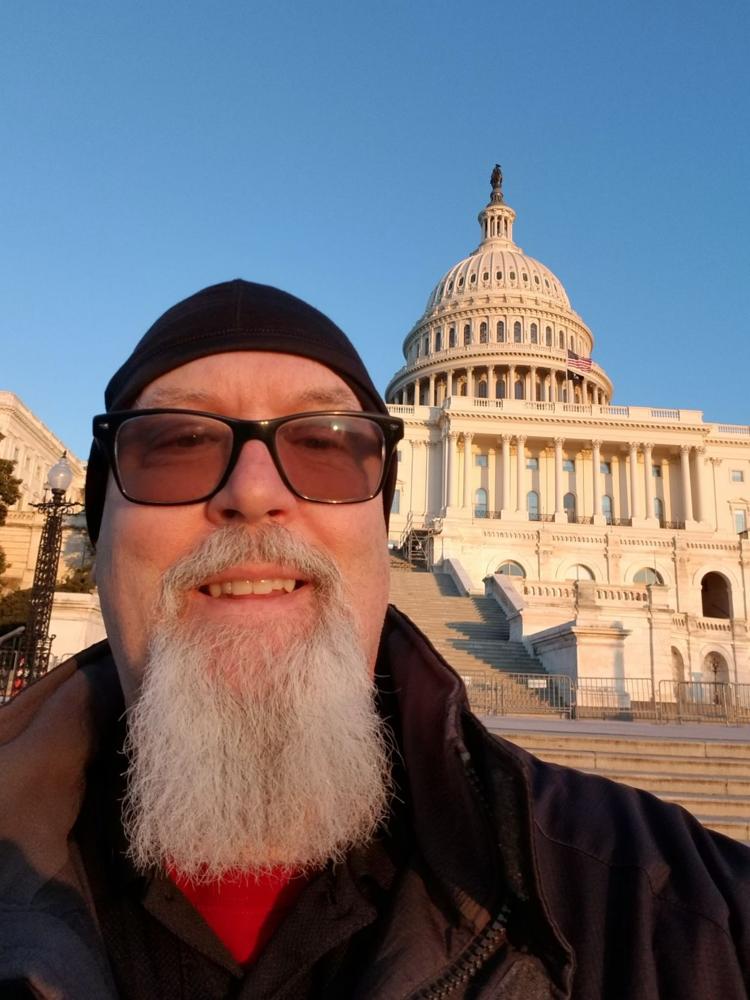 The trip
"I would never pass up an opportunity to go to Washington D.C., that's like mecca for political scientists," Hicks told the Progress, adding that he hadn't been since 2000.
He learned from university staff that Sen. James Lankford was providing a pass to attend the impeachment proceedings to one RSU professor.
When asked what day he wanted to attend, Hicks said, "I wanted to be there on day one. That was going to be when the rules were debated and by all accounts it sounded like the rule process was going to be a lot more contentious than what happened with Clinton. I felt like you get a really thorough rehearsal of what was going to happen."
He described getting there around 9:30 a.m. and standing in line for an hour with staffers and interns. He said when the Chief Justice came in everyone stood for the pledge of allegiance and a prayer before McConnell began explaining the rules of the proceedings.
"Senate Majority Leader Mitch McConnell said 'these are basically the Clinton rules,' even though they weren't," Hicks said. "Then they began this elongated wrangle that goes until 1:30 a.m. I stayed until 9:30 p.m."
Observations
Procedurally, he found the whole thing fascinating.
"Every time [Senator Chuck Schumer] proposed an amendment it would be read by a clerk… Then each side got an hour to debate the amendment. Every amendment was a variation of the theme," he said. "I thought it was very interesting that Nancy Pelosi clearly selected the House managers to display the diversity of the democratic party which really highlighted the extent to which both parties understood this was a partisan process. In terms of the rehearsal—I told my class if this was a football game the house managers won about 42:17."
He added, "In my view it was not particularly close, especially as it related to article one. I don't think the president's defense even felt like they had to defeat the arguments. They simply had to create enough cover for republican senators to hold together.
I thought the president's defense team was at their strongest when arguing that the House rushed matters, that they should have allowed the legal system to work…that was really their strongest point. Had I been a senator, I would have strongly thought about vo­ting to acquit on article two. Article one was beyond a shadow of a doubt, he did what he did. The only question was if that action rose to the level of impeachment."
Hicks continued, "It was really clear from the start just how partisan the process was and just how antagonistic the house managers and the presidents defense team were to one another."
He said it was interesting to watch the antics of everyone involved.
"When the other side was making their presentations just the facial expressions. [U.S. Rep. Jerrold Nadler] was mad the whole time, he was furious. Pat Cipollone probably has the worst facial discipline of any lawyer I have ever seen. He was sitting right across from McConnell and was making these faces the whole time. His facial antics, I thought frankly were unprofessional but he probably thought nobody could see him," he said. "It was instructive that both sides basically held party discipline throughout the first day."
He said House managers were emphasizing the solemnity of the proceedings, talking about their sacred duty, while republicans were focused on the process as political, or partisan saying, "House managers voted to impeach because they hate this president and not for any other reason."
"Effectively there are probably 12 or 13 senators who were present for the Clinton impeachment either in the House or Senate for whom the roles were completely reversed. What that really highlights is just the extent to which partisanship will always be a factor in an impeachment," he said.
In looking back at the trial, Hicks said the fist problem leadership faced was that they knew they were up against a deadline. That clocks were ticking.
"They knew the argument that we would be having an election shortly would become foremost and that argument would have greater and greater resonance with public opinion. And he knew this was a public opinion fight," he said. "I don't think Nancy Pelosi ever wanted to impeach Trump. I think she wanted to deal him a death by 1,000 cuts. I think she wanted to oversite him to death and expose what democrats believed was corruption and ineptitude. I think McConnell knew if they got to the point where they called witnesses, article one would be impossible for them not to impeach on. McConnell was focused on discipline."
As a political scientist, Hicks said he heard rumblings of "what if's" like, what if this democrat or that one voted to acquit.
"But the reality is none of those guys were ever going to break, especially not in an election year. If you vote against your base you may lose half of your electorate that will say 'you went against my president, I'm never going to vote for you again.' Those dynamics reinforced the partisanship," he said.
"I think this episode was the crescendo on how hyper-partisan our political and ideological environment has gotten. Americans don't' just disagree with one another, they hate one another in a visceral way.And I don't know how you unwind that. Hatred is not a governing emotion, it's a destroying emotion."
Compare and contrast
"One contrast between the Clinton impeachment and the Trump impeachment is that in the Clinton impeachment the majority party was responsible for bringing the articles of impeachment. They only needed 12 democratic votes in order to do it. But that was never going to happen," he said. "In 1998/99 the republican revolution that brought them to majority status had not been consolidated.
This guy did something immoral, does that justify removing him…..morally reprehensible but did not rise to the level of impeachment."
But America and its people have changed a lot since then.
"A lot of water has flowed under the bridge, including the Bush administration's actions in Iraq and the sub-prime mortgage meltdown. The mere fact of the first black president has intensified the ideological conflicts in a way that is unhealthy for this country. It's destructive that Donald Trump only got about 8% of the African American votes in 2016. He knows if he only gets 8% again that makes it really hard for him to win reelection. That's why his State of the Union address so aggressively focused on and appealed to African Americans," he said.
Public perception and education
"A lot of people fail to grasp that impeachment is a constitutional process, it is a political process. It is not a criminal matter. You can impeach a person for crimes, but more often than not when impeachment has been deployed the allegation has been abuse of power. Trump's misdeed, to the extent that it was proven, is elementally what the framers intended when they included it in the constitution," he said. "This was an overt attempt to subvert an upcoming election. How can you trust an election if the incumbent has demonstrated a determination to rig the system and knock out the person he is most afraid of."
When asked what he most wanted his students to learn from the experience, Hicks didn't hesitate.
"The most important lesson is just how much hyper-partisanship has deranged our public discourse. There is no middle ground anymore," he said.
"This was a really historic moment. This too shall pass, I hope. This was a historic moment. It was a jarring and painful moment. I'm sure this was traumatic for President Trump and his family. I think there's nothing wrong with our politics that voters can't solve. We need to send better people into congress, whether you're republican or democrat. We're sending people to congress who are promising to fight Washington. But let's send someone who is actually going to govern."