Six months after unprecedented flooding devastated northeast Oklahoma, some Claremore residents are still unable to return to their homes.
When the flooding occurred, residents said the city could have done more to protect people living in flood-prone areas. 
Financial records seem to indicate the same.
Since the city began collecting a $2.50 storm water fee from residents in January, 2013, they have collected over $3 million.
In that same time, they spent $312,000, 10.2 percent, on storm water infrastructure, according to annual financial reports obtained by the Progress. 
"They have been collecting this money, but there is no work going on," said Claremore resident and business owner Phillip Harris, who is hoping to return to his home by Thanksgiving.
Harris and his neighbor, Rachel Carlos, both lived in the Spring Brook neighborhood on West 23rd Street off of Jay.
Only three inches on the back corner of Carlos's property were within a flood zone. The base of her house was 13 inches above the base flood elevation set by FEMA. 
And yet, Carlos was trapped inside her home, standing on her couch, as the water rose to 17 inches indoors, and 28 outside.
"It was very scary, very traumatic," Carlos said. "It took the fire department quite a long time to get there because the roads were flooded."
"We lost everything, and had to completely restart," she said. "We still don't have a home to live in, we're still dealing with insurance and waiting on FEMA."
The money the city has spent on storm water infrastructure between 2013 and May 2019, includes acquisition of land and design fees for a retention pond not yet built along Lowry Road, a culvert not yet dug along Lowry Road, and the city's 25 percent of the Archer Court buyout following flooding in 2015. 
Over half a million was spent on personnel, including wages, retirement, taxes and medical.
And $1.47 million is sitting in the bank, unused. 
The neighborhood where Harris and Carlos lived is plagued by several storm water infrastructure problems that made their loss greater than it should have been.
First, the farm land, nursing home and 46-home neighborhood north of theirs all flow into an overgrown detention pond, intended to slow the water down before discharging it into the creek that runs through the Spring Brook Neighborhood. 
"The pond by the nursing home was built 20-something years ago, and it hasn't been updated to accommodate all the new homes that have come in there," Carlos said. "They haven't done anything to prevent any flooding of any sort."
Second, several private residences had not maintained the portion of the creek that ran through their property, letting them fill with tall grass, sticks and debris.
Two months after losing their homes, community volunteers and city employees came through the neighborhood to mow and clean up the creek.
"But as far as trying to grade it or make it wider, they haven't done anything like that," Carlos said.
Third, the private property where the creek exits the neighborhood and meets with Cat Creek is mostly flat land, unkempt, and filled with debris that has been sitting there since Harris moved into the neighborhood 25 years ago. The inability for water to continue to flow south caused the water to back up to the homes or garages of everyone who lived along the creek. 
According to property records, the land belongs to a man who lives in Enid. 
The city's position is that they are legally barred from doing work on private property, and since much of the creek runs through homeowners' back yards, their hands are tied.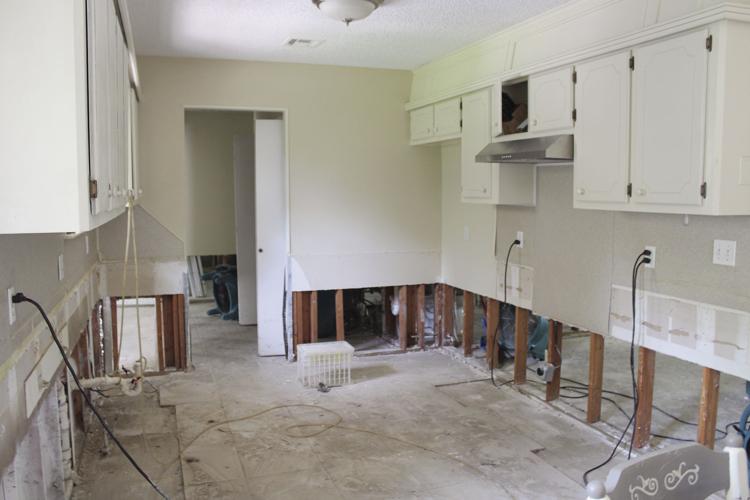 Harris responded that when public safety is at risk, the city has a right and a responsibility to intervene. 
"If the land owner isn't going to take care of their ditch, the city should," Harris said. "The city government is there for the people."
City Engineer Garrett Ball said the city has a master drainage plan to address storm water issues across the city, but that completing the plan will take years.
"One of the biggest projects we've got on the horizon is a regional detention pond on North Lowry," Ball said. "We've got it in design right now. We will probably break ground on that project in the spring or summer of next year."
"We've also got a couple storm drain replacement projects that are going on right now, and a few more that are probably six months to a year out," Ball said.
Roughly six months ago the city contracted with specialized engineering firms to focus on the city's backlog of storm water, transportation, water and wastewater, and electrical infrastructure projects, including the detention pond north of the Spring Brook neighborhood, Ball said.
"We are having our storm water consultant look at that area as well as the area that we are going to put the detention pond," Ball said. "The overall goal of the detention pond is to reduce the flow rate on Cat Creek."
"The way the weather has been this year, we haven't been able to do maintenance on any of the detention ponds. That is just going to have to depend on the weather," Ball said. "They are also looking at that pond to see if there are any modifications that can be done to make it operate more effectively."
Ball, who joined the city of Claremore staff in 2017, said the city was years behind on critical infrastructure projects of all kinds.
"We are dealing with infrastructure issues that have been going on for so long, that haven't been maintained, and new projects haven't been getting done," Ball said. "We're trying to get some of these projects moving forward, and get caught up."
"The priority for my department and a lot of other departments is making sure all of our utilities are functional, all of our electric, water, wastewater, all those critical infrastructure items are functioning," Ball said. "This is not just Claremore, this happens in a lot of communities … things like storm water, transportation, those things get pushed to the back burner."
When the city is focused on fixing multiple water line breaks or repairing aged electrical infrastructure, ensuring that residents have access to clean, running water and power is the highest priority, Ball said.
"We are at the point now where we just have to pick the highest priority projects and get them done and move on to the next highest priority projects," Ball said. "The storm water projects are very important, but at the same time, keeping potable water flowing to businesses and residents takes a front seat to that sometimes."
Carlos is waiting on a buyout from FEMA and the city that is expected to take two years to complete. In the meantime, Carlos and her husband continue to make large mortgage payments each month on an unlivable shell. 
Following the flooding, Carlos said, city employees have been helpful and kept her in the loop regarding the buyout. Her frustrations with the process lay entirely with the federal bureaucratic red-tape. 
Meanwhile, the city intends to start spending the $1.47 million in savings to prevent future floods from devastating Claremore homes.
"It's going to take some time, but we are working on it," Ball said. "Please be patient with us. You will see progress soon."
---
TIMELINE
April 10, 2008
"Spring rains highlight flood-prone city streets"
From the article:
"At one point Tuesday, access to homes in north Claremore's Spring Brook Addition was cut off for several hours, as the high water caused minor street flooding on 23rd and 24th Street.
"High water also led to closings of Chambers, north of Archer and the low-water bridge at Lowry and Industrial Boulevard.
"While not closed, the entrance to the Doma Apartments, off of Archer, and at Muskogee and Fry Streets were also reported flooding."
June 20, 2008
"Flooding not new to city"
From the article:
"From 1991-1993 there was repeated flooding, then J.D. Basler cleaned out the city drainage system and the flooding problems stopped, people say.
"Many are wondering if storm debris and time have clogged those drains again."
May 5, 2009
"Courthouse floods – again"
July 2, 2009
"City to propose stormwater management fee"
From the article:
"The city has been repeatedly overwhelmed in the last few years by flood waters and the inability of our drainage system to effectively handle these waters," said Tim Miller, City of Claremore utilities director. "This inability has resulted in damage to several homes in and around the floodplain of our city."
April 25, 2011
"Thunderstorms cause street flooding"
July 4, 2011
"Claremore builds a vision Master Drainage Study first big step"
Feb. 3, 2012
"City proposes storm water fee"
From the article:
"I am proposing a storm water fee, defined as fee collected for the purpose for repairing and maintaining the city's storm water infrastructure and continuing the compliance with Department of Environmental Quality storm water programs," said Jeremy Ledbetter Superintendent Public Infrastructure.
"We spent approximately $350,000 on this study so now it is time to get it implemented," he said."
Oct. 23, 2013
"Council approves stormwater fee"
May 24, 2015
"Claremore firefighter killed attempting water rescue"
June 3, 2015
"City examines ways to avoid flood-related tragedies"
Oct. 7, 2015
"City seeks grant to repurpose flood-prone areas"
May 26, 2016
"Heavy rain causes flooding in Rogers County"
May 2, 2017
"Heavy storm rock Rogers County"
June 10, 2017
"City buying, demolishing 7 flood-prone properties"
May 11, 2018
"Buying, demolishing flood-prone property still underway"
May 28, 2019
"Claremore neighborhood 'lost everything' in unprecedented flood
Nov. 21, 2019
"Duplex development brings stormwater problem to light"