GALLERY: Verdigris, Inola XC compete at Class 4A state meet
EDMOND — Her calves were sore, but a little bit of pain wasn't going to keep Jordan Chancellor from accomplishing her goal of reaching All-State status.
The Verdigris senior clocked in at 12 minutes, 32.18 seconds in the 2-mile run at the Class 4A girls cross-country state meet Wednesday at Edmond Santa Fe, placing ninth of 160 runners and sixth among eligible point earners. Libby Rowland of Holland Hall won in 11:53.81.
She also led the Lady Cardinals, who finished with 293 points, to a top-10 finish in the team standings. Plainview claimed the state championship with 87 points.
Quite an impressive feat for a runner who just completed her first full cross-country season.
"I ran two cross-country races my sophomore year and didn't run junior year due to injuries," said Chancellor, who finished nine seconds short of her personal best. "I've ran track all three years and in junior high, so I feel like coach Steve (Lee) did a lot for my running. Every year he's improved me so much as a runner. It's amazing what you can do with dedication."
To call Chancellor dedicated might be an understatement. Her work ethic borders on obsessed.
Chancellor is a key member of the Verdigris girls hoops team, and she takes her role so seriously she attends practices for both cross-country and basketball every day.
"It's helped so much with basketball," Chancellor said of running. "I'm so much more in shape than I was, and it's so crazy to think about how much faster I am than the girls that have been in basketball.
"… I just feel like I'm in peak performance shape right now."
Of course, Chancellor wasn't the only Verdigris runner to reap the success of hard work.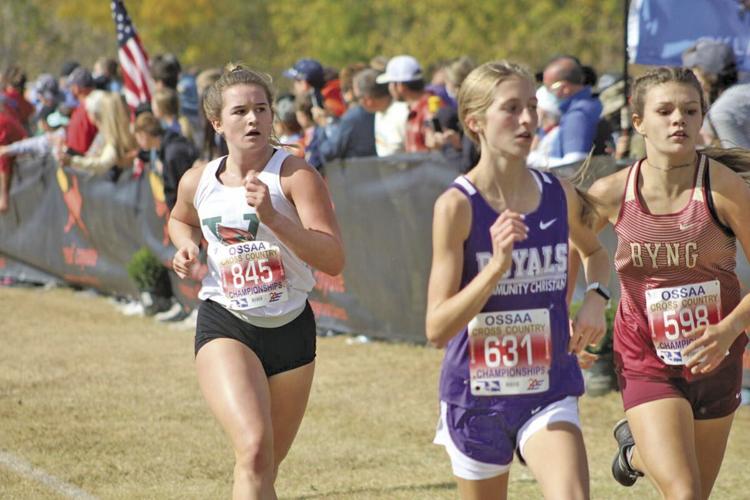 Jaycee Adkins, only a freshman, just missed becoming an All-Stater herself with a 17th-place finish — 14th among eligible point earners — and a time of 12:46.12.
Adkins has been running competitively since the fourth grade, and she credits her fast times to her healthy habits.
"It has to do with eating," Adkins said. "I believe very big in the diet thing, and this year I really cracked down on eating healthy the entire season, and it really improved my time tremendously. I just basically cut out the sweets as much as I possibly could, and I ate a lot of protein — a lot of chicken and rice. And a lot of water; like 2-3 gallons of water every day.
"Next year I hope to continue to get better and keep climbing up the ladder."
Abigail Bell (65/53, 13:55.36), Zoe Stout (128/108, 15:21.42) and Courtney Wickham (132/112, 15:30.65) also ran for the Lady Cardinals. Trinity Ross and Riley Abel also qualified for the state meet but were unable to run Wednesday because of COVID-19 contact tracing and were forced to quarantine.
Inola finished 19th as a team with 396 points. Miller Weast (47/40, 13:38.23), Joci Bryant (71/58, 14:04.80), Anna Hibbard (114/94, 14:53.41), Olivia Winkler (121/101, 15:08.05), Ellee Bryant (123/103, 15:11.17) and Alyssa Hix (145/125, 15:54.19) ran for the Lady Longhorns.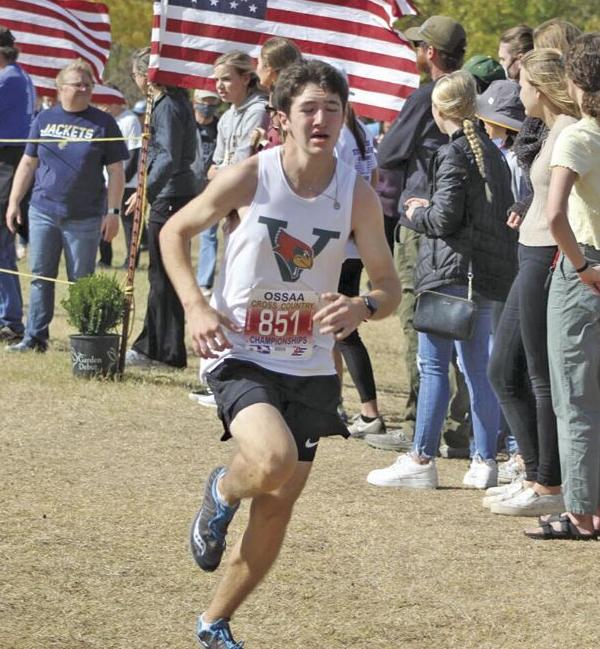 On the boys side, Samuel Gillis competed as the lone Verdigris runner. He placed 151st of 164 runners with a time of 21:02.43 in the 5K.
"He works as hard or harder than anyone," Verdigris coach Steve Lee said of Gillis. "I just tell him what he needs to do, and he does it."
Inola's Zach Biggs finished 80th, clocking in at 19:13.85 as a solo runner.