GALLERY: Claremore XC competes at Class 5A state meet
EDMOND — Sometimes the course doesn't work in a runner's favor, and Tyler Douthitt learned that the hard way Wednesday morning.
Despite a strong start, the narrow trails on the backside of the course affected his strategy and caused him to constantly change his pace.
"I got out the first 500 (meters) really well, and then I took a turn a little too slow," Douthitt said. "There's a couple of turns on the backside, and I let too many people get in front of me. I kinda just settled in and didn't really keep the pace I needed to. A little mistake, but I'll learn from it."
Although he didn't improve on his personal-best performance from last week's regional meet, the Claremore senior earned All-State honors with an 11th-place finish of 112 runners at the Class 5A state cross-country meet, clocking in at 16 minutes, 56.31 seconds in the 5-kilometer race at Edmond Santa Fe.
Gage McElhaney of Elgin won in 16:10.08.
Runners must finish in the top 15 to obtain the All-State moniker, and though his goal was to place in the top 10, Douthitt was satisfied with his performance nonetheless.
"I felt like I gave it everything; just came up a little short," Douthitt said. "But I still got track season coming, so I'm excited about that. I worked hard this season and came out but just didn't quite get the results. I still had a good finish at regionals and everything, so I'm pretty satisfied still."
BUSTAMANTE, STOKES FINISH CAREERS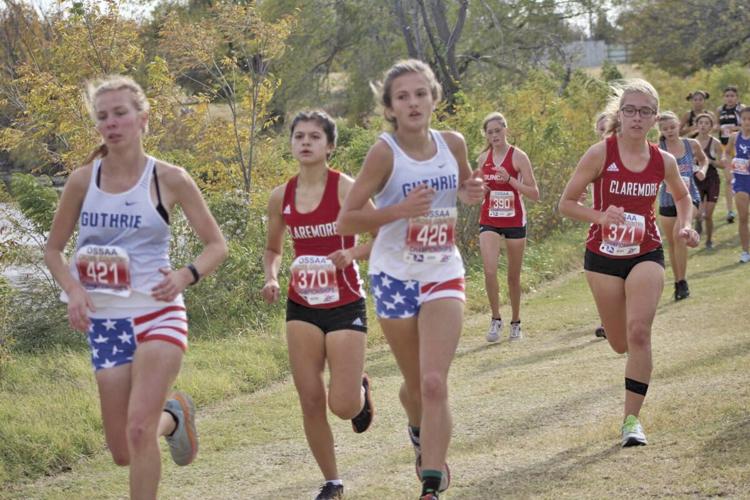 Claremore seniors Kate Bustamante and Carolina Stokes didn't finish their high school cross-country careers with personal bests, but that didn't take away from the experience.
Running in their third state meet together, Stokes placed 73rd among 107 runners with a time of 23:11.70 in the 5K while Bustamante crossed the finish line at 24:10.96 to finish 87th. The pair competed in the Class 5A state meet in 2018 and 2019 as well.
Stailee Heard of Sapulpa won the race in 19:08.32.
"I'm definitely happy with how the race went, but it's sad seeing the whole season end," Stokes said.
Bustamante echoed that sentiment while also commenting on the difficulty of battling the strong winds sweeping across the course.
"It's our last 5K in high school, so it's a little bittersweet, but I'm glad the race is over; it went good," Bustamante said.
"The wind was definitely hard, especially because we're both not that tall, so the wind really takes over us. The actual course went by faster than regionals."