Change is a double-edged sword.
That can be especially true in high school athletics as some head coaching jobs become a revolving door. Although a new coach often means new opportunities and a new culture in the locker room, it can also cause developmental struggles for young student-athletes who need more stability when honing their skills.
Elsa Rhodes has gone through a lot of coaching disappointments as she enters her senior year with Claremore volleyball under her third coach in four years, but thanks to new coach Derek Jackson, she has something to get excited about.
"It's definitely been very different," Rhodes said of the coaching changes. "But I think it's made at least my class a lot stronger together to work together more than like, I don't know, just like working separately and just like listening to the coaches. For the last two years, we've definitely had to work on things by ourselves more than anything else.
"Coach Jackson brings in a lot of structure and a lot of positivity and everything. I think it's gonna be good. We are definitely very focused on getting back to state and making it past the first round and keep going towards the championship."
Unfortunately, seemingly endless coaching changes are a problem that has followed the Rhodes family even beyond state lines.
Rhodes' sister Emma, who played volleyball at Jenks and continued her career at Tabor College in Hillsboro, Kan., will be experiencing her third coach with the Bluejays after the resignation of Mike MacNeill last month.
"We're really lucky on our coaching areas," Rhodes quipped. "But we're definitely a volleyball family, and it's just kind of inspired me to go play."
However, Rhodes can do more than just play volleyball, which she has done since she was 11 years old. She can also coach it.
Despite still being in high school, Rhodes has served as the 15 Elite assistant coach over the past year at The OC Volleyball Club in the Northeast Tulsa-Metro area.
During her time with the club, she has helped develop two of her Claremore teammates — junior Landry Price and sophomore Ella Ramsey — as well as several Rogers County athletes from Oologah and Catoosa.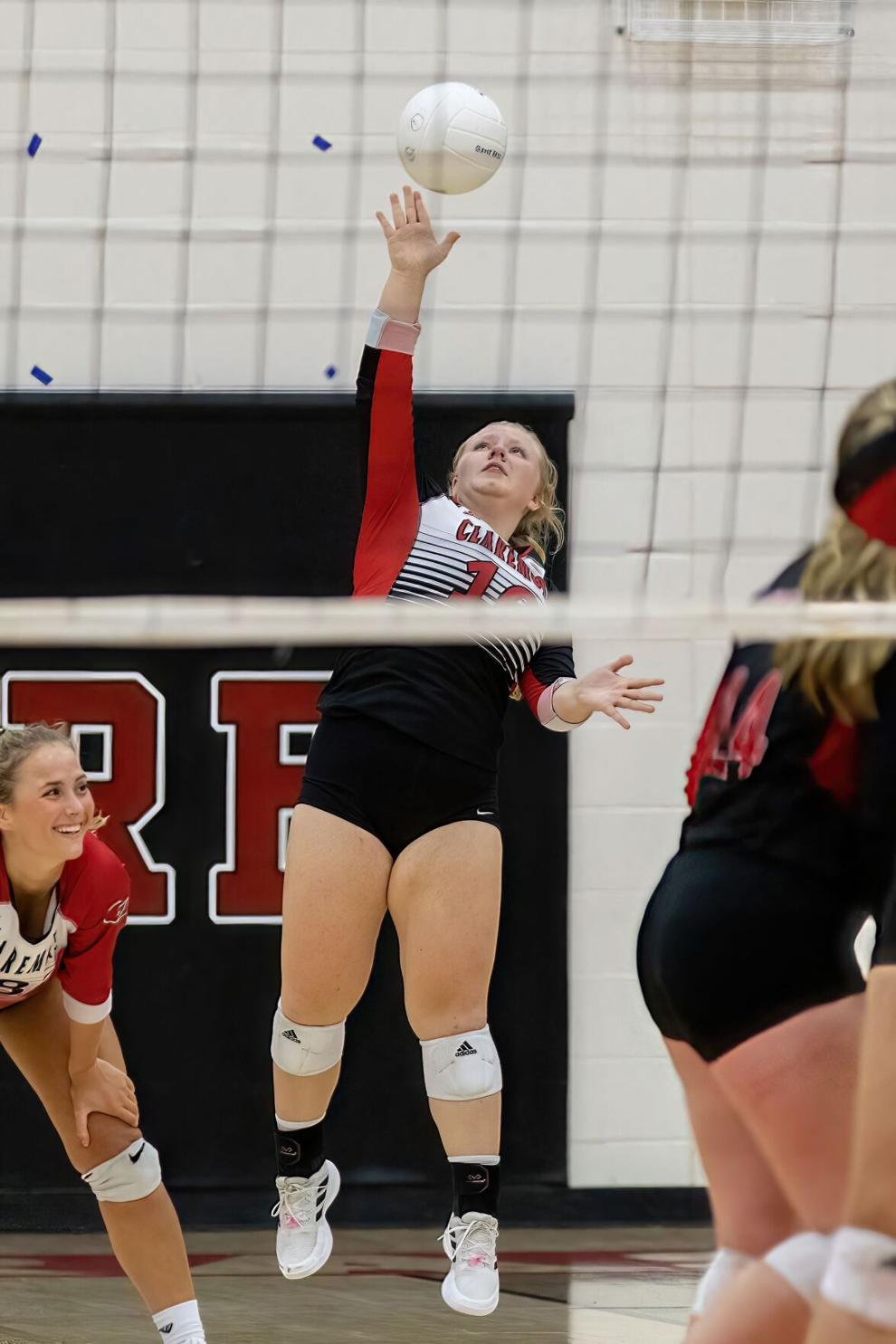 "I was referred by a lot of coaches for me to come and try coaching," said Rhodes, who, under coach Kirs Overby, helped The OC 15 Elite to a regional championship. "So that definitely made me feel very good about myself, for coaches to be wanting me to coach with them while I was a player. For assistant coaching for club teams, it's more like you're helping out the head coach, but you're still getting to mentor on younger kids and everything. I think it was really fun for me, even though it was a little rocky at most parts, but it was still a lot of fun.
"I think it would definitely be like a second job for me. I don't think it's my full passion, but I definitely enjoy it a lot."
According to Rhodes, being a coach of athletes close to her age has helped her become a better player because she can now see from an outside perspective how they take in information.
As a result, she has tried to be more respectful while remaining as coachable as she possibly can.
"I've had some really sucky coaches who have really just shown me what is a bad coach and what is a good coach," Rhodes said. "So I'm really trying to mix it all together, and hopefully I can be a decent coach. I definitely like showing people how to do things and how to do them correctly. It shows in them showing me that they've made progression, and they can get to where they can be. That goes along with coaching."
As for what is next for Rhodes, she isn't quite sure yet.
College or the military are both options she is considering, but she doesn't want to rush a decision. She might also entertain playing collegiate volleyball if any offers come her way.
"I mean anything's possible," Rhodes said. "I just have to really pray on it and see where God calls me to go because I know I have no clue."
In the meantime, she is focused on improving as a defensive specialist and libero for the Lady Zebras.
Rhodes learned a lot the past few years playing under Becca Hilmes and Makyla Salcido, and she hopes to be an adequate replacement for them moving forward into the 2022 season.
"I'm hoping to keep that spot and make a good difference on our defense and hope to lead our defense into a good direction for everyone so our offense can play," Rhodes said.