OOLOGAH — At the time he made the basket, it was just another 3-pointer in the scorebook for Verdigris senior Tyler Haddock.
Little did he know, though, that the trey to open the second half of the Cardinals' Friday night contest against Oologah had some meaning to it.
After the game, Haddock learned that the shot from beyond the arc gave him 1,000 points for his career and was part of a double-double performance that helped Verdigris coast past the red-hot Mustangs 75-57 at Mustang Field House.
Haddock finished with 19 points and a game-high 11 rebounds to add to a game-best 25-point performance from teammate Jaren Keith as the Cardinals (15-6) claimed their third-straight win and eighth of their past 10.
The win also snapped a six-game winning streak for Oologah (14-6).
Meanwhile, Lexy Borgstadt also posted a double-double—ironically with the same 19-point and 11-rebound totals as Haddock—to lead Class 4A No. 7 Verdigris to a 49-37 conquest of the No. 14 Mustangs to extend the Lady Cardinals' winning streak to 11 games.
Kylee McGuire chipped in 10 points, including a pair of 3-pointers, in support of Borgstadt while Kayla Darden contributed 7 points and 5 rebounds for Verdigris (18-3).
Both Verdigris teams posted a pair of road wins this week and will continue with action away from home when the Cardinals travel to Jay on Tuesday.
Boys | Verdigris 75, Oologah 57: Haddock entered action Friday night needing 17 points to reach the coveted 1,000-point milestone. He had 14 points and 6 rebounds in the first half against the Mustangs while Keith netted three 3-pointers as Verdigris took a 41-31 lead into halftime.
Haddock then drained a 3-pointer from the top of the key off a Keith assist to open the second half to hit the mark.
"It is a huge accolade for me," Haddock said about joining the 1,000-point club, admitting that he was unaware until after the game that he was that close to the milestone.
"I am sure my parents will be more excited about it than I am," he said with a smile.
Haddock becomes the second Cardinals player in the last week to join the 1,000-point career club. Fellow senior, Brock Fugate, reached the mark Jan. 31 in Verdigris' win against Miami.
Haddock's big trey not only boosted him to the scoring plateau, but the basket ignited a 12-2 run to start the third quarter as Verdigris took control at 53-33 just two and one-half minutes into the second half.
Keith also had his fourth of five 3-pointers in the game in the key third-quarter scoring spree.
Verdigris forced Oologah into 15 turnovers and only 5 of 23 shooting from beyond the arc to cool down the Mustangs who had tallied 91 and 95 points in their last two games.
Verdigris had been the last team to defeat Oologah (70-61 win on Jan. 17) before the Mustangs began their six-game win streak.
"This is one of those signature wins for us this season," Verdigris coach Chris Houk said.
"To hold them to just 57 points after they scored more than 90 in (each of) the last two games speaks to the play of our defense tonight."
Girls | Verdigris 49, Oologah 37: The Cardinals gave up a 3-pointer to Mustangs sharpshooter Karly Wadsworth to open the game, but from then on it was all Verdigris as the Cardinals clamped down on the Oologah senior.
McGuire had 8 points, including both treys, to help rally Verdigris to a 14-6 lead after one quarter.
Then, in the second quarter, the Borgstadt sisters — Lexy and Morgan — took over scoring duties as the pair combined for all 16 of the team's points in the period.
Lexy, a junior, had 8 points, and Morgan, a freshman, matched her older sister's point output to help the Cardinals to a 13-point halftime cushion.
Oologah (13-7) opened the second half with a pair of 3-pointers to cut its deficit to seven but Lexy Borgstadt had a putback basket following a missed free throw to help stem the tide then added a key assist on a Kayla Darden basket after Oologah got back within seven points one final time in the opening minute of the fourth quarter.
"I just try to bring the same energy and same stats every game," Lexy Borgstadt said following yet another double-double performance this season.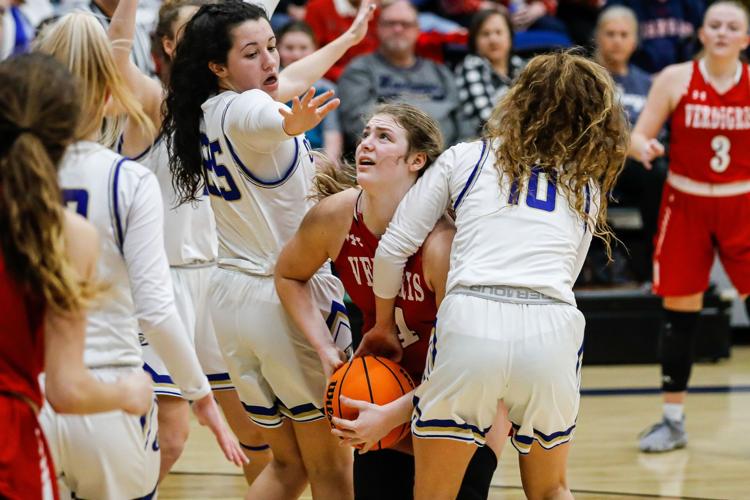 Verdigris coach Mike Buntin agreed.
"She is pretty consistent. She almost has a double-double every night," he said.
"She's been a centerpiece for us. We need that from her as we get ready for the playoffs."
Verdigris made Wadsworth work for all 13 points she scored. With Jordan Chancellor, Megan Turner and Morgan Borgstadt shadowing her defensively at different points, Wadsworth connected on only 4 of 17 field goals, including just 2 of 11 from 3-point range.
"I feel live everyone is contributing, and that is resulting in our success," Lexy Borgstadt said.
Girls
VERDIGRIS 49, OOLOGAH 37
VERDIGRIS—Lexy Borgstadt 19, Kylee McGuire 10, Kayla Darden 7, Morgan Borgstadt 6, Jordan Chancellor 3, Megan Turner 2, Kylee Darden 2.
OOLOGAH—Karly Wadsworth 13, Baylie DeSpain 9, Lilly Ruark 6, Kiah Purdunn 4, Alexis Martin 4, Kyah Dixon 1.
Verdigris;14;16;5;14—49
Oologah;6;11;12;8—37
3-point field goals: Verdigris—Kylee McGuire 2, Chancellor 1, M. Borgstadt 1. Oologah—Wadsworth 2, DeSpain 1, Purdunn 1.
Rebounds: Verdigris—L. Borgstadt 11, Kayla Darden 5, M. Borgstadt 4, Chancellor 3, Kylee Darden 3, Mackenzie Blackwell 2, Kylee Darden 1. Oologah—DeSpain 8, Dixon 7, Martin 3, Ruark 2, Wadsworth 2, Purdunn 1.
Boys
VERDIGRIS 75, OOLOGAH 57
VERDIGRIS—Jaren Keith 25, Tyler Haddock 19, Brock Fugate 11, Trent Haddock 10, Brant Hager 7, Logan Cagle 2, Caden Parnell 1.
OOLOGAH—Conner Davis 22, Josh Garrison 12, Cody Elrod 10, Matt Garrison 8, Jack Barron 3, Chace Gibson 2.
Verdigris;26;15;21;13—75
Oologah;15;16;15;11—57
3-point field goals: Verdigris—Keith 5, Hager 1. Oologah—Davis 4, M. Garrison 1.
Rebounds: Verdigris—Tyler Haddock 11, Trent Haddock 6, Fugate 6, Hager 4, Cagle 3, Parnell 3, Keith 2, Aaron Buntin 1, Ethan Bell 1. Oologah—Elrod 9, M. Garrison 4, Cameron Doyle 3, Barron 3, J. Garrison 3, Davis 1, Gibson 1.