CATOOSA — Hailey Grant shook her head and shrugged her shoulders in frustration.
The Claremore senior had just picked up her fifth foul, and it came at the worst possible time.
Edison trimmed an eight-point deficit to four with 50.2 seconds remaining, and the Lady Zebras had little in scoring production outside of Grant, who finished with 23 points and 14 rebounds.
What transpired after she left the court was probably the most stressful 50 seconds of Claremore's season.
The teams continually traded free-throw attempts, with neither able to convert. Then with seven seconds left, McKenzie Davis hit a deep 3-pointer to bring the Lady Eagles within two.
Luckily for the Lady Zebras, Edison's inefficiency at the line cost it the game.
The Lady Eagles missed their final five free throws, allowing Claremore to escape with a 41-39 win in a Class 5A East Area consolation game at the Catoosa Activity Center on Thursday night.
"It felt like a bull ride where you're just going, 'OK, just hang on. Just hang on,'" Lady Zebras coach Mike Hughes said. "We did just enough, but at this point in the year, you don't care how you do it. You just need to win; somehow, someway."
In all, Edison made only 8 of 20 free throws while the Lady Zebras shot 65.4 percent (17-of-26) from the line despite missing their last four attempts after senior Cloe Dennis split a double-bonus to push their lead to 41-36 with under a minute to play.
Claremore (14-12) will play No. 1 Will Rogers at 1:30 p.m. Saturday at Frank Herald Field House in Jenks with a spot in the state tournament on the line. Ninth-ranked Coweta clinched its spot with a 67-57 upset of the Lady Ropers on Thursday.
Despite that surprising result, Hughes said he expects Will Rogers (23-3) to be in top form come Saturday.
"It's a tough matchup; they're really good," Hughes said. "They're very, very talented and athletic, and I'm sure they'll be ready to play after what happened to them tonight. I don't think anybody saw that coming.
"To have a chance to go and play in the state tournament, that's all you can ask for."
The Lady Zebras trailed by one at 29-28 going into the fourth period after surrendering a five-point advantage, but Hughes' squad answered with the perfect response.
Claremore, led by Grant, opened the frame with a 9-0 run to take a 37-29 lead.
"We got the ball where we needed to be," Hughes said. "In the third quarter and even in the first half, we didn't get the ball to Hailey enough. In the fourth, we made a little bit more of an assertive effort to get her the ball, and I think that was huge. And we got to the free-throw line a lot."
Although Grant, who scored five during that spurt, was undoubtedly the overall hero for the Lady Zebras, the game's defining moment belonged to Rachel Yewell.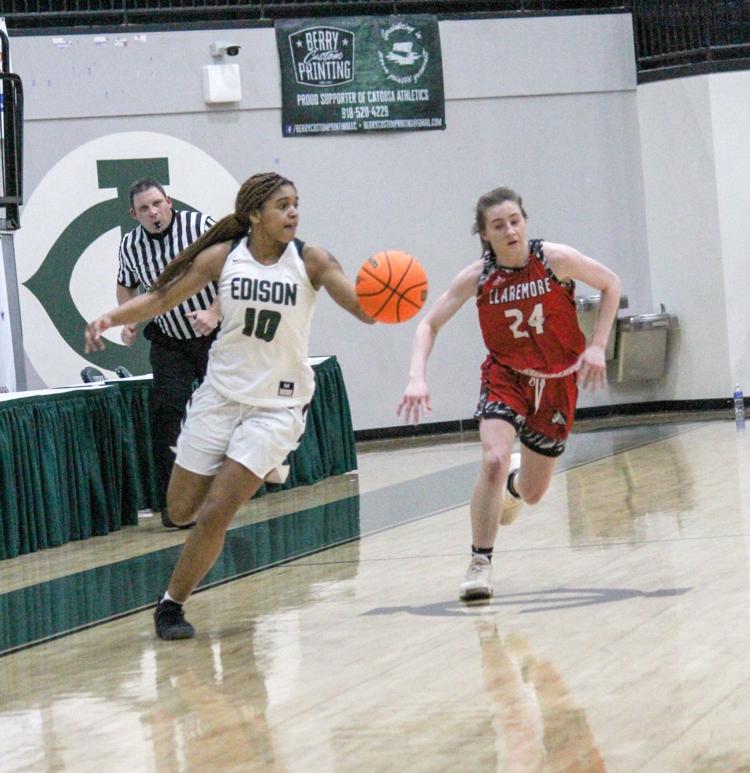 With Claremore leading 30-29 early in the fourth, the sophomore gave her team the separation it needed with a transition layup preceded by a well-timed steal in the open floor just beyond halfcourt.
Yewell, who finished with 4 points and 3 boards, said the sequence was sparked by her desire to avenge the Lady Zebras' two early-season losses to Edison.
"I was just motived to get the bench and everyone hyped up," Yewell said. "To get more energy and to beat Edison. That was also a big motivator, to beat them especially now that it's the playoffs."
The Lady Eagles (15-10) didn't come within three points again until Davis' 3-ball with seven seconds remaining.
Davis led Edison with 17 points and a board while Mariah Smith added 12 points and 3 rebounds. Taniya Tease chipped in 6 points and 7 rebounds, and Leona Williams paced the team on the boards with 12 rebounds.
Maddie Hardage, a senior, was Claremore's second-leading scorer and rebounder after Grant with 5 points and 6 boards.
CLAREMORE 41, EDISON 39
CLAREMORE -- Hailey Grant 23, Hardage 5, Yewell 4, Dennis 3, Bump 3, Ohman 3.
EDISON -- McKenzie Davis 17, Mariah Smith 12, Tease 6, Crosslen 2, Williams 2.
| | | | | | | |
| --- | --- | --- | --- | --- | --- | --- |
| Claremore  | 5  | 9  | 14  | 13  | --  | 41  |
| Edison  | 7  | 7  | 15  | 10  | --  | 39  |
3-point goals: Claremore -- Grant 1, Bump 1.
Edison -- Davis 4, Smith 1.
Rebounds: Claremore -- Grant 14, Hardage 6, Ohman 4, Yewell 3, Team 3, Bump 2.
Edison -- Leona Williams 12, Tease 7, Smith 3, Crosslen 2, Davis 1, Team 1.