CLAREMORE — The morning of March 12 was supposed to be a happy occasion for Rogers State men's basketball, but coach Justin Barkley couldn't shake a bad feeling that suddenly came over him.
Barkley and his team were making a trip to Maryville, Mo., a town about an hour and a half north of Kansas City, for the program's first Division II NCAA Tournament appearance in school history.
The Hillcats, a six-seed in the Central Region of the 64-team tournament, were set to play Southeastern Oklahoma State of Durant in the first round at noon on Saturday, March 14.
But that game was never played. In fact, RSU never even made it to Maryville.
A little after 3 p.m. on that fateful Thursday, Barkley — while enjoying a brief pitstop at an outlet mall in Kansas City — received a heartbreaking call from athletic director Chris Ratcliff. The tournament was canceled with no chance of rescheduling.
Just like that, the Hillcats' 24-6 season that saw them finish second in the Mid-America Intercollegiate Athletics Association (MIAA) came to an abrupt halt.
Barkley said he wasn't surprised by the devastating news, though, especially after seeing a slew of other cancellations set in motion by Rudy Gobert of the Utah Jazz testing positive for the COVID-19 coronavirus shortly before the team's game against the Thunder in Oklahoma City on Wednesday, March 11.
"The night before we left, the first signs of cancellations or postponements were starting to happen," Barkley said. "There were some unknowns because we had gotten an email from the NCAA that the tournament was still on, but they were going to allow only six tickets per player. It wasn't going to be a typical NCAA Tournament crowd, but we were still tickled to death that it was still going to happen.
"We moved our practice from 3 p.m. to 7 p.m. because in large part, I wanted a decision to be made; it's either on or it's not. It's hard to channel your focus toward a national tournament if there's some unknowns."
Of course, the hardest part of the situation was conveying that information to his team. A squad that included four seniors — Ricardo Lynch, Marques Sumner, Tavian Davis and Christopher Miller.
As the leader and coach of young men, Barkley said he knew he had to make the best of a bad circumstance. He just wished the heart-wrenching conversation could've come on a basketball court or in a locker room, not in an outlet mall parking lot.
"I will have that memory painted into my brain probably for as long as I'm in the business," Barkley said. "I thought I owed it to my seniors first because it really affects them; their careers are done. I had a conversation with my four seniors outside the bus, and at that point, I assumed everyone on the bus probably knew what was going on."
Among those waiting for the other shoe to drop was junior Brewster Peacock, a 2017 Verdigris graduate.
Although Peacock has the luxury of returning for the 2020-21 season, this postseason berth would've been the first for him in quite some time. The first of his college career, to be exact.
RSU is in the fourth year of its NCAA membership, and restrictions implemented on all new members have kept the Hillcats from competing in any postseason action after the conference tournament.
This was the program's first year of eligibility for the NCAA Tournament, a welcome change for Peacock, who has yearned for postseason basketball since his high school career ended in the area tournament.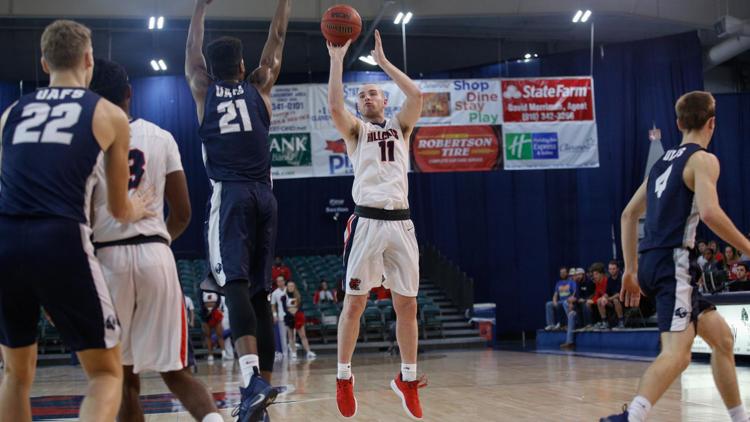 He helped the Cardinals to consecutive Class 3A state championship games in 2015 and 2016, winning the latter.
He will have to wait another year for a payoff of similar magnitude.
"I just knew wherever I went, I wanted to win," Peacock said. "This year's team, we knew we were talented and had a chance to be really, really good, so we just kept our heads down and kept working hard. All we were worried about was getting that next win. I hadn't really let it sink in or thought it about that much at that point.
"There are just some things you can't control. You can't change it, so why dwell on it? It's not like we're in a bad situation, and it's not like anybody is looking for a job or in panic mode."
Although Peacock and many other athletes have been negatively affected by the recent changes in the sports landscape, he refuses to feel sorry for himself.
Instead, he is focusing on the CDC's guidelines for quarantine so health can prevail, and things can return to normal as soon as possible.
The health and safety of American citizens trumps sports, and Peacock understands that.
"If you underreact, you'll definitely be able to tell," Peacock said. "But if you overreact to something like this, you may never know. It's better to be safe than sorry, and the safety and the health of Americans and everybody else has to come first. If you're not healthy, quality of life isn't very good.
"I just hope it blows over, and we can all get back to being healthy and all that good stuff."
So, what is the outlook for next season's Hillcats? According to Barkley and Peacock, there is plenty of optimism surrounding the program.
RSU is losing three of its top four scorers — about 46 percent of its scoring output — as well as its leading rebounder, assister, blocker and stealer, but the likes of Peacock and freshman Jett Sternberger will look to lead the Hillcats back to the NCAA Tournament.
Peacock averaged 11.8 points and 4.9 rebounds through 30 games, and Sternberger notched 9.9 points and 2.7 rebounds. Not to mention the pair combined for 115 of the team's 260 3-pointers this season.
"We've got a great corps returning, and we're just a few pieces away," Barkley said. "We will be hungry individuals looking for and finding ways to improve our program. The ones we do have returning, as of right now, give us a lot of optimism, and we have bright, bright days ahead.
We had an unbelievable year. There's no asterisk. We were an NCAA Tournament team, and we did it first in the program's history. We did a lot of things that nobody thought we could, and I won't allow anybody to put a damper on the season we had.
"It was emotional, but there's so many good things to think about over the past six months."