CLAREMORE — A year ago, the Rogers State University baseball team won a conference tournament title, advanced in postseason action to an NCAA sub-regional and came within one win of moving on to a super regional.
The Hillcats will not have the opportunity to duplicate any of those feats this season.
On March 12, the NCAA announced the cancellation of all remaining winter and spring sports championships for all levels of the association in response to the COVID-19 coronavirus public-health threat, ending any hopes of NCAA post-season play this season for the Hillcats.
Then on March 17, the school's athletic department, in conjunction with the Mid-America Intercollegiate Athletics Association —the conference in which Rogers State is a member — announced the cancellation of 2020 regular-season spring sports competition and conference championships, citing concerns related to the COVID-19 pandemic.
With the announcement, all Rogers State spring sports, including baseball, have canceled the remainder of their spring sports schedules.
For Hillcat baseball, it resulted in 29 of the team's scheduled 49 regular-season games — not counting the MIAA tournament that was set to be played May 6-10 — being scrapped.
Rogers State will finish the year 9-11 on the throes of a seven-game losing streak. The Hillcats' final game played was a 9-4 nonconference home loss to Northwestern Oklahoma on March 12.
Last year, the team started slowly as well but caught momentum as the season went along to capture the Heartland Conference tournament title — before the school joined the MIAA this academic year — on the way to a 36-18 final record.
In an interview Monday with Rogers State coach Chris Klimas — before Tuesday's season-ending announcement was made — the head coach along with pitcher Corey Murphy — a senior from Chelsea — reflected on the stunning developments in the last week and a few of the resulting impacts.
After playing its home game with Northwestern Oklahoma on March 12, the Hillcats looked ahead to their next scheduled action — a three-game home weekend series against MIAA opponent Northwest Missouri State that was slated to begin on March 13.
But that series would not be played.
With the rapidly evolving landscape in the sporting world that took place last week — at the professional, collegiate and high school levels — due to the COVID-19 pandemic, Klimas learned on March 12 about the NCAA's decision to cancel spring sports championships as well as, at the time, the postponement of the remainder of the school's 2019-20 athletic season to include winter and spring sports competition.
Klimas, in his sixth season as head coach of the Hillcats, delivered the news to the team over the course of two meetings on March 12.

"I had two meetings with them on (that) Thursday," he said. "This is my 19th year of coaching college baseball. Those were probably the hardest team meetings I have ever had because there were a lot of questions and very little answers."
"It was a gut punch," he added. "You could just feel the air kind of go out of the locker room.
"There was a lot of disappointment. There was a lot of unknowns, especially for the seniors."
Even though, at the time, the possibility remained that the season could resume at a later date in the spring, Klimas was skeptical of returning to the diamond in 2020 due to the nature of the sport.
"Baseball is a sport that you can't take a month off and then just roll out there and start playing games," he said. "You have to get pitchers prepared. They have to get stretched out again. So the chances of us getting started up by the time our season is scheduled to be over is slim to none."
With the likelihood that play for the season might not resume, Klimas said he knew there would be little chance for the team to rebound this year as it did a year ago on for its late-season run.
"We barely played a third of the season (this spring), and you have some guys there who had worked extremely hard to get to that point," the coach said. "Just because we hadn't played well doesn't mean that was how it was going to play out the rest of it (the season).
"We didn't get off to a really good start this year, but I felt like we were really talented, and it was a group that could get it going," Klimas added.
"We were in a very similar situation last year. We were only a couple of games over .500 by mid-March then we kind of turned the corner, got hot, then went on a run to win a conference (tournament) championship, go to an NCAA regional finals, and go to the "if" game. All that was on the heels of a pretty slow start as well."
Murphy, one of the team's 12 seniors this year, was there for the news of the cancellations and postponements from Klimas on March 12.
"At first, I was really shocked just because I didn't know what the future was going to look like," he said. "My whole life I have always heard to play every game like it's your last. It feels a little different when you are staring the end of your career right in the face."
Murphy admits to having mixed feelings upon learning from his head coach that the rest of season could be in jeopardy.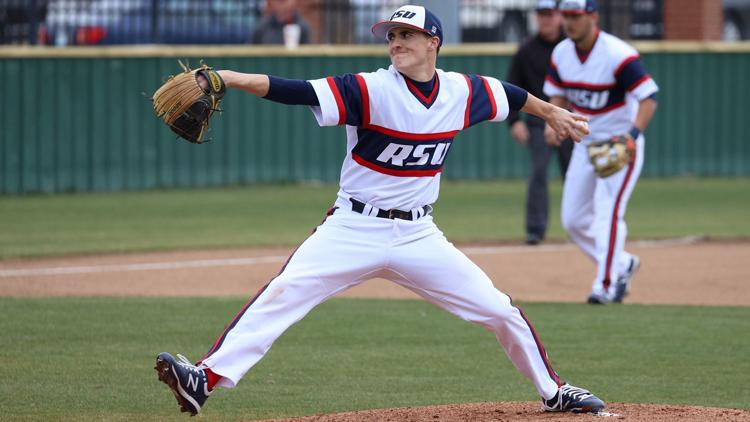 "When he first gave (us) the message there was a lot of emotions, a lot of confusion," Murphy recalled. "Honestly, I had a moment of just pure joy because God has blessed me to be able to play this game for almost 20 years. If my career did end that day, then I could look back and say I had an amazing career."
For the season, Murphy's final appearance was a start on the mound on March 8 in a no decision at Missouri Western. RSU suffered an eventual 11-10 loss in the game.
Little did Murphy know that the appearance would be his final one of the season and potentially the final one of his career.
"I definitely didn't think it was going to be, and I didn't want it to be either just because of how the game went and, honestly, how I have been performing this year," said the lefthander, who posted a 1-3 record this season with a 5.84 earned run average while starting five games.
"I was struggling with a couple of injuries, which is no excuse. I haven't been performing to the standard that I hold myself to and I know my coaches hold me to. So I am really thankful that I do get to come back for another year and give it another run."
The "another run" to which Murphy, who went 9-4 as a junior with a 3.54 ERA in 2019 while gaining First Team All-Heartland Conference honors, was referring to deals with the NCAA's announcement late last week that student-athletes in spring sports would be granted an extra year of eligibility. Details of the particulars of that announcement remain to be resolved.
"I am going to come back," he said. "Coach and I had actually already talked about it. I do plan on going to graduate school and getting my master's degree here at Rogers State.
"So it kind of works out really well for a person like me who has plans to continue school. I was going to be here anyway. But it is hard for other seniors who weren't planning on pursuing graduate school or maybe they graduated with their degree, and they are ready to start their life. That's a really hard decision that they are going to have to sit down and decide."
Murphy understands that the developments of the past week for NCAA student-athletes will have far-reaching effects for those impacted.
"I think a lot of people are going to see a very sad end to their career come," he said. "But, for people like me, I am very fortunate."