Guthrie center fielder Haley Gallo spent an afternoon at summer camp picking up softball pointers from a three-time All-American.
As the muggy June heat enveloped Cowgirl Stadium, Gallo and her peers took turns stepping into a batting cage and working with Vanessa Shippy-Fletcher, the standout Cowgirl utility player who now serves as a volunteer assistant coach.
Although Shippy-Fletcher acts as a teacher at Oklahoma State's KG Softball Camps, she learns something from the campers each year, too.
"I think one thing that's really cool that stands out to me is when girls get here and they take initiative over hustling, introducing themselves to us, asking questions, taking coaching well," Shippy-Fletcher said. "That's the thing I love about camps the most is you get to see how coachable these young athletes are."
Since joining the coaching staff, Shippy-Fletcher is spending her third summer leading teenage softball players at camp. The June summer prospect camp, which is open to eighth-grade through 12th-grade girls, featured a pitching/catching clinic Monday and an all-skills clinic Tuesday. A second prospect camp is set for July 16, and youth camp is scheduled for August 1-5.
Shippy-Fletcher said this session's registration reached its capacity of 110, and OSU camps often have waitlists in case a participant has to back out because of summer games, injuries or other conflicts.
"Our camps fill up really quickly, for the most part," Shippy-Fletcher said.
They give serious softball players a way to elevate their games, but Shippy-Fletcher and the coaches notice more than hitting, pitching and fielding abilities. Although OSU coaches can't reach out to a recruit until Sept. 1 of her junior year, camp provides an early opportunity for prospects to connect with the Cowgirl staff while following NCAA rules.
"Camps are really vital for them to get in front of us," Shippy-Fletcher said.
Lunch breaks, hydration breaks and other moments of down time allow the coaches to see the campers' personalities.
Shippy-Fletcher said she pays attention to a variety of off-the-field behaviors. How do prospects carry themselves as they walk from one station to the next? How do they interact with their parents who watch camp games from the stands? Do the kids say thank you?
Although some campers might stand out as athletes who would fit into OSU's program, KG Softball Camps are not auditions for recruits. Michaela Richbourg, a Cowgirl graduate infielder from Broken Bow, said coach Kenny Gajewski tells campers they aren't there to try to earn scholarships. The skills they develop can help them at any high school or college, so it's a low-pressure environment.
Richbourg, who joined Shippy-Fletcher to toss balls to campers in the batting cages, said her favorite part is making sure the kids have fun.
"(It's) just engaging with the kids and getting them to open up, more or less," Richbourg said. "Like, 'Don't be scared to mess up and enjoy it and learn from your mistakes,' and just let them have a good experience here."
Some campers have enjoyed it enough to become multi-year participants. Gallo, who is approaching her sophomore year at Guthrie, said she has attended Cowgirl softball camps since 2018 – Shippy-Fletcher's senior year and Richbourg's freshman year.
"I know I've always loved OSU, so when I started playing softball when I was 8, I always watched their games," Gallo said. "Then I had my dad on the lookout for camps, and I always wanted to be signed up for them."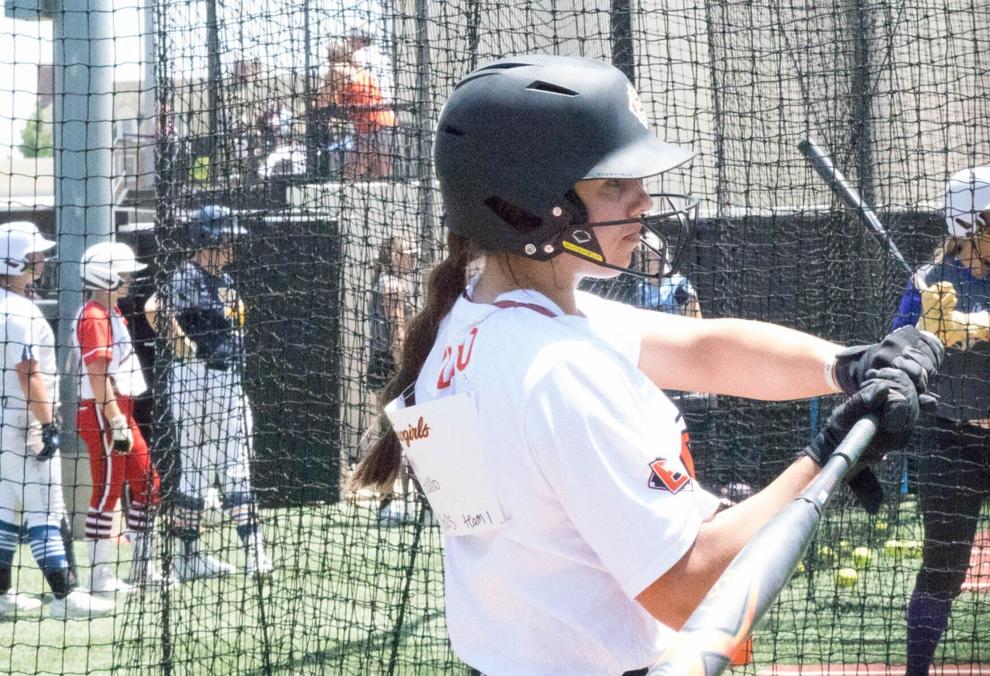 Gallo and many of her peers are from Oklahoma, but the camp also attracts out-of-state participants. When prospects took the diamond for a Tuesday afternoon game at Cowgirl Stadium, they wore a colorful assortment of travel ball uniforms, representing a variety of organizations.
Several faces are familiar to Shippy-Fletcher, and others are first-time campers. As a player-turned-coach from Coeur d'Alene, Idaho, Shippy-Fletcher understands how OSU's program can catch the attention of a prospect from anywhere.
"There's a lot of kids that come through here that just love OSU," Shippy-Fletcher said. "And it fires me up because that was me once."