Kearanie Johnson didn't set out to be first.
She fell in love with a sport, put in the work and climbed her way to an impressive wrestling resume.
The 16-year old sophomore has been wrestling for Claremore High School for three years but her love for the sport started much younger.
"I started wrestling when I was 4-years old. One day my dad took me to the gym and I instantly fell in love and I've been wrestling since then," she said. "I like the competition. And no matter what, it feels good to be out there on the mat. It's a different type of feeling, not like any other sport I've played"
And she's played a bit of everything.
"I've played softball. I box. I do Jiu Jitsu. I've played soccer, football and baseball," she said.
Johnson was the first girl to wrestle for the Claremore High School team.
As the first girl to grace the Claremore mats, Johnson said she gets her fair share of questions—and skepticism.
"Usually people are like 'why would your parents let you wrestle? because they're not used to seeing a girl out there with the guy. I tell them I'm just like the guys, I've been raised doing this, it's second nature," she said. "And girls can pretty much do anything the guys can, sometimes I feel like girls are even more successful in this sport because of flexibility and things like that."

There's no doubting this girl's success.
"When I was 10 years old I won the Oklahoma Wrestling State for youth and I was the first girl in Oklahoma to win in that.
When I was 15 I won the Trinity Award, which is where you win two nationals and the worlds tournament. I was the first girl in Oklahoma to win that, the second girl in the nation to ever win that. Last year I qualified or state, and was the first girl in Oklahoma to do that," she said.
She was part of creating an Oklahoma girls nationals team, which enables her to travel the country wrestling other female wrestlers.
"Does all of that intimidate people? Maybe. But at the same time, it's not un-achievable. Anyone can do what I'm doing with a little hard work and realizing they can do it," she said.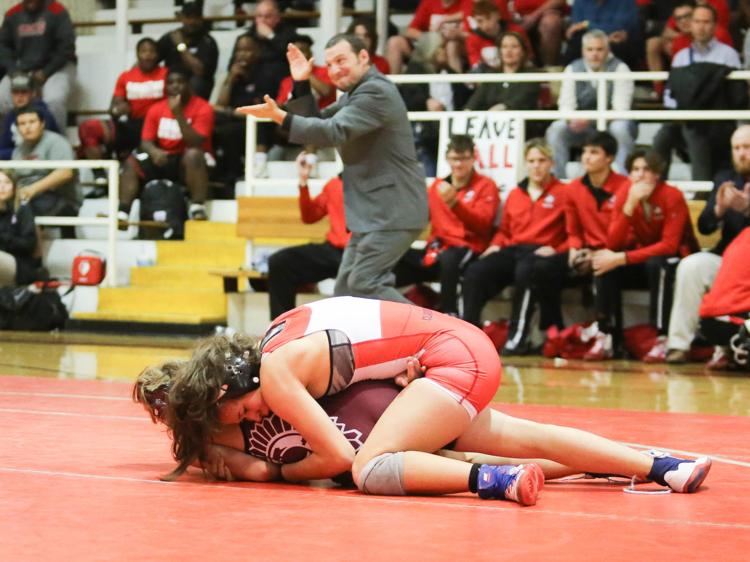 To any girls harboring a dream of getting on the mats, Johnson said, "You should definitely do it. It will make you a better person in the long run. You can do anything the boys can do. Besides, wrestling is just fun. It's definitely my favorite sport."
She added, "It doesn't matter if you're a boy or girl, big or small, as long as you set your mind to it, there's always a way to be successful."
There's no doubting that Johnson has made her mark. But there's no stopping this girl.
"I want to qualify for the junior Olympics and the female worlds team this year. To qualify for junior Olympics you have to qualify top three in a female national tournament and to get on the worlds team you have to win first, second or third at a national tournament," she said of her plans this year.
Johnson said she's never been scared of hard work, though, so she's facing it head on.
She's been busy racking up wins but said she's seen opinions change along the way.
"I think people are now realizing girls can do this sport. It's not impossible," she said. "When I joined the team people didn't think I would last. But I'm here to stay."