VERDIGRIS — A loss always hurts, but given the circumstances, Verdigris girls basketball coach Mike Buntin was delighted with the way his team competed Saturday night.
Despite being only a week removed from a lengthy quarantine period, the Lady Cardinals hung tough with Class 5A No. 3 Tahlequah in a 51-47 loss in the Port City Classic championship at the Verdigris Activity Center.
Verdigris, ranked sixth in Class 4A at the time of the tournament, defeated Class 6A's Owasso 44-30 in the semifinals on Friday.
"I think we have a chance to be really good," Buntin said. "People forget we're a week removed from being quarantined. We're just coming out of quarantine and have had two practices and five games in a week. So I feel like we haven't even touched the surface of what we can become.
"We have so much heart and desire, and those kids play so hard for us."
Tahlequah 51, Verdigris 47: With neither team taking a commanding lead through the first three quarters, Lexy Borgstadt was determined to break the back-and-forth cycle and carry the Lady Cardinals to victory.
The senior's ball-dominant personality emerged in the fourth quarter, for she scored 11 of her game-high 19 points during that eight-minute frame. She went on a 7-2 run of her own to give Verdigris a 40-35 lead early in the period, but putting Tahlequah away wouldn't be that easy.
"I was thinking to myself, 'If no one steps up and starts hitting shots and getting stops, and we keep playing not more aggressive than them, it's going to keep going back and forth, and we won't accomplish anything,'" said Borgstadt, who also grabbed seven rebounds and was named to the All-Tournament team. "I was thinking if I drove in and got everyone engaged, something would be open. With how aggressive their defense was, whenever you dribble inside, they would just collapse.
"I thought if someone else was super aggressive, it'd get other people open shots."
The Lady Tigers responded with a 5-0 run on a Smalls Goudeau 3-pointer and a 2-point field goal from Lily Couch to even the score, and the teams experienced two lead changes and two ties from there, culminating in a pair of free throws from Borgstadt to make it 44-all with 2:06 remaining.
Unfortunately for the Lady Cardinals, Tahlequah prevented them from gaining another lead.
The Lady Tigers (13-2) sealed the win with a 7-3 run, hitting 7-of-8 free throws during that stretch. Verdigris' only points in the final two minutes came when Borgstadt recorded a steal and passed the ball to her sister Morgan, who hit a 3-pointer with 8.7 seconds remaining.
Morgan Borgstadt, a sophomore, finished with eight points and seven rebounds.
"I still feel like we're missing a few too many easy ones," Buntin said. "We're doing the hard work by getting to the basket, we just can't get it high enough on the glass and can't get it to go in. There were a few key offensive rebounds they got late that hurt us."
Offensive rebounds were even between the teams at nine apiece, but Tahlequah won the overall battle on the glass 40-25.
Although shots weren't falling as often as Buntin would've liked, the free throws certainly were for Lexy Borgstadt.
She hit six straight in the fourth quarter and 11-of-12 overall, which was a significant improvement from the night before when she missed six in a row against Owasso.
"My dad has been telling me that I dip too much," Lexy Borgstadt said. "I've been struggling with it all season because I'm about 50 percent, maybe even lower. Last night I stayed and worked on it and actually listened to some people and fixed it."
The first half was much like the second, though Tahlequah gained an eight-point advantage at 24-16 with just over two minutes until halftime.
Lexy Borgstadt sparked an 8-0 run with a pair of free throws, and fellow senior Jordan Chancellor netted two 3-pointers, including one at the buzzer, to make it a tie game once more at the break.
Chancellor, who was also named to the All-Tournament team, scored 13 points in the first half and tallied 18 in all to go along with two rebounds and countless steals. She was a key reason Verdigris won the turnover battle 22-12.
Goudeau led the Lady Tigers with 11 points and two rebounds while Lydia McAlvain added 10 points and six rebounds. Kori Rainwater had a notable performance as well with seven points and seven rebounds.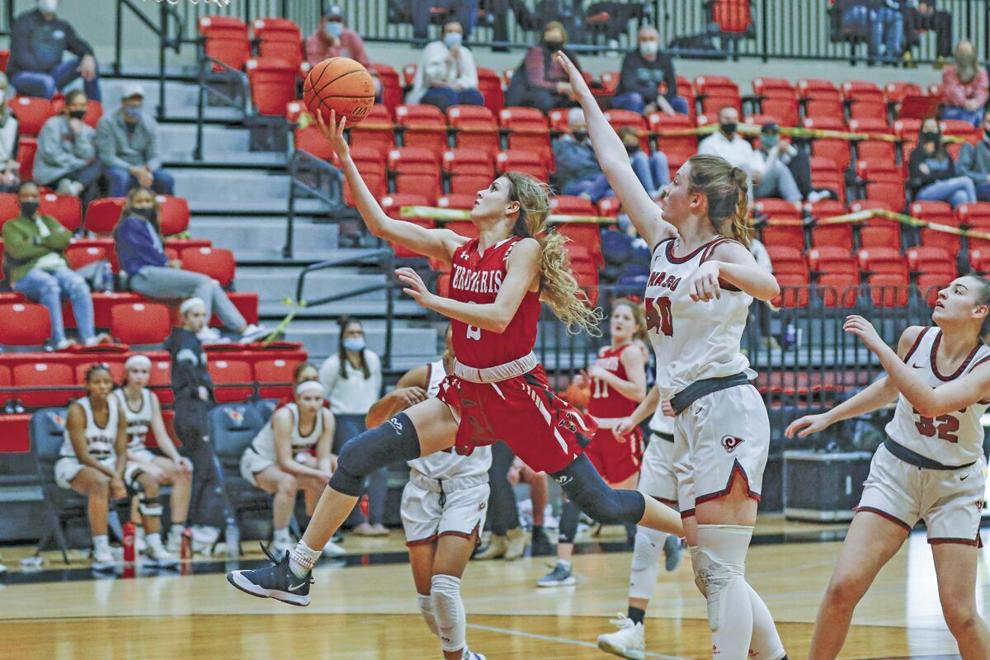 Verdigris 44, Owasso 30: Owasso flexed its Class 6A muscles early, but it didn't take long for the Lady Cardinals to prove they were the superior basketball team.
Verdigris overcame an early 6-2 deficit and embarked on a 32-8 run, which included a 15-0 spurt, to blow the game wide open before the teams even hit halftime.
The Lady Rams' offense finally found a rhythm in the fourth quarter and surpassed their production from the previous three periods with 16 points, but it wasn't enough to catch the tournament host.
"You'd like to finish strong and continue to attack and be aggressive and do the things we're supposed to, but I'm really disappointed by our defensive intensity in the fourth quarter," Buntin said. "I feel like we got lost and stopped communicating, and we allowed them to get too many easy opportunities. We have to stay focused for all four quarters."
Laila Hamilton was responsible for the sudden surge, scoring all 12 of her points in the fourth, including two three-point plays.
Buntin said she took the Lady Cardinals by surprise with her dominance in the closing minutes.
"She's a little bit further down the depth chart, but you see on film that she has that athleticism and that uncanny ability to score, Buntin said of Hamilton, who also finished with eight rebounds. "We just didn't get matched up well and didn't get the right matchups when she came in."
Elsewhere for Owasso, 6-foot-0 junior Ellie Morrill came close to a double-double with eight points and eight rebounds.
Verdigris had three players score in double figures, led by Chancellor with 15 points and three rebounds. Morgan Borgstadt added 11 points and five rebounds while Lexy Borgstadt contributed 11 points and three rebounds.