Hailey Grant recently completed her career on the basketball court for the Claremore Zebras, and it was an especially emotional senior season.
Grant's mother, Lynette, passed away on Feb. 20 after a battle with cancer. Grant, however, was able to draw inspiration and strength from her teammates and coaches.
"They knew how emotional I was and how the situation was not only mentally, but physically draining," Grant said. "They understood basketball was my only outlet, so when they all saw me 100 percent in, it didn't take long for them to follow."
One moment that stood out in particular for Grant was Claremore's 47-39 win over Cascia Hall in the opening round of the Oologah Tournament on Jan. 9.
Grant was not planning on playing because Lynette had been admitted to ICU and then had surgery to remove brain tumors.
Claremore coach Mike Hughes, however, convinced Grant to play, and she did not disappoint, scoring 19 points.
"Somehow I had one of the best games of my life," Grant said. "That was the beginning of me realizing basketball was my escape to all of the pain I was feeling."
Senior night was also emotional for Grant, for it came just one day after the passing of her mother. Grant was overwhelmed at the reception she received that night.
"I experienced the most insane amount of support that I ever felt," Grant said about her senior night ovation from the Claremore community.
Another big moment came in what proved to be Grant's final victory as a Lady Zebra, a 41-39 nail biter over Edison in the area tournament on March 5.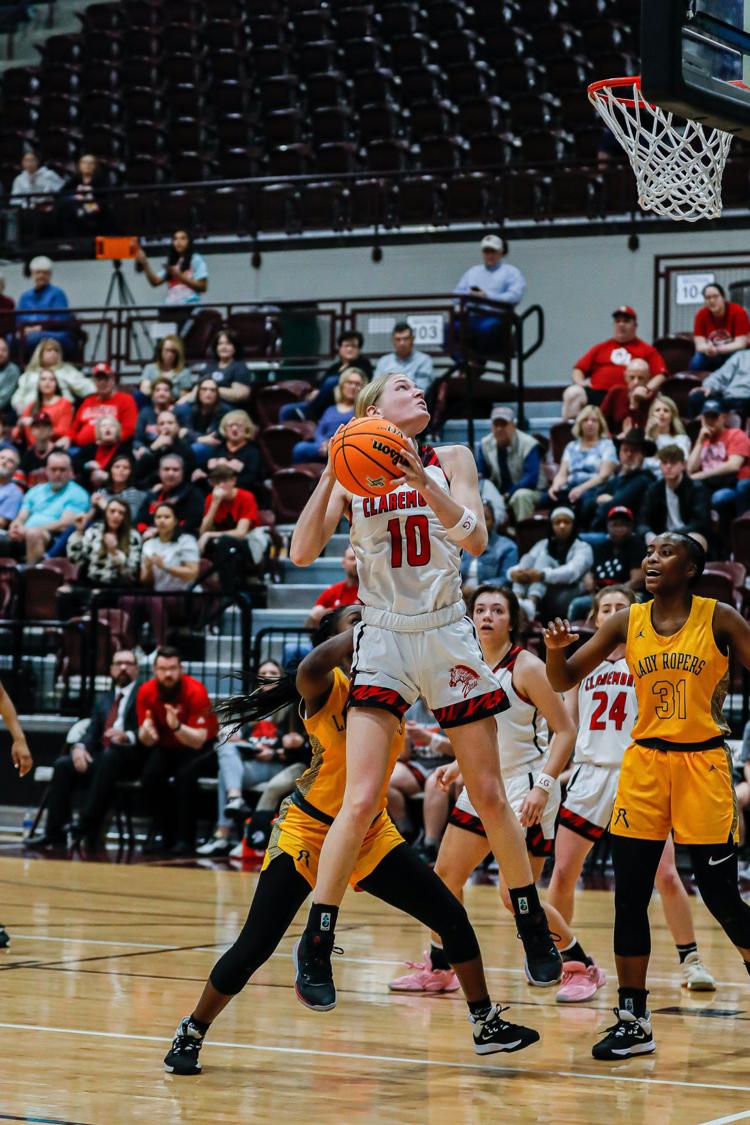 Edison had beaten Claremore twice in the regular season. The third time proved to be a charm thanks mainly to Grant's double-double of 23 points and 14 rebounds.
The end was not without drama, though, for she fouled out with 50 seconds left with the Lady Zebras up four.
Her teammates, however, were able to hang on.
"We had struggled against (Edison) all year but finally managed to put it together in that game," Grant said.
In addition to her success on the basketball court, Grant also was key member of Claremore's volleyball team that reached the state semifinals this past season.
"I didn't really have the same mind set for volleyball," Grant said. "I am definitely a competitor and gave it my all, but it was much more fun."
Grant had to deal with another family situation that eventually caused her perspective on volleyball to change a bit.
Grant's father, Don, suffered a serious leg injury last May, leading to an eventual amputation one day before volleyball senior night.
"Volleyball didn't have as much of a purpose," Grant said. "I guess you could say after that (amputation) I had more of a purpose to want to win, other than the fact that I hate losing."
Grant will continue playing basketball at the next level at Missouri Southern.
Hughes was Grant's head coach for only one season but had high praise for her.
"She is probably one of my favorite kids I've ever coached," Hughes said. "One of the premier offensive players in my opinion in the state.
"Definitely a person you wish you could coach all four years."