It's lightning-fast, physical, and (more than a little) aggressive.
Hurling has been around some 4,000 years but has now made its way to Claremore thanks to James Herron.
He found a passion for the sport in Dublin, Ireland., and after a detour through Hoboken, brought it home to the heartland.
"My mom was born and raised in Ireland. When I was 17 or 18 I was out with my cousins on St. Patrick's Day and we went to Croke Park, the largest stadium in Dublin. We were watching Gaelic Football and Hurling and I was completely baffled and didn't know what was going on in front of me," he said. "Then after I graduated college I was living in Hoboken and there were guys practicing a few blocks from my apartment so I had no excuse not to give it a go."
Herron gave it a go and was immediately hooked.
Fast forward a bit and Herron found himself in love with an Oklahoma girl. Hurling gear, and enthusiasm, in tow he followed her back home.
The couple has lived in Claremore about three years now.
"Around June of last year my wife said now that you have roots, why don't you try to bring this sport to Tulsa," he recalled. "I met with the Irish American Club of Tulsa, Scottish Club of Tulsa and the Ancient Order of Hibernians, the folks that organize the Irish Fest, and I told them what I'm trying to do. I think Tulsa is a quirky enough city to embrace this. sport."
His efforts to form a team and foster enthusiasm for the sport has been snowballing ever since. That's how the Tulsa Gaelic Athletic Club was formed.
A big part of that, he said, has been education.
"It's a 4,000 plus year old Irish sport played by amateurs. There's no such thing as professional leagues, which is something I really like about it. These guys play for 20 years, playing for their county. They have this big Irish championship and after the game is over they go back to their regular job. It's just for the love of the sport," he said.
"In terms of structure—there's basically a soccer goal with goal posts going upright. If you go up through the goal posts it's one point if you go in through the soccer goal past there goalie, it's three points."
For the first couple thousand years the game was just a man, a stick and a ball—but in the last five or six years they've made changes to require helmets.
"There are elements that are a blend of field hockey, lacrosse, baseball, and rugby to a certain degree," he said. "It's physical, it's aggressive. But I wouldn't say it's violent."
His wife Melissa is equally as enamored with the quirky sport.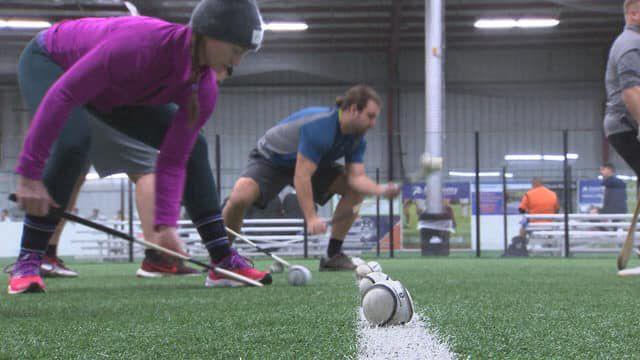 "What initially caught my attention about hurling is how fast paced it is, I prefer to watch sports that are constantly moving. After experiencing it for myself I appreciated the fact that it isn't impossible to learn, there are a few basic movements and then it's just understanding the rules and fine tuning your skills," she said. "Additionally, I appreciate the history of the sport and how it has grown in the U.S. It's exciting to be at the front as it makes it way into Oklahoma and fun to see how quickly people are latching on to it."
James said hurling is great for anyone wanting to try something new—or for those looking for a way to embrace and express their heritage beyond March. 17.
For anyone interested, he said the team is having a training session on Saturday at 1 p.m .at Veteran's Park in Tulsa.

No equipment? No interest in a traveling team? Herron said no problem.
"I'm going to have a hard enough time getting people to play this random sport. I'm going to have a very hard time if I want them to buy equipment. But we've been lucky enough to be sponsored by three different organizations to get the jerseys, helmets, hurlers—everything we need. So anyone interested can roll up in shorts and cleats or whatever they want to wear," he said. "The first hesitation people have is that they don't want to join a traveling team. …We're doing a traveling team but also looking to promote a local rec organization where it's just focused in this area. Playing just for the fun of it. Don't think that by signing up you have to commit to a traveling team."
For those wanting to see for themselves what it's all about, Herron said the upcoming Hurling in the Heartland tournament is a great chance to do that.
The Tulsa Gaelic Athletic Club is hosting the Hurling in the Heartland tournament ton April 6 from roughly 9 a.m. until 6 p.m. at Veteran's Park. Teams will be traveling from Missouri, Texas, Tennessee, Kansas and Colorado to showcase their sport.
The event will be a family-friendly event featuring live Irish music throughout the day.
For more information, check out the Tulsa Gaelic Athletic Club on Facebook.