TULSA — Rebecca Bennett tends to talk to herself during hard runs.
Regardless of whether she is feeling phenomenal or battling the negative voices of what runners call the "struggle bus", the message is always the same — keep moving.
'You cannot stop.'
'You're not stopping.'
That is how the 51-year-old Owasso native kept her sanity last Saturday morning during the Golden Driller Half Marathon in Tulsa. Those little self-pep talks helped her maintain a mental edge while churning out the grueling 13.11 miles (21.1 kilometers) on the paved trails of Tulsa's River Parks system along the banks of the Arkansas River.
"I try to think about things like, 'What am I going to do here and then', but I can't," said Bennett, a paraprofessional at Owasso High School. "I have to focus on the moment. That's how when I'm in a struggle, I can get to that next point. Then I reward myself with something."
Every race is different and presents its own challenges, but on this occasion, the reward for her perseverance was a massive personal best.
Bennett completed the race in 2 hours, 20 minutes and 25 seconds, shaving 3:29 off her previous best of 2:23:54 that she accomplished just three weeks prior in the T-Town Half Marathon on March 27. She clocked an average pace of 10:43 per mile, placing 223rd of 400 runners and ninth of 22 in her age group (Female 50-54).
Melissa Welty, 28, of Oklahoma City was the top overall female finisher in 1:34:06 while Cheryl Gustafson, 51, of Sallisaw won the Female 50-54 age group in 1:50:54.
Bennett said she was happy with her time, and she attributed the significant improvement to the fast, flat nature of the course, which began at River West Festival Park.
"There's fewer hills in the Golden Driller," Bennett said. "In T-Town, there's always Hospital Hill (a stretch of road on the west-southwest side of the BOK Center that features a sharp incline) once you get back into downtown, and this is after you've run 11 miles. The incline in downtown can slow you down because I'm tired by that time. That was probably the main factor, that hill. It wears me out, and I'm like, 'Oh my gosh, I can't get up them.'
"After 11 miles, I'm pretty tuckered out, so it's a little slower to get up them."
Bennett's strategy for the Golden Driller was simple: don't get in a hurry at the beginning.
Inexperienced runners, not knowing what they are up against, often start fast only to burn out because they didn't properly distribute their energy throughout the race.
Bennett, racing her third half marathon in 90 days in an attempt to join the exclusive worldwide club called Half Fanatics, wasn't going to fall into that trap.
She picked up the speed about 2 miles in and settled into a comfortable pace after that, aiming for 10:30 per mile.
"I could feel myself getting faster because my breathing would change, so I had to keep talking to myself and say, '10:30 is good, 10:30 is good,'" Bennett said. "I spend most of my time talking to myself, and it's encouragement and whatnot, but you can't help as you're running when you're going, 'Oh, I remember that person', and you just kind of occupy yourself that way.
"I was just trying to keep myself in check with my speed because there were a couple of times where my speed got really close to 10 (minutes per mile), and I was like, 'Oh, dial it back, girl. You're going to wear yourself out.'"
Of course, the race didn't come without its obstacles.
Bennett admittedly struggles in cold weather, and the temperature at the 7 a.m. start time was a brisk 44 degrees with a 39-degree wind chill.
She came prepared in warm clothes but was surprised at how quickly she warmed up while heading southbound on the course. She even had to de-layer at one point.
That relief from the cold was short-lived, though.
"Finally I get all the way to the turnaround, and I didn't realize I had a tailwind behind me the whole time," Bennett said. "So whenever I turned around, here comes this breeze, and a cold breeze at that. I'm now really sweaty at that point, and then I froze the whole way back. I ended up zipping my jacket back up and putting my gloves back on. I froze."
However, that personal best made it all worth it in the end.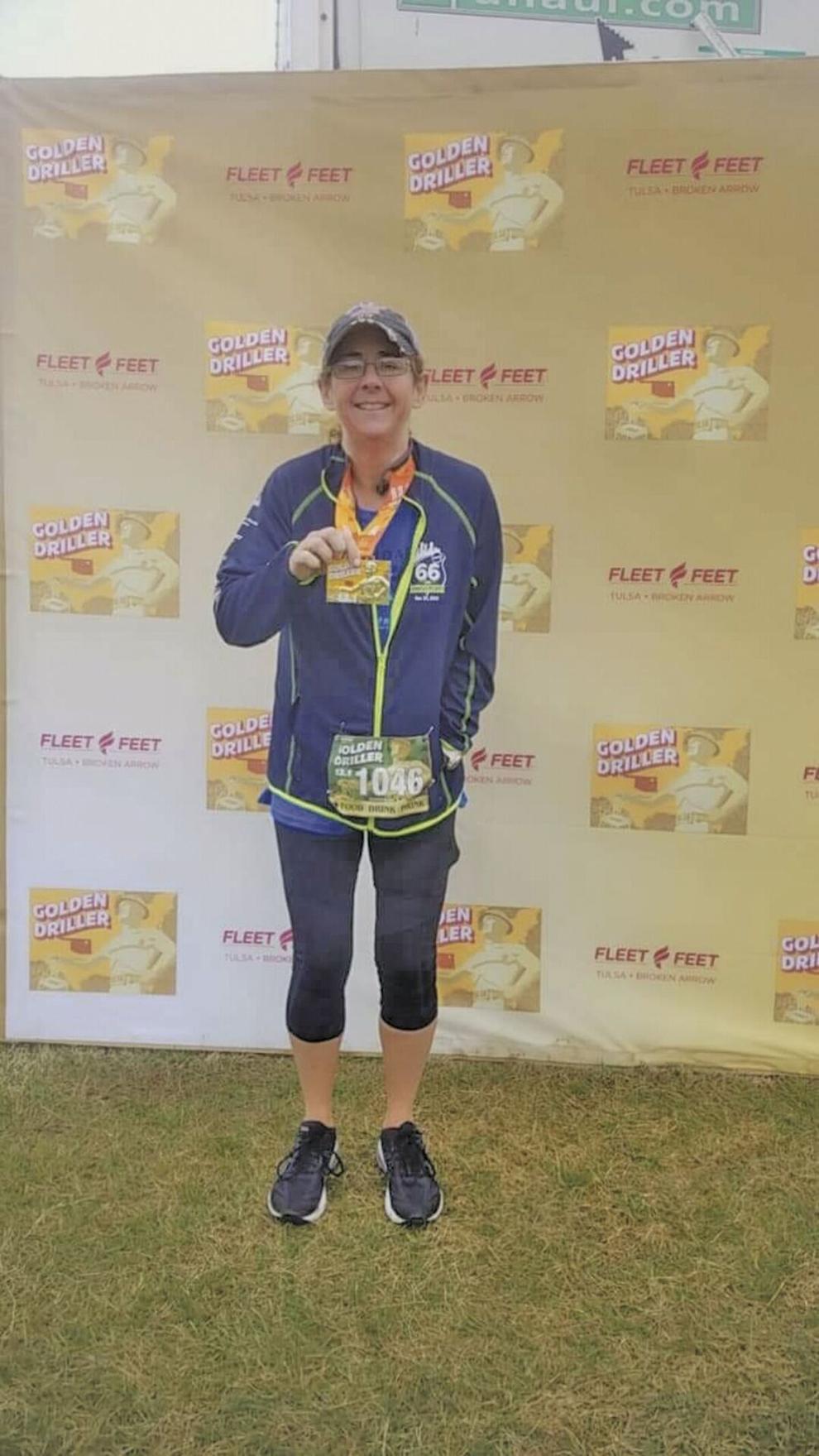 Bennett has come a long way in her running journey since her first run about 2 ½ years ago. Her dissatisfaction with weight issues and feeling out of shape prompted her to turn the doorknob and start walking and jogging in her Owasso neighborhood.
That decision to commit to fitness changed her life for the better.
"I got to where I was really enjoying it," Bennett said. "I wanted to see how far I could run without stopping, and I thought, 'You know, if I'm ever going to run any further than just here in my neighborhood a mile or so at a time, I need to join a training group.'"
The prospect of joining a running community was understandably nerve-racking and somewhat intimidating. After all, society often paints runners as athletes with lean bodies in peak performing condition.
Despite that, Bennett eventually overcame her reluctance and registered for the Fleet Feet No Boundaries 5K Training in May 2019, joining likeminded people who wanted to benefit from healthy habits.
"I had done a couple of 5Ks on my own before that, but I wanted to get better at it, so I went ahead and did the 5K training," Bennett said. "I just remember coming home and telling my husband, 'Oh my god, we just ran 5 miles today. I can't believe I ran 5 miles.' Now I'm going, 'Yeah, I just ran 20.'"
In her first 5K with Fleet Feet, the Bedlam Run on July 27, 2019, Bennett completed the 3.11-mile race in 37:11. Fast forward 17 months to the Rudolph Run 5K on Dec. 12, 2020, and she finished in 29:21, an improvement of 7:50.
Her goal was to simply come close to 30 minutes, and she shattered those aspirations. It was no doubt a foreshadowing of what was to come in her rapid progression.
She had already been training for the half marathon at that time, which she said helped make shorter distances like the 5K much easier over time.
"I have to contribute that to being able to run the longer distances," Bennett said. "Now I've got the endurance to run these longer distances, and it's given me that extra boost to run those shorter distances much faster. It was hard, especially that last little bit (of the Rudolph Run 5K) because I was pulling from everywhere. My chest even hurt afterward because I was really huffing. That was the fastest I've gone, and who knows, maybe I'll go faster one day."
Bennett began her first half marathon training in the fall of 2019, and a few months later she finished the Route 66 Half Marathon in 2:57:51 on Nov. 24.
She now joins the marathoners during Fleet Feet training sessions to expedite her improvement process, and if her times at T-Town and the Golden Driller are any indication, that strategy has worked to perfection.
Marathoners In Training (MIT) reached peak long runs of 20-22 miles during the spring session from January to April, while the Halfers In Training (HIT) went up to only 13 miles.
Two weeks before the Golden Driller, Bennett and MIT embarked on the Store-to-Store Extravaganza for the final long run of the training block. This was a 20-mile run that took runners from the KingsPointe Village location to the Blue Dome District location in downtown and back.
According to Bennett, that was the furthest she had ever run.
"It's one of those things you hear about and say, 'Oh my gosh, that would be so cool, but how in the world do they do it? It's crazy, oh gosh,'" Bennett said. "We got really close to the time, and I was nervous. But it was a beautiful day; absolutely blue skies. It was a little chilly when we started off, but not too bad because I don't do well with cold. The first 15 miles were actually easy. I was just having a good day that day, I think. But the last five were hard. I felt every one of the last five miles.
"My body was like, 'No, stop', but I made it."
The Fleet Feet summer training block doesn't begin until Monday, May 17, but Bennett has no plans of complacency in the meantime.
In fact, she is still logging miles during the downtime and already has a goal in mind for the next peak race.
This time around, she won't be a half marathoner training with marathoners. Come late fall or early winter, Bennett hopes to be running a full marathon — 26.22 miles.
"My mindset going into my first marathon is just to complete the mileage," Bennett said. "They only train you up to 20 miles, and that's the furthest you'll run in marathon training. They figure if they can get you to running 20 miles, you surely can do the other six, whether you have to walk it or not. My goal for this time is to sign up for a marathon and make it. Then I'll worry about times. Once I can make the marathon, then I can start worrying about bumping up the time a little bit.
"It's baby steps. The whole thing is just a bunch of baby steps."
Although the negative voices telling her to give up and give in to the pain will be twice as strong during a marathon, those self-pep talks will grow just as much in intensity and enthusiasm.
That positivity — the keep-moving-forward mentality — will be what carries her to the finish line, just like it has so many times in the past.
People who succeed at achieving their goals believe in themselves and quit quitting, putting in the extra work despite their muscles hurting and being pumped to the maximum.
Bennett is a testament to that.
"The biggest lesson is to just keep moving and keep doing it because you're going to have these hard days, and not every run is going to be easy," Bennett said. "But just keep trying.
"Keep working at it; that's the persistence that it takes."