With the emergence of the COVID-19 coronavirus pandemic in March, many people used the quarantine and social-distancing period to get fit.
Running, walking, hiking and even canoeing were popular choices among the masses, but there was one important aspect missing during the fitness craze.
Gyms.
Local gyms are a hotspot for patrons who want to increase their muscle tone and overall health, whether that be by taking advantage of the plethora of weight-training equipment available or just jogging on a treadmill.
However, most gyms across the country — including in Claremore — were closed for a majority of the social-distancing lockdown.
They have just reopened their doors in recent weeks, but like many businesses, there are changes that both new and veteran patrons must know before returning to their favorite workout locations.
For example, Planet Fitness — located at 215 N Lynn Riggs Blvd. in Claremore — is taking extra precautions despite priding itself on its cleanliness even before the pandemic struck.
Planet Fitness CEO Chris Rondeau released a statement on the gym's website before the reopening of locations, promising each facility will be cleaner and safer than ever before, and Claremore's facility is delivering on that promise.
Under the cleverly named "Clean Thumb Club", Planet Fitness has implemented touchless check-ins, cleaning stations and cardio distancing.
Patrons can avoid unnecessary contact by checking in using the digital keypad available on the gym's smartphone app, and there are several cleaning stations placed throughout the gym that are constantly stocked with paper towels and disinfectants — including all-too-scarce hand sanitizer — that can kill the COVID-19 virus.
Unfortunately, not all cardio and strength machines are available for use. This is to ensure proper social distancing among patrons. During these uncertain times, a little extra breathing room can go a long way.
Planet Fitness also encourages cleanliness from everyone who enters. This includes washing hands before and after using equipment and wiping down equipment with the aforementioned disinfectants and other cleaning supplies.
Late-night workout lovers might also find the adjusted hours useful. Rather than staying open 24 hours as per usual, Planet Fitness in Claremore is now open from 5 a.m. to 10 p.m. Monday-Thursday, 5 a.m. to 9 p.m. Friday and 7 a.m. to 7 p.m. Saturday-Sunday.
For those who don't yet feel comfortable utilizing a physical gym, Planet Fitness provides free workouts daily on its smartphone app and via Facebook Live.
Fitness Time for Ladies, located at 3075 Medical Parkway, Suite 121 in Claremore, is another local gym that has deviated from normal practices for safety purposes.
The fitness center reopened on May 1 after heavily considering how to do so safely. Some of those measures included placing 6-foot markers on the floor and limiting class sizes.
"We knew we were going to do it (reopen May 1), we just wanted to make sure we did it as safely as we possibly could," Fitness Time for Ladies manager Natalie Standley said. "We provide masks for anybody who comes to the gym. They don't have to wear them, but they're encouraged to. Our employees do wear masks while on shift, and we provide sanitizer, cleaning agents and all that for the patrons to use. We also sanitize all the machines, surfaces, doorknobs and everything like that constantly throughout the day."
Fitness Time for Ladies offers cardio and yoga classes that normally held anywhere from 25-30 people, but those numbers were greatly reduced during the beginning of the reopening phase.
Cardio classes were initially limited to 10 people while the yoga classes were trimmed to four participants.
Standley said anyone looking for a spot needn't worry, though.
"Since Phase 2, we've lifted those limitations and now require at least 6 feet between each person," Standley said. "But in the opening, we strictly limited each class."
As far as the future goes, Fitness Time for Ladies plans to continue following Centers for Disease Control and Prevention (CDC) guidelines and recommendations while also paying close attention to restrictions other local gyms are implementing.
Regardless, Fitness Time for Ladies' main focus is keeping its staff and members safe.
"We're always following what's recommended, no question about it," Standley said. "As they ease those, we ease. If they start to tighten it, we tighten it. We're flexible with the flow of whatever the virus dictates to us.
"We don't want to do anything that's going to compromise anybody's safety."
Flex Fitness 24/7, located at 1604 N Lynn Riggs Blvd. in Claremore, wasn't immune from the changes caused by the novel coronavirus, either.
Perhaps the biggest variance experienced by this gym involves its namesake.
As the name suggests, Flex Fitness 24/7 normally provides personal training and other select services for patrons at all hours of the day, but those hours had to be adjusted with the number of COVID-19 cases still growing across the state.
The hours of operation are now from 6 a.m. to 8 p.m., cutting availability by 10 hours per day.
Gym members can feel safe during those 14 hours, though, thanks to precautions taken by the gym since reopening on May 1.
In addition to setting up sanitation stations in an effort to mass sanitize the facility, Flex Fitness has tripled its staff to help thoroughly clean and take care of any patron needs that might arise during workout sessions.
Among the amenities offered by the gym, which celebrated its fourth birthday on March 5 just before social distancing began, are a wide variety of pin-loaded and cardio machine equipment and weights, as well as ropes, tires, chains, sandbags and kettlebells.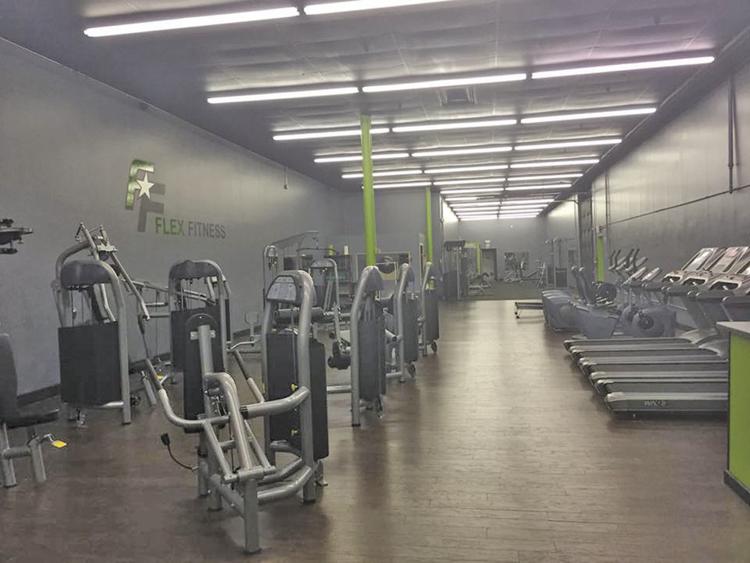 Flex Fitness also hosts several FitRanX classes throughout the week for those looking to substantially increase their fitness levels.
According to a video on the gym's website, FitRanX is a revolutionary way to get in shape and stay motivated. Each workout revolves around improving functional movements using body weight, kettlebells, bands and barbells.
These are just a few options Claremore residents have when it comes to personal fitness. If your favorite workout spot wasn't mentioned above, contact it for details on updated hours and services.
Stay fit, Claremore.