CLAREMORE — It has been a tough year for Mackenzie Thomas.
After graduating early with a communication sciences and disorders bachelor's degree last year, the Claremore High alum opted to pursue a master's in speech-language pathology. And with Oklahoma State softball — for which she served as the starting catcher — only a few months removed from a Women's College World Series appearance, everything seemed to be working out quite nicely for Thomas.
That is until she realized just how difficult juggling her softball career and academic endeavors would be.
She assumed it would be challenging to succeed at both simultaneously, but she wasn't aware it was actually an impossible task. She had to choose between the two.
Despite her aspiration to make it work, playing softball simply wasn't feasible with the set up of her master's program.
"I was carrying nine hours of classes, and I also had clinicals on top of that," Thomas said. "I see three clients two times a week, and unfortunately with the clinical practicum, I wasn't able to set my own schedule. Class schedules are already preset, so you don't have a choice on times, and there's no flexibility with the program. It's a two-year program, including the summer, and it's just really rushed.
"With that, there's really no time and no flexibility within the program, so I wasn't able to miss any classes, and I wasn't able to miss any clinical practicums because we're required to have so many by the end when we graduate.
"I just wasn't going to be able to meet that if I continued playing."
Thanks to the generosity of Cowgirls coach Kenny Gajewski, though, she didn't have to hang up her orange and black for good.
Thomas remained an official member of the team, just not at a playing capacity. She also didn't travel to OSU's season-opening tournament trips to Baton Rouge, La., Clearwater, Fla., and Birmingham, Ala.
"It was extremely tough," Thomas said. "I knew it was going to be hard, but I didn't really know the extent of it. It took a couple of weeks, and I guess it didn't really hit me until my teammates started playing in February, and I wasn't there and had to watch it through the computer. It's been really tough, but obviously it's what I had to do in order to do the right thing for myself and my future.
"Although it's been challenging, I have no doubt that I made the right decision."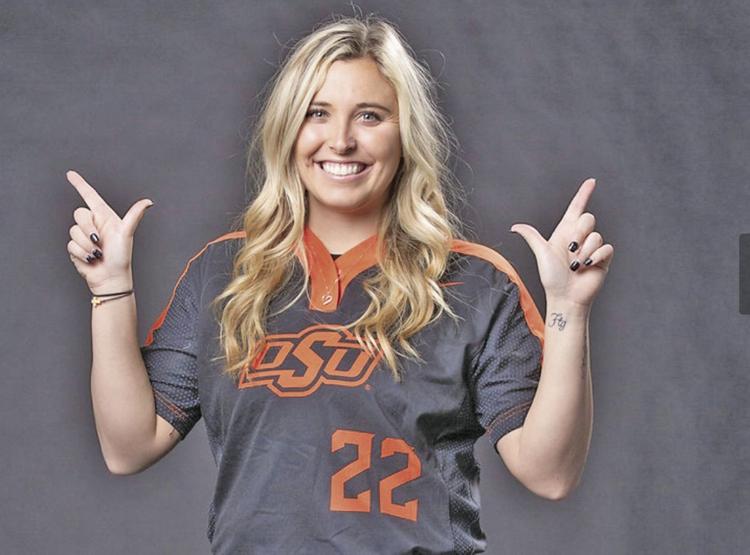 The former Lady Zebra was there, however, for 10 of the Cowgirls' 11 home games from Feb. 28-March 11, including their huge nine-inning 5-4 win over No. 10 Oregon.
Thomas missed the remaining 13 regular-season home games on the schedule, but then again, so did the team itself.
Due to concerns of the rapidly spreading COVID-19 coronavirus, the NCAA elected on March 12 — the same day as the Cowgirl Invitational opener — to cancel all winter championships and spring sports.
This, of course, also meant no WCWS. No chance for a repeat bid to college softball's biggest stage.
If not for the pandemic, the WCWS would be currently ongoing at USA Softball Hall of Fame Stadium in Oklahoma City. It was scheduled for May 28-June 3.
It was a devastating blow for Thomas, who never would've imagined she'd have to endure seeing her teammates lose an entire season much like she did.
Now fellow seniors Alysen Febrey, Sydney Springfield, Carrie Eberle, Logan Simunek and Shalee Brantley must decide whether they will take advantage of the extra year of eligibility provided by the NCAA for another shot at the WCWS.
"I know it was tough for them, and it was really unexpected," Thomas said. "With the way our season ended last year — we were an underdog and pulled out a big win at Florida State and made it to the World Series — it was our goal to get to OKC. That's always been our goal since I've been there, and last year we accomplished that, so the goal for this year's team was to make it back there and compete for a national championship. Our goal was no longer to just make it there. Our goal was to get there and win. OSU hadn't been there since 2011, and last year got us back on the map.
"We had higher expectations for ourselves this year. This team was really special, and I have no doubt they would've been there playing this weekend."
Even if OSU didn't make the eight-team field, Thomas could've taken solace in knowing she would attend the festivities with her younger sister, Maddox, who is transitioning into her junior year at Claremore High.
Now not even that is possible, ending what would've been an 11-year attendance streak.
The year 2019 provided the sisters a new and exciting WCWS experience with Thomas taking part in the competition, but all 2020 has brought is sadness and disappointment.
"The Women's College World Series is something I look forward to every year, and it just continues to grow," Thomas said. "They've added more seating, they continue to renovate the stadium and it's just enhancing the experience for both the fans and the players competing. It's been really difficult not having college softball and not being able to see it because this is the most exciting weekend for softball players that compete at this level, and I know a lot of fans look forward to it as well.
"It's been tough, but I've been taking a break from school and just kind of relaxing to fill my time."
There is a silver lining amidst the chaos, though.
The pandemic has allowed Thomas to spend some much-needed time with her family in Claremore while also giving softball lessons to youths around town.
Because college athletics have such demanding schedules, Thomas said this is one of the only opportunities she's had since graduating high school in 2016 to enjoy the company of loved ones.
"It's good to be back," Thomas said. "At OSU, in order to compete at the highest level and get our bodies in the best shape, we live there year-round and workout in the summer. I am back in Claremore, and this is the first full summer I will be home with my family because since I graduated high school, I haven't really been home for an extended period of time."