Oklahoma State softball star pitcher Kelly Maxwell was forced to exchange her glove for a piece of paper and drawing utensils. At least for a little bit.
The No. 6 Cowgirls and UMBC were moments away from first pitch to kick off the Stillwater Regional on Friday afternoon. Lineups had been announced. The national anthem had been played. Then a torrential downpour put the game on delay for 3 hours and 30 minutes.
Maxwell passed the time by drawing Gus, her french bulldog.
"We just were hanging around. People were playing wiffle ball in the locker room," she said. "Just having fun."
But the artistry didn't stop there. It followed Maxwell into the circle at Cowgirl Stadium, where the redshirt senior was Picasso-esque in painting the corners of the plate and stifling the Retrievers to help the Cowgirls open the postseason with a 9-0 run-rule triumph.
"A really good start. A complete ballgame," OSU coach Kenny Gajewski said. "It started with the pitching. I thought Kelly was really, really good. The ball was coming out of her hand hot and with a lot of spin."
When Maxwell took the field, she and the Cowgirls (42-14) were a week removed from a stinker of a loss to Kansas in the first round of the Big 12 tournament. OSU's ace struggled that day, lasting 3.2 innings while walking five, striking out four and giving up three runs in as many hits.
That wasn't the case this time, though.
She made short work of the Retrievers (26-16) through five innings. Maxwell fanned 10 of the 18 batters she faced and allowed a meager two hits on 69 pitches (46 strikes). It was her longest outing since May 3 and the most strikeouts since notching 11 in a win over Iowa State on April 14.
It marked only the second time this season that UMBC was shut out.
"When you have Kelly Maxwell, you're gonna run her out there," Gajewski said in the aftermath of the Cowgirls' first win since April 30. "That's the bottom line. We're gonna run her out there and let her be her. We don't need anything more.
"There's a different energy when she's out there."
Maxwell didn't need it, but there was a cushion just in case she did. The Cowgirls' nine runs were their most since posting 10 in a series-opening win at Texas Tech in late April.
It was an offensive onslaught that took a little bit to get going. But when it did, it snowballed into a five-run fourth inning from OSU.
Cowgirls right fielder Katelynn Carwile drove in the game's first run with an RBI single in the bottom of the third. Maxwell didn't take long to put the Pokes back at the plate, striking out three of the four batters she faced in the top of the fourth.
Then third baseman Megan Bloodworth cranked an RBI double to the warning track. Shortstop Kiley Naomi followed that with a two-out, two-run triple. And first baseman Micaela Wark only needed two pitches to send a two-run home run, her 10th blast of the year, over the wall in left field.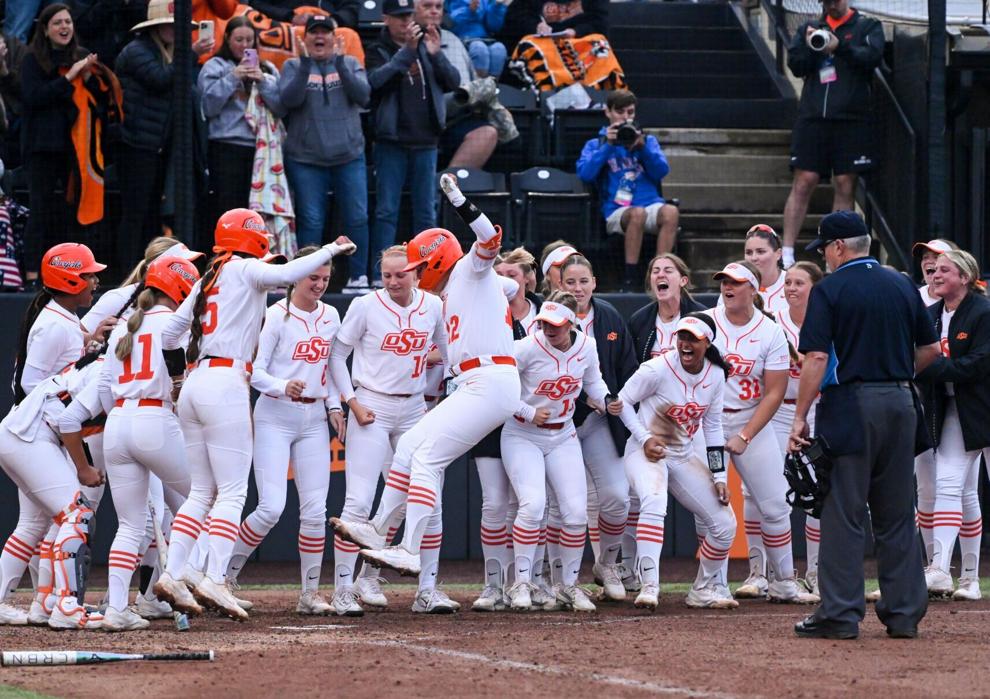 "When we execute like this, we're pretty dang good," Gajewski said.
Naomi wasn't done there, either. She finished 3-for-4 with four RBI, two of which ended the game early.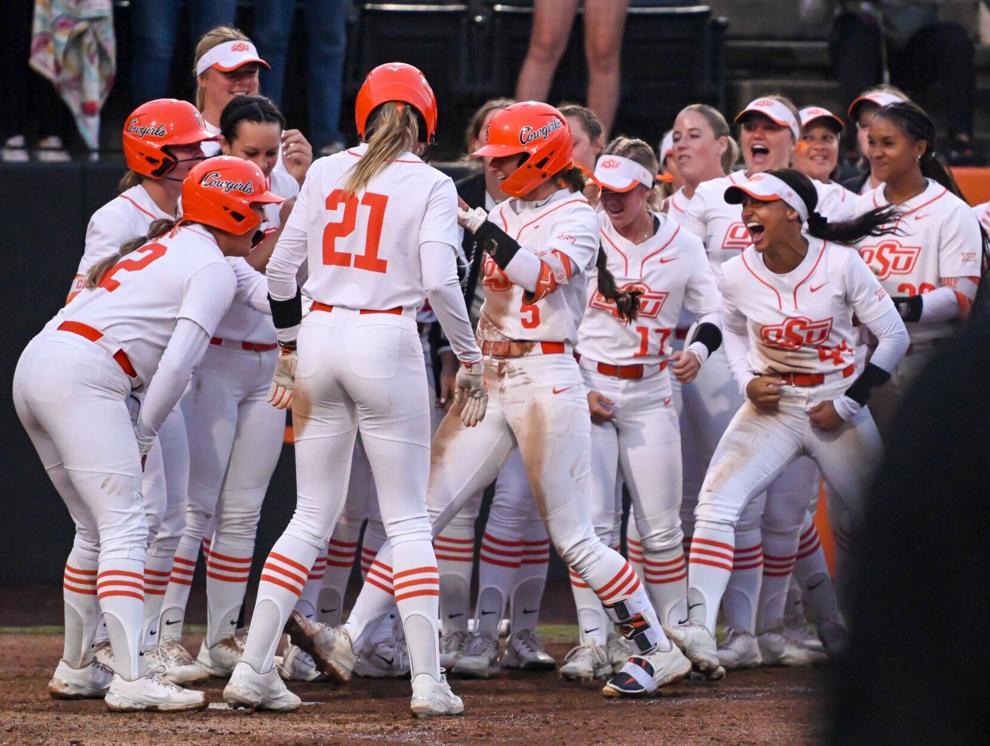 The graduate student stepped to the plate in the bottom of the sixth with the Cowgirls leading 7-0. One more run would've put the punctuation on an already long day. She elected for a couple, letting loose on a fastball and sending a two-run shot out of the park in left-center to walk it off.
"Honestly, I was sitting changeup just because (UMBC pitcher Madison O'Berg) has been throwing that a lot," said Naomi, who has a team-best 11 home runs this season. "But I think sitting changeup put me in a leader rhythm. It kind of just set me up for her fastball. I wasn't trying to do too much, just win for my team."
The biggest thing, Gajewski said roughly 24 hours prior to the originally scheduled first pitch, was to win the first regional game. He was willing to do whatever it took to make sure that was the case, he said.
It only took another whale of a performance from Maxwell and a couple of explosive at-bats in the fourth inning.
The Cowgirls will have their third crack at Wichita State, which rallied late to defeat Nebraska in Friday's night cap, at 2 p.m. Saturday on ESPN+. They've already weathered the storm. The first one is out of the way – and in a big way.
"You can't win 'em all if you don't win the first game, right?" Gajewski said. "It's good to see this team play this way. I can't wait for tomorrow as well, with the weather and we'll have a monster crowd here. It should be electric."
Follow News Press sports reporter Jon Walker on Twitter @ByJonWalker for updates on Oklahoma State athletics and more.